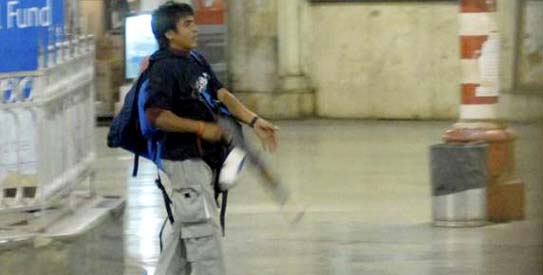 NEW DELHI: India's Supreme Court on Monday stayed the death sentence handed down to the lone surviving gunman from the 2008 attacks in Mumbai, pending an appeal hearing.
"This case has to be heard on top priority," Supreme Court judge Aftab Alam told the court. "It is the demand of the judicial system that we have to hear this appeal."
Ajmal Amir Kasab, one of 10 gunmen who laid siege to Mumbai for nearly three days killing 166 people, was convicted in May 2010.
Kasab was found guilty of a string of crimes including waging war against India, murder, attempted murder and terrorist acts after a trial at a maximum security prison court in Mumbai.
The first appeal by the 23-year-old school drop-out from a poor farming area in Pakistan's Punjab state failed in February, when the state high court in Mumbai confirmed both his conviction and death sentence.
India reserves executions, which are carried out by hanging, for the "rarest of the rare" offences.
During the trial, the prosecution produced fingerprint, DNA, eyewitness and camera evidence showing Kasab opening fire and throwing grenades in the bloodiest episode of the November 26 attacks at Mumbai's main railway station.
A number of senior police officers, including the head of the Maharashtra state anti-terrorism squad, were killed as the gunmen fled the scene of the carnage.
Three luxury hotels, a popular tourist restaurant and a Jewish centre were also targeted by the other gunmen.
India has accused Lashkar-e-Taiba of being behind the 2008 Mumbai attacks, which led to the suspension of fragile peace talks between the two neighbours and rivals.
If the Supreme Court upholds the verdict and sentence, Kasab can appeal for clemency to India's president Pratibha Patil as a last resort.
Executions are rare in India. Most death sentences are commuted to life imprisonment, and convicts can sit on death row for years awaiting a final decision on their pleas for clemency.
Afzal Guru, who was convicted of conspiring with the gunmen who attacked India's parliament in 2001, killing 10 people, has been on death row for nearly a decade.
His appeal against his death sentence was dismissed by the Supreme Court in 2006.
The last execution in India was in 2004 when a 41-year-old former security guard was hanged for the rape and murder of a 14-year-old schoolgirl.
In May this year, however, Patil unexpectedly rejected a mercy petition from a murderer in the northeastern state of Assam, leaving the state scrabbling to find a hangman.
Many of the small number of known hangmen nationwide have either died or retired in recent years.