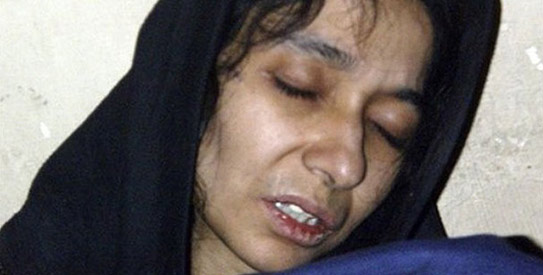 WASHINGTON: The Obama administration has rejected Pakistan's proposal to trade Raymond Davis for Dr Aafia Siddiqui, a Pakistani neuroscientist serving an 86-year term in a US prison, diplomatic sources told Dawn.
The sources said that Pakistan discussed the proposal at "the highest level" in the Obama administration but was told that this was "a non-starter".
The US government informed Pakistan that they would not entertain the possibility of trading Ms Siddiqui for Mr Davis because "these were two different cases".
The proposal called for Ms Siddiqui to be transferred to Pakistan, where she would serve the remainder of her sentence in a prison or under house arrest. Ms Siddiqui's case became a cause celebre in Pakistan last year when Prime Minister Yousuf Raza Gilani called for her exoneration and release.
Mr Davis's arrest in the January 27 shooting in Lahore that led to the death of three Pakistani citizens, however, led to a diplomatic standoff, which threatens to derail US-Pakistan partnership in the war against extremists. Since his arrest both sides have discussed various proposals to break the impasse but have not yet succeeded in doing so.
The proposals include quashing a case against the ISI chief in a New York court and curtailing the CIA's activities in Pakistan. Another proposal calls for the US government to pay reparations to the victims' families, who under a Pakistani law can pardon Mr Davis if asked. Apparently, the US administration is discussing all three proposals with Pakistani officials.
ISI chief's case: Meanwhile, a court in New York has accepted a petition against the ISI chief for his agency's alleged involvement in the Mumbai terror attacks, which also killed some US citizens.
Diplomatic sources claim that the US administration appears willing to claim sovereign immunity for the ISI chief in this case provided Pakistan also granted diplomatic immunity to Mr Davis, who is a CIA contractor. "At one stage, the Americans were going to file papers in the court, stating that the ISI chief enjoyed sovereign immunity but decided not to do so after Mr Davis's arrest," an official source said.
The arrest of another alleged CIA operative in Peshawar for over-staying his visa has further annoyed the Americans who point out that more than 100,000 Pakistanis were living in the United States after the expiry of their visas.
"The Americans seem to indicate that they too can start deporting Pakistani citizens," the source said.
Similarly, the Americans also seem willing to discuss Pakistan's demand for sharing CIA's activities in the country with them, "provided the Pakistanis also shared relevant information", the source added.
The Americans complain that Pakistan often refuses to share sensitive data about certain militant groups with their American counterparts.
"But on Dr Aafia Siddiqui, the Americans are showing no leniency," the source said. "They have informed Pakistan that they are not even going to pursue it."
Ms Siddiqui, an MIT-educated Pakistani neuroscientist, was convicted of trying to shoot FBI agents and military officers in an Afghan police station in 2008.
In 2004, FBI director Robert Mueller described Ms Siddiqui as an "Al Qaeda operative and facilitator but Ms Siddiqui was never charged with any terrorism-related crimes.
Shortly after the FBI alert, she and her children disappeared, only to surface in Afghanistan five years later.
Ms Siddiqui has claimed she was held in secret American prisons, including Bagram airbase in Afghanistan, during that time.