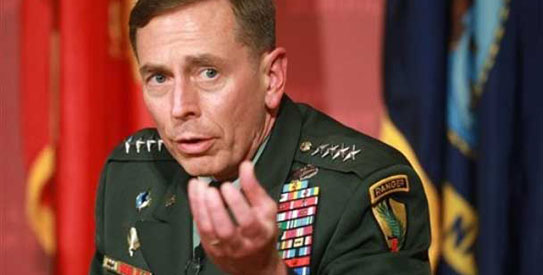 WASHINGTON: The commander of US forces in Afghanistan, Gen David Petraeus, said on Tuesday that the United States and Pakistan were involved in efforts that would bring considerable pressure on extremists groups operating in Fata but both sides avoided discussing those efforts.
In an interview to ABC News, the general also praised Pakistan for what he called "very impressive counter-insurgency operations".
But "more clearly needs to be done in the tribal areas of Pakistan to weed out Al Qaeda", he said, adding that the US would continue to put "considerable pressure" on these areas.
When the interviewer, George Stephanopoulos, suggested that the US military would have to enter those areas if militants hiding there were found involved in an attack on the United States, Gen Petraeus said: "Well, I don't think it's productive to get into hypotheticals on all of these different – but certainly there are efforts ongoing that we don't talk about that do, indeed, put pressure, considerable pressure, on Al Qaeda and some of the other groups that are in the Federally Administered Tribal Areas."
A US diplomatic cable released last week by the whistle-blowing WikiLeaks site suggested that the US had special operations forces in Fata who, at least twice, had embedded with the Frontier Corps in operations against Al Qaeda militants. Asked if he had the full cooperation of the government, the military, and the intelligence services of Pakistan, Gen Petraeus said he continued to have a "very close relationship with the Pakistani Chief of Army Staff, in particular, General Kayani".
He noted that when he was the head of the US Central Command, he saw Gen Kayani "probably every about 45 or 60 days, at the most".
Even after moving to Afghanistan, he said, he had continued to see Gen Kayani every 45 days or so. "Either I go there or he comes here."
Gen Petraeus said that a trilateral relationship between the chiefs of the Afghan military, Pakistani military, and ISAF had led to "more and more progress" in terms of coordinating operations, sharing intelligence across the Durand Line and in other fields.
"Now it's also important to recognise what Pakistan has done over the course of the last 20 months," he added. "They've carried out very impressive and very costly in terms of casualties – very – very impressive counter-insurgency operations against the Pakistani Taliban, against the Punjabi Taliban, groups that threaten the very existence of Pakistan."