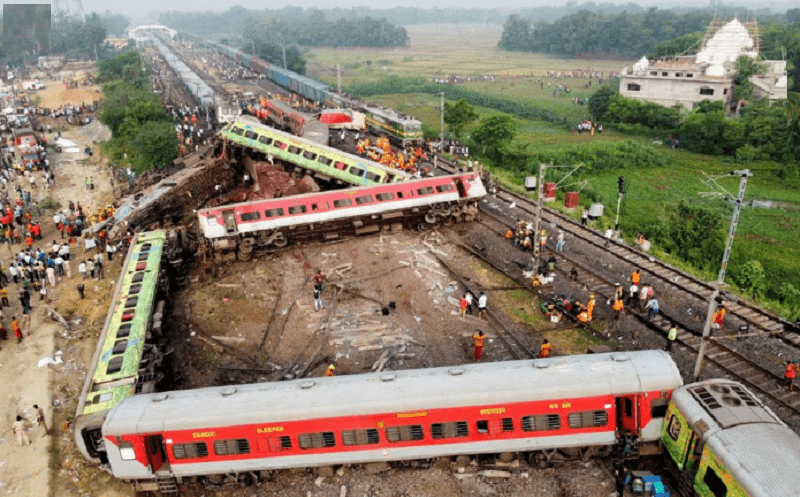 At least 288 people have died in India's worst rail accident in over two decades, officials said on Saturday, after a passenger train went off the tracks and hit another one in the east of the country.
One train in Friday's accident also hit a freight train parked nearby in the district of Balasore in Odisha state in the east of the country, leaving a tangled mess of smashed rail cars and injuring 803.
The death toll has reached 288, said KS Anand, chief public relations officer of the South Eastern Railway.
Dead bodies are still trapped in the mangled coaches and the rescue operation is continuing, a Reuters witness said, while the death toll is expected to rise.
A preliminary report indicates that the accident was the result of signal failure, Anand said.
"The Coromandel Express was supposed to travel on the main line, but a signal was given for the loop line instead, and the train rammed into a goods train already parked over there. Its coaches then fell onto the tracks on either side, also derailing the Howrah Superfast Express," he said.
Surviving passenger Anubha Das said he would never forget the scene. "Families crushed away, limbless bodies and a bloodbath on the tracks," he said.
Video footage showed derailed train coaches and damaged tracks, with rescue teams searching the mangled carriages to pull the survivors out and rush them to the hospital.
People were seen searching for their relatives at the site and nearby hospitals.
Dead bodies were lying on the bloodstained floor of a school used as a makeshift morgue, and police helped relatives identify the bodies, covered with white cloths and placed inside chained bags.
Prime Minister Narendra Modi arrived at the scene, talked to rescue workers and inspected the wreckage. He also met the survivors at hospitals.
"(I) took stock of the situation at the site of the tragedy in Odisha. Words can't capture my deep sorrow. We stand committed to providing all possible assistance to those affected," Modi said.
Before his arrival at the scene, he tweeted, "In this hour of grief, my thoughts are with the bereaved families. May the injured recover soon."
"We have seen a large number of deaths," a witness said.
A witness involved in rescue operations said the screams and wails of the injured and the relatives of those killed were disturbing. "It was horrific and heart-wrenching," he said.
Families of the dead will receive 1 million rupees ($12,000), while the seriously injured will get 200,000 rupees, with 50,000 rupees for minor injuries, Railway Minister Ashwini Vaishnaw said. Some state governments have also announced compensation.
Early on Saturday morning, Reuters video footage showed police officials moving bodies covered in white cloths off the railway tracks.
"I was asleep," an unidentified male survivor told NDTV news. "I was woken up by the noise of the train derailing. Suddenly I saw 10-15 people dead. I managed to come out of the coach, and then I saw a lot of dismembered bodies."
Video footage from Friday showed rescuers climbing up one of the mangled trains to find survivors, while passengers called for help and sobbed next to the wreckage.
The collision occurred around 7pm (1330 GMT) on Friday when the Howrah Superfast Express from Bengaluru to Howrah in West Bengal collided with the Coromandel Express from Kolkata to Chennai.
An extensive search-and-rescue operation has been mounted, involving hundreds of fire department personnel and police officers as well as sniffer dogs. National Disaster Response Force teams were at the site.
On Friday, hundreds of young people lined up outside a government hospital in Odisha's Soro to donate blood.
According to Indian Railways, its network facilitates the transportation of over 13 million people every day. But the state-run monopoly has had a patchy safety record because of ageing infrastructure.
The state has declared Saturday a day of state mourning as a mark of respect to the victims.
Pakistan extends condolences
Prime Minister Shehbaz Sharif said he was "deeply saddened by the loss of hundreds of lives" in the incident.
In a tweet, he extended his "heartfelt condolences to the bereaved families who lost their loved ones in this tragedy" and prayed for the injured people's speedy recovery.
Expressing his grief on the "high death toll", Foreign Minister Bilawal Bhutto-Zardari offered his condolences to the victims' families and wished quick recovery to those injured.
India's deadliest railway accidents
Here are details of some of the deadliest rail accidents in India in recent decades:
June 1981: At least 800 people were killed when seven rear coaches of an overcrowded passenger train were blown off the track and fell into a river during a cyclone.
July 1988: An express train left the rails and plunged into a monsoon-swollen lake near Quilon in southern India, killing at least 106 people.
August 1995: At least 350 people were killed when two trains collided 200km (125 miles) from Delhi.
August 1999: Two trains collided near Calcutta, leading to the deaths of at least 285 people.
October 2005: Several coaches of a passenger train derailed in southern Andhra Pradesh state, near Velugonda. At least 77 people were killed.
July 2011: Around 70 people were killed and over 300 injured when a mail train derailed in Fatehpur.
November 2016: Some 146 people were killed and more than 200 injured when an express train derailed in the northern state of Uttar Pradesh.
January 2017: At least 41 people were killed after several coaches of a passenger train go off the rails in southern Andhra Pradesh state.
October 2018: A commuter train ran through a crowd gathered on the tracks for a festival in northern India's Amritsar city, killing at least 59 people and injuring 57.