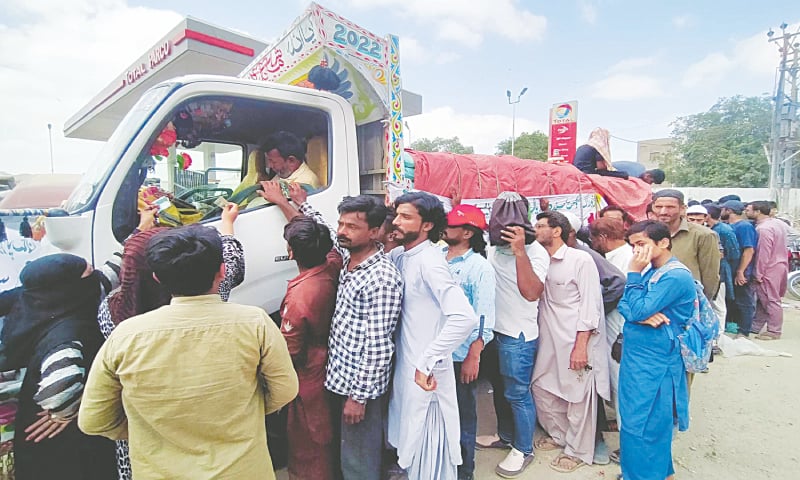 KARACHI: The much-trumpeted provincial government's move to provide 10-kg flour bag at Rs650, or Rs65 per kg, is only catering to half of the population of the mega city and other people have to buy cost flour at Rs120 a kilogram, flour millers claimed on Sunday.
Millers are selling out 120,000 bags of 10 kgs per day at various points in about 200 vehicles carrying 600 bags each, while the product is not available at shops and markets.
However, flour millers also produce another type of flour No. 2.5, which is slightly better than fine flour being provided in the trucks, and reduced its prices by Rs6 per kg.
Some branded fine flour like Bake Parlor and Ashrafi still costs Rs120 per kg at the retail outlets.
Pakistan Flour Mills Association (PFMA) chairman Aamir Abdullah said: "I can say with authority that 50 per cent of Karachi's population is getting cheap flour right now with the help of the Sindh government's supply of cheaper wheat to the millers. It is used mainly in households."
Millers say 50pc people getting low-priced flour; demand protection for trucks, staff selling flour on govt rate
He said that branded fine flour had higher price, which was being manufactured after purchasing of wheat from the open market at the rate of Rs8,750 per 100 kg bag.
In yesteryears, these kinds of low-priced flour campaigns by the provincial government had usually attracted hoarders and market retailers to make instant windfall.
Due to lack of any limit or any condition to show computerised national identity cards (CNICs) before buying, five to six members of a family including ladies were seen lifting flour in bulk quantities. Flour millers do not have any yardstick to check hoarders, market mafias and retailers.
Besides, the quality issues of flour had also haunted many quality conscious consumers, who preferred purchasing costly and branded flour rather than low-priced flour.
There are reports retailers are lifting flour No 2.5 at Rs65 per kg and charging Rs80-100 per kg in loose form in various areas in the name of good quality fine flour.
The PFMA chief said: "I think these practices are currently not in vogue now. Genuine consumers, already perturbed by already high food inflation and utility bills, are making a long line in larger numbers to buy flour from the trucks. Quality of wheat and flour is also good."
When asked there should be some rationing or CNIC conditions this year to avoid extra buying by a buyer or market forces, he said: "Usually, consumers are lifting one or two bags."
Millers are lifting wheat from the provincial government at a rate of Rs5,825 per 100 kg bag and providing the 10 kg bag at Rs650.
However, Mr Abdullah showed serious concern over rising cases of flour bag snatching as well as cash by some people from the trucks in various areas, adding that usually five to six men in one vehicle could not control people who arrived in a group.
"We have asked the Karachi commissioner and deputy commissioners two days back to provide police protection to the vehicles selling 600 bags each in various areas," he said, referring to cash transactions on spot which were being carried out daily.
He also pointed out that cases of cash snatching from the trucks were increasing and added that robbers had recently taken away Rs15,000-25,000 from a truck. "It will be difficult to carry out the exercise under an insecure environment in future in case the government does not provide any security to the staff," he added.
To a query regarding any chance of price relief in fine flour and super fine flour (maida), the PFMA chairman claimed that millers were procuring wheat from open market at Rs8,750 per 100 kg bag and they were not mixing open market wheat with provincial government's low-priced wheat in order to maintain the quality of fine and super fine flour.
Published in Dawn, October 3rd, 2022
Now you can follow Dawn Business on Twitter, LinkedIn, Instagram and Facebook for insights on business, finance and tech from Pakistan and across the world.