Resham's Feed
Film star Resham needs to reflect. What people had objected to when she had released a video in which she was feeding fish in a river or canal by throwing food off a bridge along with plastic bags and spoons, adding to marine pollution, made sense. The actress then came out with a response on social media in which, while she admitted to having made a mistake because she was absentminded after having tested positive twice for Covid-19, she also added that everyone was blinded by a piece of plastic while women were being gang-raped in the country.
Resham, get a grip. Highlighting a bigger issue doesn't absolve you of a seemingly lesser mistake. The reasoning sounds fishy.
Theatre Centre Stage
Suddenly, the world of theatre in Karachi has come alive. It is definitely a good sign. Within the span of a month and a bit, four plays have been staged in the city, participated in by some big names from the showbiz industry, including Anwar Maqsood as the writer of one of them. Two were staged at the Arts Council of Pakistan and two at the National Academy of Performing Arts (Napa). While they got mixed reviews, in terms of audience attendance, the productions did very well. Since all the world's a stage, let Karachi be its centre.
Spin-Off SRK?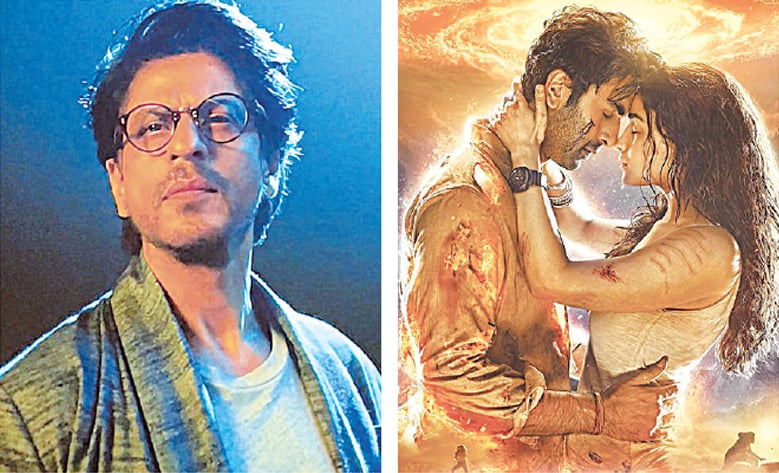 This is interesting. Against the run of play, Bollywood's latest star-studded offering Brahmastra, starring Ranbir Kapoor and Aalia Bhatt, is doing well at the box office. More interestingly, Shah Rukh Khan's 20-minute cameo, as a scientist named Mohan Bhargav, is being super-liked by cine-goers — so much so that they're asking for a spin-off of the movie with SRK's character as the protagonist. Much to the delight of his fans, the director of the film Ayan Mukerji has given an indication to that end, saying the makers of the project were already thinking about it. To be honest, given SRK's box office record of the last few years, we don't wish for him to play the main lead. A 20-minute cameo for his reputation is fine.
No-Foul Lingo
Everyone knows that Pankaj Tripathi is a gentleman. Of course, being an actor doesn't require one to have a particular kind of a disposition as long as you are a good actor. In his career, Pankaj T has played some vicious parts, such as the ones in Mirzapur and Ludo. Now that he is an established name in the film industry, he has decided not to use foul language or abuse anyone in an acting assignment. He thinks when actors use bad language on screen, it is in a certain context, but he doesn't like to do that 'on a whim'. Therefore, from now on, if a role has such a lexical requirement, he will do it in a creative way. Hmmm… How to abuse creatively? Miming a bad word, with the help of vigorous gestures or through telepathy?
Saint No More
If the Western world of pop music had a cheating scandal on its hands with Adam Levine, Pakistani music had its own the same day with the crooner Aima Baig. And both were thrust into the limelight courtesy of a third woman spilling the alleged beans on social media. In the case of Aima B, it was British model Taloulah Mair who went on Insta on September 19 to name the Pakistani singer as the one who had allegedly had an affair with her ex-boyfriend a British-Pakistani named Qes Ahmed. The details are too sordid to repeat but Taloulah M seemed out for revenge. She claimed Aima B had even paid to have her main Insta account shut down temporarily. Whether this was what was behind actor Shahbaz Shigri and Aima B ending their recent engagement, we don't know. But such things are bound to happen when you play such a Baazi. Aima should have followed her own advice: Na Chhairr Malangaan Noon.
The Wolf of Hollywood
Is 47-year-old Leonardo DiCaprio charming, creepy or just lucky? It's only been a few weeks since he parted ways with 25-year-old model Camila Morrone, who is almost half his age and with whom he had a four-year relationship, and now he's been spotted with another supermodel, 27-year-old Gigi Hadid, the Zayn Malik's ex-girlfriend. However, sources say that, although they've been seen together, they're "not exclusive". Well, at least Gigi H has broken through the '25-Year Barrier' — famously Leo has only dated women below 25 years of age and breaks up with his girlfriends the moment they turn that age. Talk about the Wolf of Hollywood.
Published in Dawn, ICON, September 25th, 2022