Meeting Ex-PM
We don't get the cacophony created by Twitterati after knowing that actor Adnan Siddiqui had met the former prime minister of Pakistan, Nawaz Sharif, in London to promote his film Dum Mastam which Adnan S has produced. Apart from being a politician, if that's an issue, Mr Sharif is a known individual with a certain fan-base. Who wouldn't want more and more people, from all spheres of life, to watch their film in cinemas? We live in strange times where political biasness has put blinkers on our eyes.
One-Way Ticket
Without commenting on what's happening in Aamir Liaquat's life, because we don't want to watch any videos that contain disturbing material, we feel that it's time he took a step back and reflected on his life. That being said, people, too, find it interesting to give their two cents about whatever's happening around him — give him a break. Take, for example, Mishi Khan's reaction to Aamir L's statement that he's going to leave the country. The actress has remarked in a video that she [and her friends] is ready to arrange for his one-way trip. Come to think of it, not a bad deal for Aamir L in terms of saving money.
Wishing RK
Saba Qamar's work in the film Ghabrana Nahin Hai has been widely appreciated. Her upcoming film Kamli promises to further cement her reputation as the country's foremost TV and film artist. There would hardly be a male or female actor in Pakistan who wouldn't want to work with her. During a conversation with a journo, Saba Q told her fans who she likes to work with: "Ranbir Kapoor is such a good actor. He acts with his eyes. Do you remember the title song from Ae Dil Hai Mushkil? And then there's this one scene in the film where he speaks with Anushka — that one scene was so spectacularly done. Not every actor can do it so flawlessly." If wishes were horses, everyone would be riding Bollywood… for a second time.
On Love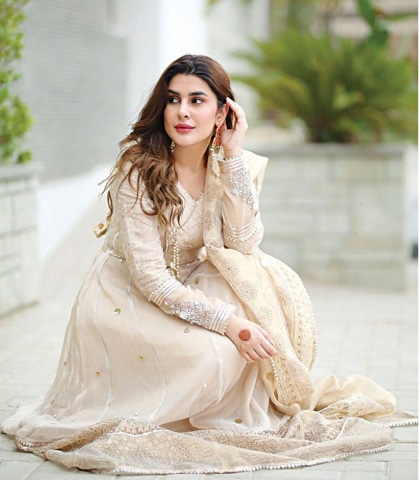 Kubra Khan is riding the wave of success big time, and rightly so. She is one of the finest young actresses that we have in our country. In a recent interview, she expressed her views on meanings of words such as 'superstar' and 'love'. On the latter, she said, "I'm that old school romantic who believes that there's nothing without love. You can't eliminate it… it will be a part of human relationships. And it can be familial, romantic or even platonic." Yes, platonic seems to be the one that Kubra K should focus on. Look around what's happening in the love life of showbiz celebs: Depp-Heard, Ahad-Sajal, Kim-Kanye…waghaira!
Breakup, Encore
Comedian Trevor Noah and actress Minka Kelly started seeing each other in 2020. In January last year, everyone got wind of the relationship and in May the relationship became official as they were spotted holidaying in St Barts. However, it didn't take them long to develop differences and a few months later they broke up. In the beginning of 2022 or a little before that they started going out again, and this time round people thought they might get serious about their lives as a couple. Not to be. Now news is that both have again parted ways. According to insiders, the reason is that "they were going in circles and ending up in the same place". Hmmm… and we thought the purpose of having a relationship was to end up in the same place.
Race Grace
Aishwarya Rai-Bachchan can these days be seen attending the prestigious Cannes Films Festival and striking poses for photographers and fans. She hasn't had a film release in more than three years. But she doesn't seem to be flustered by it. When someone brought the subject of her career, she articulated that she is like the 'proverbial tortoise'. The reference is to the tortoise-hare race in which the slow and steady wins the race. The former Ms World needs to realise that in that parable, the tortoise doesn't age.
Published in Dawn, ICON, May 29th, 2022