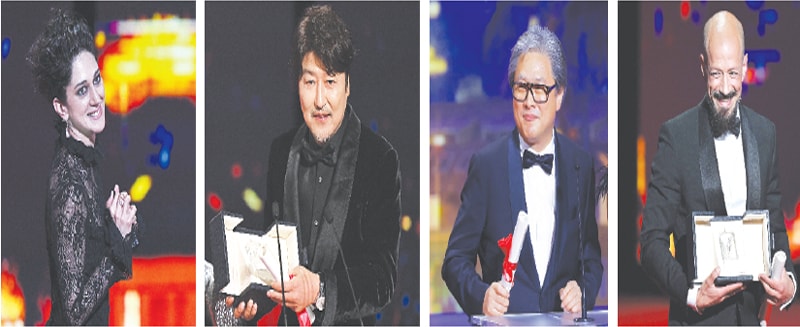 CANNES: The 75th edition of the Cannes Film Festival drew to a close on Saturday with one of the tightest races in recent memory and critics fiercely divided over the 21 films competing for the Palme d'Or.
Triangle of Sadness, a film by Swedish director Ruben Ostlund, won the Palme d'Or for Best Picture. A biting, viciously funny social satire, the film uses now cult 'cringe-inducing' style and places models and the ultra-rich on a cruise ship, only to find their status suddenly undermined by unexpected events.
The best actress award went to Iranian Zar Amir Ebrahimi, who lives in exile in France, for her role in Holy Spider. In the movie, she plays a journalist trying to solve the serial murders of prostitutes in the holy city of Mashhad. Directed by Iranian Ali Abbasi, the film is inspired by the true story of a working-class man who killed prostitutes in the early 2000s and became known as the 'Spider Killer'.
Best actor honours went to South Korean star Park Chan-wook for his erotic crime movie Decision To Leave.
Starring Chinese star Tang Wei and Korean actor Park Hae-il, the film tells the story of a detective who, while investigating a man's fatal fall from a mountain, comes under the spell of the victim's wife whom he suspects of having caused her husband's death The 12 days of the world's foremost film fest have been a blast of technicolour grandeur, kickstarted by Tom Cruise with his first trip to Cannes in 30 years to launch "Top Gun: Maverick", accompanied by a French Air Force display team. The war in Ukraine cast a shadow over proceedings from the start.
But it was a great year for music-lovers – Australian director Baz Luhrmann shaking things up with his much-anticipated rock'n'roll biopic, Elvis, and critics blown away by an ultra-immersive documentary about David Bowie, Moonage Daydream.
But some of the biggest buzz happened outside the main competition, with a lot of love for Joyland, a daring portrait of a transgender dancer in Pakistan.
It won the "Queer Palm" prize for best LGBT film -- an award that has controversially never been fully recognised by the festival organisers – late on Friday.
Published in Dawn, May 29th, 2022