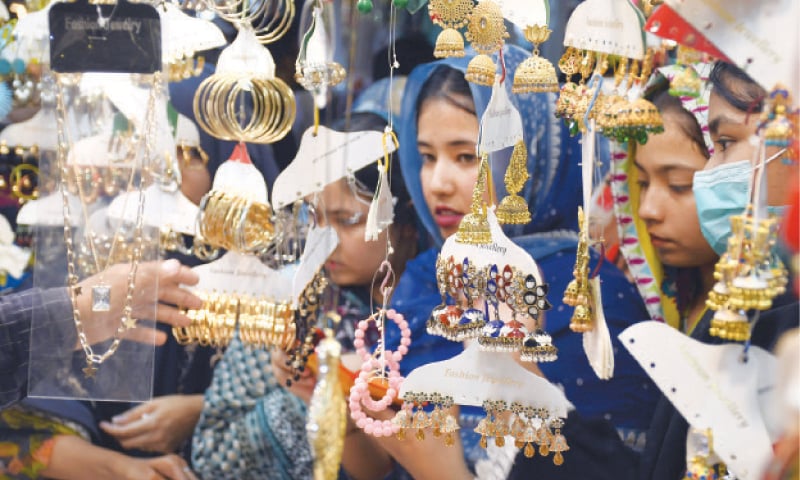 Jaded men sit huddled together in spotted benches inside Atrium mall, clutching shopping bags of ladies still in stores. They are eager to share their views as their wives thumb through racks. The unstiched clothing section is so empty, one could roll a bowling ball without hitting anyone.
Its 1am, the weekend before Eid, and city is alive with lights with nary a mask in sight. No one bothers to check vaccination status, and Dolmen Mall Clifton, arguable the strictest of malls in terms of masks, has waived away the requirement.
Yet, e-commerce made huge strides during the pandemic. Did it impact the ratio of online shopping compared to visiting brick and mortar stores during the festive occasion? Apparently not.
"I am going to go Eid shopping with my husband," says Khadija while sitting with friends. "I have enough clothes for Eid but I would like to make at least one trip with him." Her statement is met with nods and smiles from other friends sitting around. While logic dictates to make the most of sales during occasions such as 23 March, 'Eid ki shopping' after dinner in Ramazan is part and parcel of the activities of the holy occasion.
Since female garments and jewellery appear to have the most traction, it implies that women are more inclined towards online shopping, however, the fun of Eid shopping remains in visiting bazaars rather than clicking around on a website and waiting for delivery
"Online shopping during pandemic Eid was much more since the stores were closed. There was a major shift and at times 100 per cent of the sales were through the website only. However, though online sales continue to grow rapidly but the sales ratio for this Eid is 30pc online and 70pc through stores as shopping with family is part of our Eid festivities," says Quratulain Sohail, deputy general manager Ideas in a written reply to questions.
While the sales and discounts offered on the website are the same as the ones in-store, claims Gul Ahmed, shopping online allows customers to view the entire variety after which they may opt to buy from nearby stores rather than make a purchase virtually. Among the different lines of garments and home textiles offered for sale by Ideas, ladies apparel has been the fasting growing as they introduced their ready-to-wear brand Kaaj.
"In this season, a change in trends can be seen in shopping categories. Sales of eastern garments, shoes and jewellery have risen, indicating a lot of gatherings over Eid. It appears that after two years, Eid will be celebrated full flow," says Salman Sattar, co-founder & CEO of beauty and fashion e-commerce store Bagallery.
"While this month has been very good in terms of sales, jewellery stands out with a 200pc growth rate year-on-year compared to other categories that have grown 120-130pc versus last year. We sell affordable jewellery without a high premium that allows females to indulge in various styles compared to local brands," he said, explaining that girls like to wear trinkets three to four times before opting for something new, hence the high turnover.
Detailing the change in e-commerce shopping trends, he said that previously people used to peruse the website to buy products that were not available offline but now the contribution of locally available products such as Maybelline and Loreal have increased as well. About 80pc of the consumers are women, he added.
Evidence supports what logic and conventional wisdom dictates: women like shopping. Since female garments and jewellery appear to have the most traction, it implies that women are more open to accepting and experimenting with online shopping. Having said that, the fun of Eid shopping lies in physically going to markets rather than clicking around on a website and waiting for delivery.
Published in Dawn, The Business and Finance Weekly, May 2nd, 2022