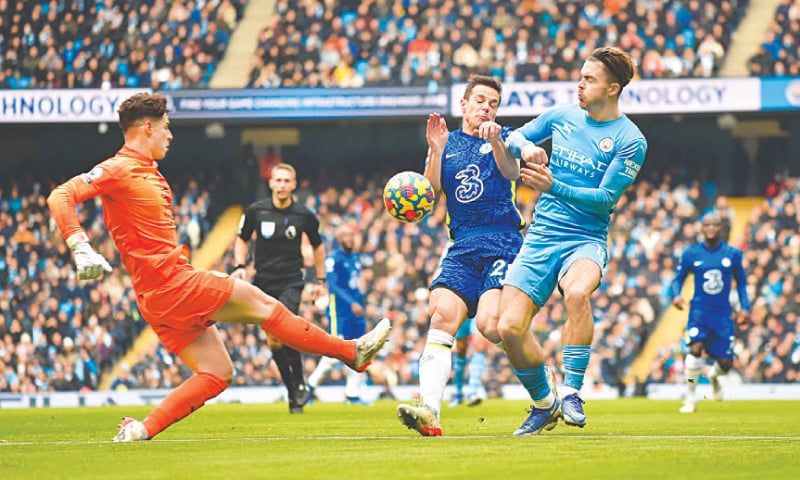 MANCHESTER: Kevin De Bruyne curled home a brilliant second-half goal as Manchester City took a major step towards retaining their Premier League title with a 1-0 win over nearest rivals Chelsea on Saturday, opening up a 13-point lead at the top of the table for Pep Guardiola's side.
The Belgium midfielder collected a pass from Joao Cancelo deep in Chelsea's half, drove forward, and found the bottom corner with a shot from just outside the area.
His 70th-minute strike means that City have 56 points from 22 matches with Chelsea on 43 points. Third-placed Liverpool, who have two games in hand, including Sunday's match at home to Brentford, are on 42 points.
"We've been in a situation where we've been eight or 10 points ahead but also eight or 10 points behind," De Bruyne said. "We know it can change very quickly."
The goal also would have given De Bruyne a certain sense of personal satisfaction, being a former Chelsea player he was sold in 2014 without making a mark at Stamford Bridge and considering the anguish he suffered by being forced off with a head injury during the Champions League final loss to Thomas Tuchel's team last season.
Chelsea manager Tuchel said his side would keep up the chase, but struck a realistic tone in regard to the title chase.
"We won't give up, but if City keep on winning every game, nobody can catch them," said the German.
City extended their winning run in the league to 12 games, deservedly so after another display of controlled possession football.
There was none of the frantic entertainment and thrills of Chelsea's recent 2-2 draw with Liverpool in a game which, for all the quality football, produced few moments of excitement.
Chelsea remained compact and cautious while City probed and always looked the more likely to break through.
"It was absolutely well deserved," said Guardiola, "We cannot expect ten, 12 chances against that team. They're European champions. They waited in the transition to punish us and we scored the goal in a transition. We knew exactly what team we were playing and how good they are. In general today, we were so patient," he added.
On Friday, striker Neal Maupay's late pass forced an own goal from defender Joachim Andersen as Brighton & Hove Albion drew at home to fierce rivals Crystal Palace 1-1.
The Seagulls seem destined for an unfortunate defeat after Conor Gallagher's seventh goal of the season gave Palace a 69th-minute lead against the run of play.
But Maupay collected a quick ball from Marc Cucurella and turned in one movement to hit a low cross from the left that Andersen turned into Palace's net in the 87th minute.
Brighton are in eighth place and Palace are 11th.
Published in Dawn, January 16th, 2022