Back to Cinema
Nothing can bring more happiness to lovers of movies like a regular screening of films in cinema halls does — multiplexes or single screens. After a hiatus, painful at that, of a shade more than two years, the first Pakistani film Khel Khel Mein was released on November 19 countrywide. To boot, its director Nabeel Qureshi has announced that his next film Quaid-i-Azam Zindabad will see the light of day on December 25. It's a double bill of joy for cine-goers. So, normality is returning, and zindabad to movies!
Sonya's Qarar
Sajjad Ali has come out with a new single, Qarar. It's a ghazal, and sung with the usual vocal finesse, but there's nothing unusual about the composition by the singer. The music video, which is a simple tale of longing, features actress Sonya Hussyn, who is super-happy about appearing in it. Prior to the release of the track this is how she expressed herself on social media: "Very rarely does one feel this fulfilled as an artist. The very witty and a legend in his own right, Sajjad Ali and I [are] bringing this beautiful piece of art." Well, Sonya H, legend has his qarar [tranquility]… and now, apparently, you do too.
Vir in Trouble
Indian society is getting weirder and weirder by the day. Intolerance is on the rise like hell. The latest example is the treatment meted out to comedian Vir Das who, is his stand-up act in Washington DC about 'two Indias', said that India is a country where "we worship women during the day but gang-rape them at night." The reaction to the line that came out of India was of outrage and anger; so much so that a BJP leader filed a complaint against the comedian with the police. In response, Vir D said that India, like any nation, has light and dark, good and evil within it; none of this is a secret. Well, dear comedian, it seems that India is now moving only in the direction of 'evil within'.
Arm in Arm
Before anyone jumps to conclusions, we still think that actor Bradley Cooper and supermodel Irina Shayk are no more an item. They broke up in 2019. Together they have a four-year-old girl named Lea. There's nothing extraordinary about the two of them walking arm-in-arm in New York recently, as some paparazzi, who took their picture, think. Both are very good parents. Besides, Irina S's brief fling with Kanye West (now known as Ye) must've made her realise that all that raps is not boyfriend material. Therefore her statement about Bradley C that "life without B is new ground" does cover some ground.
The Call
We respect TikTok star Hareem Shah and are of the opinion that Tabish Hashmi does a good job as the host on his show. But the much talked-about incident in which the latter asks the former on his programme to dial interior minister Sheikh Rasheed's cell phone number to strike up a random conversation with the politician — on speaker phone so that all can hear — needs a bit of rethinking. If Mr Rasheed had been told in advance about the call, then it's fine. But if he hadn't, then phone calls are a private matter, especially to high-profile people. It is one thing to be daring and courageous, but quite different to try and grab attention at the expense of someone's privacy. Perhaps, these are the times we're living in when mediocrity manifests itself in many forms — one of them is poking fun at anyone, anytime.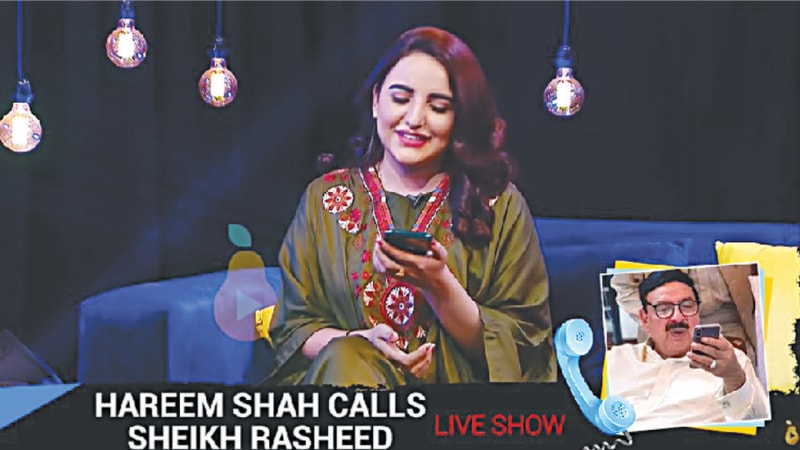 Father-in-Law?
Rock band Coldplay's Chris Martin and Hollywood heartthrob Dakota Johnson are these days the hottest A-list showbiz couple. Everyone's speculating about whether they'll take the plunge or not. When a question was put to Dakota J's father Don (Miami Vice) Johnson on a TV show if his daughter is thinking of tying the knot, he replied, "Oh God! I don't think much further than about the next seven to eight seconds. But listen, if she's happy, I will be happy, and he's a lovely guy." Hmmm… what if Chris M and Dakota J, too, don't think much further than seven to eight seconds!
Published in Dawn, ICON, November 28th, 2021