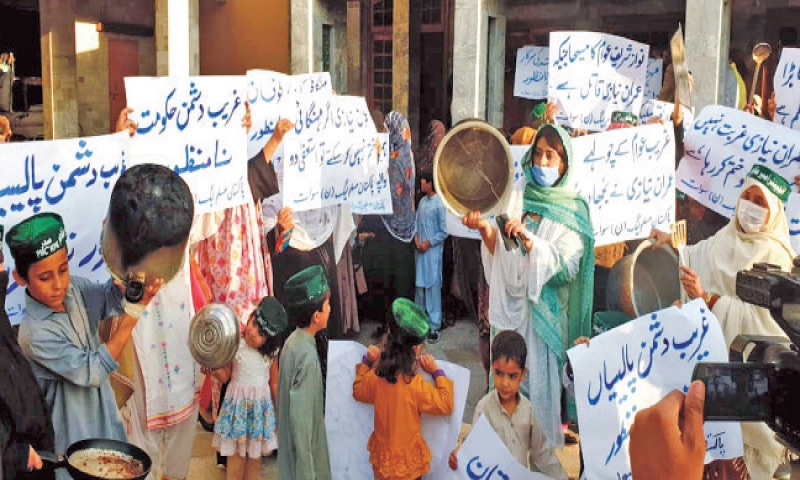 SWAT: Pakistan Muslim League-Nawaz provincial president Engineer Amir Muqam has flayed the federal government over record inflation in the country and said serious financial problems situation had forced the people to commit suicide.
Addressing a protest demonstration organised by the party's women wing in Sangota area here on Saturday, he also said countdown for the ouster of incompetent rulers had begun.
The PML-N leader said the people were staging more and more street protests against inflation, unemployment, and financial crisis.
He said the days of PM Imran Khan were numbered but he and his 'cronies' won't be allowed to flee the country and instead, they all would be held accountable for their acts.
PML-N leader says countdown begins for govt's ouster
Mr Muqam urged the people to join the opposition's countrywide protest movement against the government.
He flayed the 'incompetent' prime minister over failure to control the massive rupee slide and skyrocketing inflation.
"The country is heading towards civil war," he said.
On the occasion, Shah Izzat and many other women political activists announced the joining of the PML-N.
Provincial president of the PML-N Women's Wing and MPA Sobia Shahid, who led the demonstration, said the prices of essential goods and utilities were so high that the common man was struggling to make ends meet.
She said more and more people were committing suicide due to record inflation.
LACK OF FACILITIES: The people of Shamozai area in Barikot tehsilon Saturday complained that the RHC hospital lacked facilities to the misery of visitors.
Led by PPP leader Mukhtar Raza Khan, Dr Imran, Zeeshan, Zohaib, Rizwanullah and Ijaz, the residents told reporters that the hospital had no lab, ultrasound machine, gynaecologist, and many facilities, so patients had to visit the Saidu Sharif Teaching Hospital or private hospitals.
They said the hospital had only one dentist but he was transferred lately.
The people said the hospital had no gynaecologists, so the local women had to visit private hospitals.
They also complained about shortage of medical staff members, including nurses.
The residents said overall, the hospital required 65 employees but currently, there were around 20 staff members.
They said there was no facility for emergency service in the hospital; the gate of the hospital was closed at night, and in case of emergency, patients were taken to the tehsil headquarters hospital, Barikot, or Saidu Sharif Hospital.
The people added that many critical patients lost life on the way to hospital.
They said the Shamozai RHC got the meagre budget of Rs100,000; the building was in dilapidated condition, and its ambulance was missing.
The residents said poor people used to get free medicines in government hospitals but that was no more the case.
Published in Dawn, October 24th, 2021