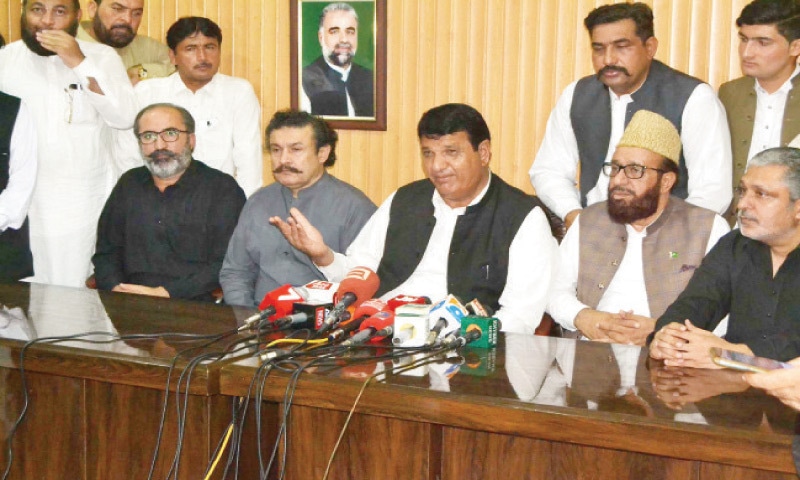 PESHAWAR: PML-N provincial president Amir Muqam has announced to hold a series of rallies and protest demonstrations across Khyber Pakhtunkhwa against the unprecedented price hike in the country.
Addressing a press conference at the party secretariat here on Thursday, Mr Muqam said he would lead the first rally in this regard in Swat on Friday (today).
He said the rulers had become unbearable due to their cruel policies and the Pakistan Muslim League-Nawaz had decided to oust them from the power corridors with the public support.
He said that rallies and protest meetings would be staged at the district and provincial level in the province which would specifically be focused on the failed economic policies of the PTI government which shot up inflation and brought miseries for the poor people.
Muqam to lead rally in Swat today
Earlier, Mr Muqam presided over a meeting of PML-N provincial cabinet at the party secretariat which was attended by the provincial cabinet, party MNAs, MPAs and party ticket-holders.
Mr Muqam told the press conference that rallies against price hike would be kicked off from Swat on Friday (today). He said that demonstrations would also be staged in other parts of the province. He claimed that PTI had lost the trust of the people and now they were looking towards PML-N for restoring political and economic stability in the country.
In Swabi, Jamiat Ulema-i-Islam-Fazl and Jamaat-i-Islami staged separate protest demonstrations on Thursday against the unbridled price hike in the country.
The JUI-F staged a demonstration at Karnal Sher Khan Chowk in the district headquarters and JI in Topi tehsil headquarters. During the protest, several key roads remained blocked to traffic.
Addressing the protesters, JUI-F central deputy head Maulana Fazal Ali said that the country's economy was on the verge of collapse. He said the best option for the PTI government was to resign and announce date for fresh general elections.
Speaking at the Topi protest, Sayed Zada, former district chief of JI, said that their protest would continue till the ouster of the government.
In Charsadda, Pakistan Peoples Party's local chapter staged a protest rally against the recent hike in prices of petroleum products. The rally was led by PPP district president Amir Nawaz Khan.
Published in Dawn, October 22nd, 2021