ISLAMABAD: Works depicting different variations of reality using the mirror have been displayed at Khaas Gallery in Islamabad.
The exhibition titled The All Seeing I, opened on Saturday, featuring the work of three artists Hussain Jamil, Mariam Waheed and Rabbiya Ilyas. All three experimented with their mediums, creating unique ways of looking at singular objects while pulling the viewer into different variations of reality.
"Look into the mirror. What do you see? Do you see yourself, the world around you or a variation of what we call reality? These are the questions that the artists in the show The All- Seeing I are raising," said the curator of the show, Shameen Arshad, adding that through the mirror, they debate the complexities of observation and perception.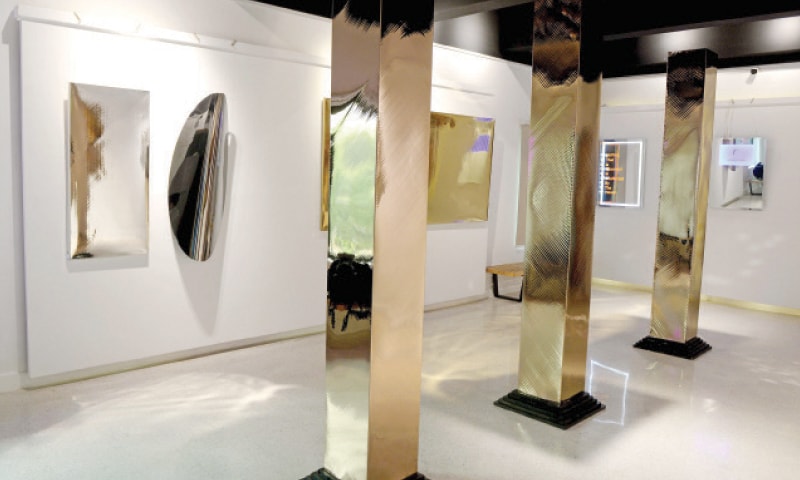 The works explore the longstanding allure of the mirror since the time of the renaissance when this object was used within crowded compositions, however, now it has become an active subject in contemporary art.
Jamil is a Lahore-based art practitioner who graduated from the National College of Arts (NCA) Lahore in 2014, specialising in miniature painting and completed a master's in art and design.
In his work, he used the aesthetic allure of the surface to transform a space by slightly modifying it; his polished mirrors remind one of fun houses where the viewer was invited into a space so they could see themselves in different ways.
Ms Waheed holds a bachelor's degree in fine arts from the school of visual arts at Beaconhouse National University (BNU). Through her practice, she explores the impact of technology and social media on everyday life, by using familiar images such as screenshots and instagram live templates. Using irony as her main theme, she has tried to convey that social media, which was created to bring people closer, had become the reason behind damaging human relationships.
By the use of words in her work, she tried to build a personal connection with the viewer through a method she believes depletes connections.
"Is it just about vanity or is it about spiritual enlightenment? Is it reality or a trick of the eye? What is the viewer thinking as he/she stops to take an 'art selfie'?" she said while explaining her work.
Contemporary visual artist, currently doing her master's from NCA Lahore, Ms Ilyas used the duality of mirrors to depict the dishonesty of clergymen in the country, who assume a façade of piety to conceal their vile and debauched actions. The fragmented glass represented the distress present in society due to this hypocrisy.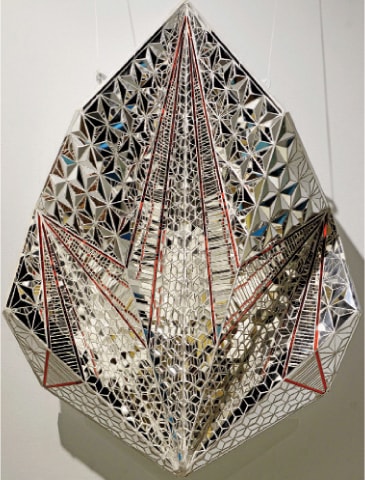 She used small pieces of mirrors in her work, like pointillism fragments, making a whole. The works, from a distance, were luminous and ethereal.
The exhibition will continue till Sept 14.
Published in Dawn, September 7th, 2021