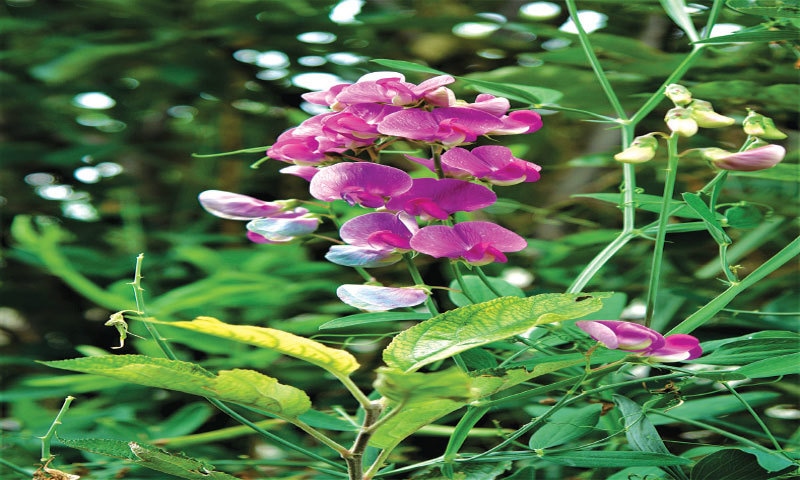 Climbing plants, whether they are flowering or of the purely ornamental-leaved variety, are a wonderful addition to any garden. These can be used to disguise unsightly objects such as pump houses and garages, to beautify boundary and house walls, or trained over purpose-built archways, to divide up garden areas, creating both depth and mystery.
When living in the Bhurban area, I used an assortment of climbers to completely cover a rather large, outdoor storage area — jokingly referred to as the 'helicopter hangar' — totally transforming this utilitarian and distinctly ugly monstrosity into a veritable green cave of flowers, foliage and fruit. Eventually, it was inhabited by a varying number of cats, bird nests, a collared Scopes owl called Otis, essential winter wood supply and various assorted odds and bobs.
One side of the construction was primarily composed of chain-link mesh, which called out — loudly — to host a climber. A seed-grown 'Wisteria sinensis' was the first climber to be homed there and, during the seven years it took to flower, it was joined by a fragrant mass of honeysuckle, a productive grapevine, a thicket of perennial sweet peas in cerise, rose and white shades, and a cascade of bi-coloured, yellow and orange climbing roses.
Additional climbing roses, mostly grown from cuttings, more grapes — also propagated from cuttings — seasonal plantings of fragrant sweet peas and climbing nasturtiums, lovingly encased other sides of the structure as the years went by. The one side unsuitable for planting, because of a complete lack of sunlight and the necessary presence of drainage pipes/ channels, was treated to a liberal, quite literally, explosion of paint in a Jackson Pollock manner, and was a colourful show-stopper on the dreariest of winter days.
Surprisingly versatile, climbing plants make a lovely addition to all kinds of outdoor spaces and can serve utilitarian purposes too. All you need are landscaping ideas
Boundary walls and fences became home to even more climbing/ rambling roses, including the headily perfumed, white-flowered, localised wild ones, to blackberries and 'clematis', more honeysuckle and jasmine scrambling in and out and over cypress trees, and buddleia for extra support. All of these, fronted by extra-tall hollyhocks and an eclectic mixture of other seasonal flowers, embroidered a privacy-creating border to be proud of, completely 'vanishing' the unsightly collection of tumbledown buildings on a neighbouring property.
Grapevines and passion flowers, woven together over a small, walk-through arbour, cobbled together out of fallen branches and inhabited by a single, turquoise-painted, wooden chair, made a serene spot for coffee breaks and butterfly-watching. Two sturdy lengths of chain-link fencing, separating the dogs' 'play area' off from the productive vegetable gardens, provided strong support for even more grapevines, rambling roses, perennial sweet peas, climbing pumpkins and French beans, with other plants filling any usable gap.
If a climber/ rambler could be grown up, along or over it — whatever 'it' happened to be — it was. There were even pumpkins, spaghetti squash and beans trained up and into both apple and apricot trees, without detriment to any species involved: in fact, they appeared to relish each other's company.
Have a good look around your own garden and identify walls and other objects to grow climbers on. Also, figure out where you can construct archways and the like, adding artistic interest and floriferous depth to even the smallest of areas.
Keep in mind that — and this is particularly relevant to those who swelter in the heat of the plains each summer — covering your house with climbing plants on the walls and, if the structure will support it, creating a garden on the roof, acts as insulation, reducing interior temperatures by a surprising amount.
Seed sowing suggestions for June:
The flower garden: French and African marigolds, 'tagetes' can all be sown now. As can 'cosmos', 'rudbeckia', 'gaillardia', 'tithonia', 'gompherena', 'gerbera', 'coleus', 'balsam', 'matricaria' and 'kochia'. It won't hurt to try a few 'dahlia', 'antirrhinum' and hollyhock seeds either, although it is more usual to wait until next month. Another sowing of sunflowers in the south of the country, along with candytuft, 'matthiola', 'gerbera' and 'coleus' wouldn't go amiss either.
The vegetable garden: Summer and autumn varieties of cabbage and cauliflower in partial shade, along with lettuce, Swiss chard/ leaf, beet and spinach. A final batch of chillies, capsicums, pimentos, aubergines and cucumbers. Green onions, okra, radish/ mooli and tomatoes, especially cherry tomatoes as these tend to be more blight- and pest-resistant than varieties such as the huge beefsteak ones. You may like to chance a few more members of the gourd family too.
The herb garden: Nasturtiums, chives, garlic chives, 'calendulas', coriander, basil, lemon grass, aniseed, dill, borage and 'plecanthrus'.
The fruit front: Watermelons, sweet melons and Chinese gooseberries from seed, plus plant some more pineapple tops for homegrown treats over the years to come.
Trees and shrubs: A huge variety of indigenous trees can be started off from seed now, as can many fruit trees and shrubs. Seed for all of the aforementioned can be harvested from the wild, from roadside trees and garden shrubs and out of the fruits you eat. As this seed is free, there is no excuse not to plant lots of it and then to share around the resultant saplings. Trees and shrubs generally take longer to grow than flowering plants and vegetables, so please be patient.
Climber of the month: 'Wisteria sinensis' — Perennial climber, deciduous habit, hardy. Prefers to have its roots in the shade and head in the sun. Soil should be well-drained. Flowers are borne on racemes during spring to early summer and range in colour from pure white/ cream through lilac and lavender to purple. Flowers may also be bi-coloured. Hard winter pruning — this promotes flowering — is essential. Some varieties are more fragrant than others. Can be grown from seed but then takes five to seven years before deciding to flower. Simple to propagate by layering.
Please continue sending your gardening queries to zahrahnasir@hotmail.com. Remember to include your location. The writer does not respond directly by email. Emails with attachments will not be opened
Published in Dawn, EOS, June 6th, 2021