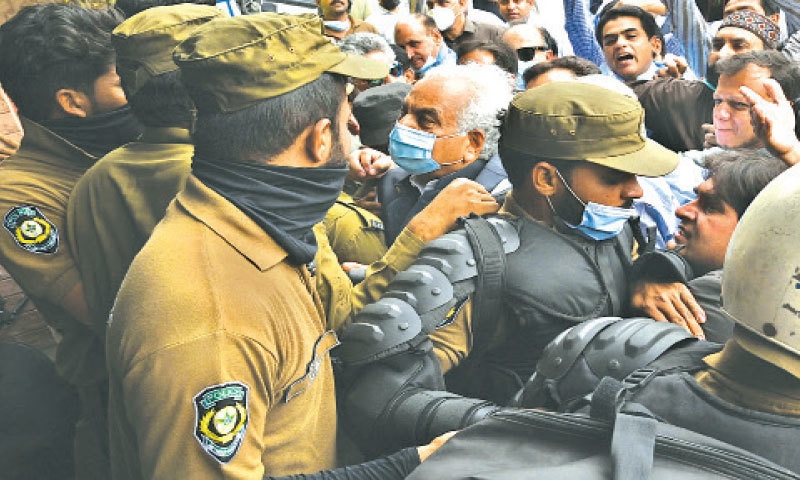 LAHORE: The government finally allowed the mayor-led members of the city district assembly to hold a pre-budget session at the main hall of Metropolitan Corporation Lahore after offering some resistance and considering the likelihood of any 'law and order situation.'
On the other hand, Lahore Mayor Mubashir Javaid warned the government to implement the March 25 Supreme Court's verdict restoring the local bodies' institutions in Punjab or face massive protests.
"Before going to MCL headquarters (known as Town Hall), I personally contacted the Lahore commissioner, who also heads the MCL as an administrator, to implement the court orders, hand over the charge to the elected representatives and allow us to convene a pre-budget meeting. But he referred us toward the local government and community development department to whom we also contacted," he told Dawn.
Since, he said, there was no response from the government, the members led by him reached [about 12:30pm] at the town hall which had sealed by police.
At the gate of the mayor office that leads towards the main assembly hall, the police forcibly stopped the members, who continued chanting slogans against the government, from entering the premises. However, when the mayor was delivering the speech, the police allowed the members to enter after someone phoned the administration. Later, the members gathered at the main hall and Mayor Mr Javaid and Deputy Mayor Mian Tariq jointly started the session.
"Keeping in view sentiments of the members, this house warns the government to avoid presenting and passing the MCL budget since it would be unlawful and unconstitutional in view of the court orders as well as the constitution of Pakistan," said one of the members while speaking on the occasion.
Later, the house approved a resolution endorsing the SC verdict and demanding immediate suspension of the 2019 LG Act and handing over the charge to the members/heads elected under the 2013 Act under article 164-A. "The present heads of the local governments must be sent back to their offices. Moreover, all decisions related to payments, awarding contracts/projects must also be cancelled being illegal," reads the resolution.
"We also want initiation of action against the officers who didn't attend the meeting despite having information," it said.
Published in Dawn, June 4th, 2021