Pricille Deborah had all that a young woman needs to continue living a happy life — a successful career as a business executive, a family and a child. But for a reason unknown even to herself, she remained depressed for years and years. One explanation could be that the death of her younger brother, following a long illness, had affected her deeply.
In her own words, she was repulsed by her life and had an obsessive need to re-invent it. Failing to do this through different attempts, in 2007, at age 33, she entered a metro station and flung herself in front of a train. Her injuries were grave but her life was saved through several surgeries, and only after having both her legs and the right arm amputated.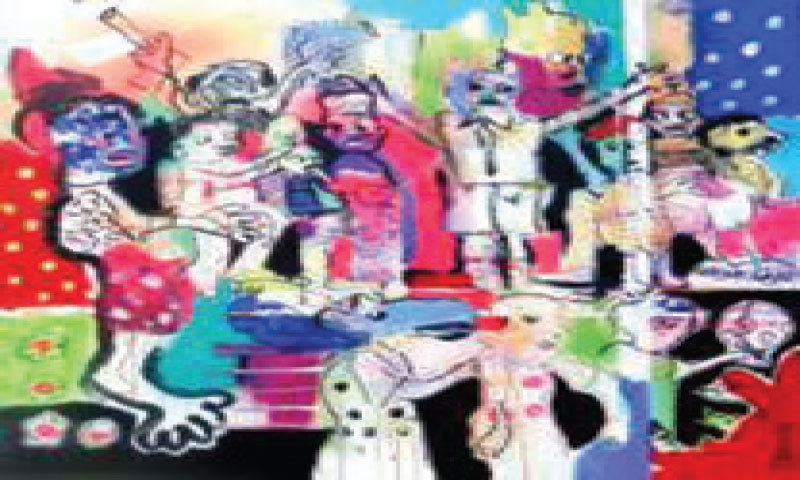 She would at the moment describe her life as a failure. "Everything went upside down, and even my desperate effort to put an end to it all was turned into a defeat," she later wrote in her autobiography.
Today, Pricille Deborah is equipped with a high-tech bionic right arm that helps her perform her daily chores effectively by setting it like a computer. Given the fact that she never appears depressive and speaks about everything in life with an astonishing enthusiasm, she is a frequent guest on TV shows and does not object to being called the 'Bionic Woman' by the media.
But the most astonishing aspect of her new life is her own passion for painting and making sculptures. Her creations appear very close to the abstract, naïve or post-impressionist styles promoted by Pablo Picasso, Henri Rousseau and many others in the early 20th century. One also often notices flabbergasted, frightened or happy expressions on the faces of youthful or aging characters she paints, apparently inspired by Edward Munch's technique and his legendary work, The Scream.
After losing both legs and her right arm in a suicide attempt, a woman fell in love with life again after discovering painting … with her bionic arm
Living her new life close to the city of Bordeaux, south-west of Paris, Pricille Deborah does not hesitate from rolling ahead on her wheelchair into public places and starting work under a bright sunshine, in full view of the passers-by. She has had a number of exhibitions in the area but her programmed show in a Paris museum was halted at the last moment only a few months ago on account of the pandemic restrictions. The organisers say they intend to go ahead as soon as the health restraints are relaxed.
In her autobiography, The Agony of Living, which appeared six years ago, she explains that, following her accident, instead of getting broken-hearted, she fell in love with life. Today, she no longer wishes to die but to go on creating works of art instead.
At the same time, she continues writing and, in her second book — Reinventing Life — that came out recently, she explains her newly acquired passion for living. She says: "Fifteen years ago, everyone said I had everything to lead a happy life but I couldn't do it. Today, they say I am in a state that could be depressive but it isn't, thanks to my miraculously acquired passion for painting and making sculptures."
She further says: "Day by day, I am getting familiar with my new, purely bionic right arm. I already use it for usual movements like opening a door or cooking meals. Soon enough, I hope to be able to program it electronically in order to go further and further ahead with my artistic dreams."
The writer is an art critic based in Paris. He can be reached on zafmasud@gmail.com
Published in Dawn, EOS, May 30th, 2021