KARACHI: The stock market extended the decline to second day with the KSE-100 index moving in the range of intraday high and low of 181 and 230 points on Friday.
The market closed with a loss of 127.15 points, or 0.29 per cent, at 44,300.95 as it was held hostage to the gnawing fear of the third wave of Covid-19, which saw new cases rising to a record 5,234 in a single day on Thursday.
The infection rate remained high at 10.4pc against the 30-day average of 7.5pc. Given that the Punjab government had clamped lockdowns from April 1 to 11, in districts with a Covid-19 positivity rate of over 12pc to curb the spread of the disease, investors fretted that the Sindh government could follow suit.
Many found their money stuck in over-bought stocks in the technology, refinery and power sectors. Traders said that the absence of positive news flow further curbed investors' appetite for stocks. The reshuffle in the cabinet still unfinished and the rejection of the ECC decision by the cabinet to resume trade with India also confounded the confusion.
The market viewed the surge in headline inflation to 9.5pc year-on-year in March with concern, but failed to notice the bulging foreign exchange reserves.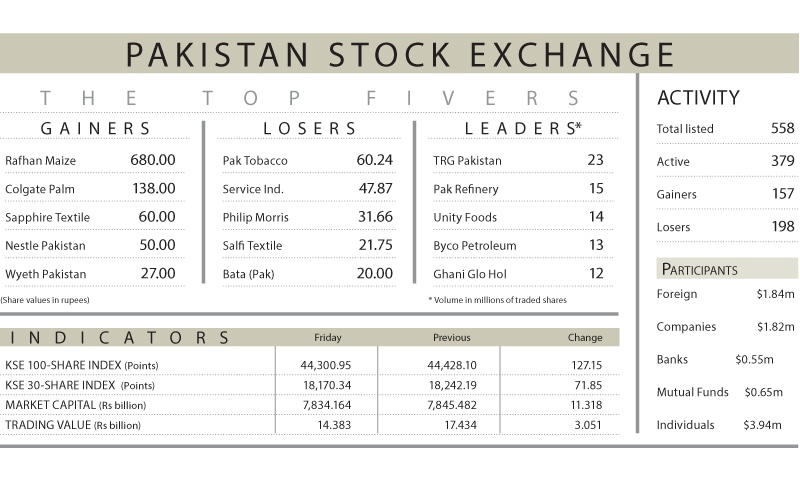 Although individuals took fresh positions in scrips worth $3.94m, followed by purchases of attractively priced stocks by companies and mutual funds, the figures released by the National Clearing Company of Pakistan showed that insurance companies, brokers, banks and foreign investors thought it prudent to err on the side of caution and reduced positions, mainly due to the week-end ahead.
Among sectors, technology and E&P suffered heavy battering. Netsol lost 6.8pc, PPL -0.8pc and POL 1.9pc. Among scrips, TRG, POL, DAWH, PAKT and Systems dragged the index down by 115 points.
Due to low investor participation, the traded volume plunged 40pc over the previous day to 267m shares while the traded value dropped 45pc to Rs14.4bn. TRG, PRL, Unity, Byco and GGL were top contributors to turnover.
Published in Dawn, April 3rd, 2021