KARACHI: The stock market remained on an upward trajectory on Wednesday. The KSE-100 index gained 197 points, or 0.4 per cent, and closed at 46,161.
The market opened in the green as almost simultaneously polling for elections to the Senate commenced. However, the market didn't show interest in the event as most expected the government candidate in Islamabad, Finance Minister Dr Abdul Hafeez Shaikh, to sail through an easy win. The market, therefore, took a cue from regional bourses which were on a steady rise.
For a short time, the index came under selling pressure as investors were prone to profit-taking following an end to the results season.
The index moved between intraday low and high of 41 and 225 points. While the individuals remained generally on the sidelines and foreign investors sold shares in substantially higher sum of $3.95m, institutional buying supported the index.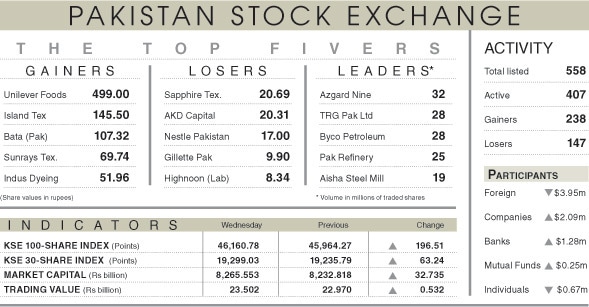 Companies picked up stocks worth $2.09m and banks took stakes in shares valued at $1.28m.
Healthy numbers of OMC offtakes and cement sales were helpful in leading the index higher. Most cement shares traded in the green including Cherat, Kohat, D.G. Khan, Pioneer and Lucky. Technology, refinery, autos and O&GMC sectors also remained active throughout the day.
Power sector also saw most shares gain values as the energy chain remained recipient of fresh flows from investors on the back of release of funds from government in conclusion of deal with IPPs. The laggards for the day were banks and E&P sectors.
The major scrips that contributed to the index rise included MCB Bank (23 points), INIL (21 points), DAWH (16 points), MEBL (16 points), and SNGP (15 points).
The trading volume increased from 399.1m shares to 403.7mn shares and the value also increased by 2pc to $149.6m. Top volume leaders were ANL, BYCO, TRG, PRL), ASL, UNITY and GGL which cumulatively contributing 162m shares to the turnover.
Published in Dawn, March 4th, 2021