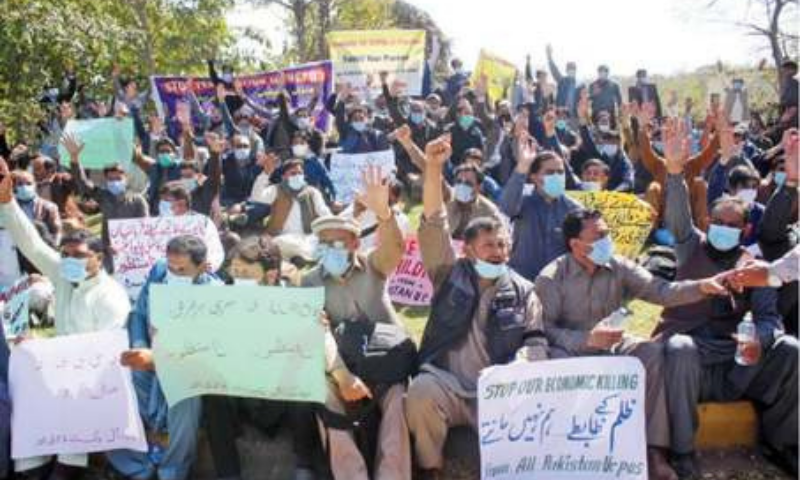 ISLAMABAD: About 850 union council polio officers, whose contracts expired on Feb 28, continued their protest outside the office of the World Health Organisation (WHO) here on Tuesday.
During negotiations, WHO country director Dr Palitha Mahipala refused to give assurance that the officers would be rehired. These officers had been hired by the WHO to manage anti-polio drives at the union council for years.
In November last year, the officers had also protested in the capital after WHO refused to extend their contracts apparently due to financial crunch.
At that time, Dr Mahipala had assured the protesters that their case would be considered on compassionate grounds. Later, their contracts were extended for three months. However, after expiry of the three months on Feb 28, he himself refused to extend the contracts further.
The protesting officers said the experience they had gained during their tenure would become useless. They said they had fought against polio despite facing threats to their lives and humiliation in areas where parents refused to vaccinate their children. They said they served during a very difficult time and instead of being appreciated for their sacrifices, they have been fired.
"Many officers sacrificed their lives for serving humanity. Despite all difficulties, we delivered our best in routine immunisation, outreach vaccination sessions, measles campaigns, acute flaccid paralysis (AFP) surveillance, polio vaccination monitoring, area incharge training and social mobilisation," a protester from Parachinar, Imdad Hussain Turi, told Dawn.
He said Dr Mahipala had called the protesters to his office and the latter were hopeful that they would hear a good news from him.
"However, it was astonishing for us when Dr Mahipala said we cannot be reinstated. We have decided to continue our protest till extension of our contracts," he said.
"Not only we fought against polio but we supported, assisted and facilitated the Covid-19 control team and played a vital role in creating awareness about the pandemic. We traced people who had come from other countries, helped them in isolating themselves and followed up Covid-19 positive cases both at quarantine centres and in home quarantine," Mr Turi said.Polio officer Rasheed Khan, who came from Mardan, and Mubashir Nadeem, from Lahore, were also among the protesters.
They said they were getting just Rs55,200 per month salary but WHO deprived them of that meagre amount.
"Our contracts, which were given through a third party, expired on Feb 28. We are of the view that we have served the noble cause of polio eradication in areas where there was unrest and our lives were at a stake," they said.
It may be mentioned that not a single case of poliovirus has been reported in Pakistan this year. However, in 2020, 84 cases had emerged compared to 147 cases in 2019, 12 in 2018 and eight in 2017.
There were also 83 cases of vaccine derived polio in 2020 and 22 such cases in 2019.
Pakistan and Afghanistan are the only two countries where polio cases are still being reported. Pakistan remains under a polio-linked travel restriction imposed by WHO due to which since 2014 every person travelling abroad has to carry a polio vaccination certificate.
Published in Dawn, March 3rd, 2021