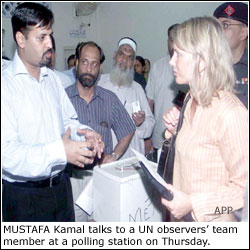 KARACHI, Oct 6: Syed Mustafa Kamal of the Haq Parast Group, backed by the Muttahida Qaumi Movement, won the post of Karachi city nazim on Thursday. Mr Kamal bagged 1,493 votes against 800 votes obtained by his main rival, former city nazim Niamatullah Khan, fielded by the Tameer-i-Karachi Ittehad of the combined opposition parties.
The Haq Parast group not only emerged victorious in the contest of city nazim, but its candidates clinched the slots of nazims in 14, out of 18 towns.
The unofficial results were declared by the Returning Officer on Thursday night. The five towns in which Niamatullah Khan maintained lead over his rivals inlucded Lyari, Site, Keamari, Gadap and Bin Qasim where he secured 109, 65, 68, 59 and 71, respectively, while Mustafa Kamal in these towns could muster 30, 51, 32, 45 and 18 votes only.
The other three aspirants in the run included Dr Mohammad Hanif, who got three votes as an independent candidate while Rizwan Khanzada, who had earlier announced his retirement in favour of Niamatullah Khan but did not inform the election commission, got one vote. Zahid Ali of PML-N, who also failed to communicate his decision to the EC also bagged one vote.
The fourth candidate, Ms Fauzia Wahab of the Awam Dost, despite submitting her retirement papers, had her name on the ballot paper and was able to get one vote.
The 13 towns in which Syed Mustafa Kamal had a lead with a big margin over his arch rival are:
Saddar Town 107 against 34, North Nazimabad 88 against 42, New Karachi 157 against 12, Gulberg 86 against 18, Liaquatabad 134 against nine, Jamshed 100 against 67, Gulshan-i-Iqbal 85 against 83, Shah Faisal 66 against 25, Landhi 108 against 46, Korangi 103 against 13, Malir 78 against 13, Baldia 60 against 43, and Orangi 145 against 23.
Out of 2,314 electorates, 2297 votes were cast, 13 votes were rejected on technical grounds while two members died and one member who was elected on two seats, could exercise only one vote.
TOWN NAZIMS POLLS: The town-wise break down of votes in 14 towns where Haq Parast Panel candidates were declared elected and the number of votes obtained by their rival candidates is as follows:
Gulshan Town: Mohammad Wasey Jalil (90) Abdul Wahab Engineer (77); Shah Faisal Town: Mohammad Imran (68) Islamullah (23); New Karachi: Mohammad Hanif (158) Saeed Ahmad Siddiqui (11); Baldia: Kamran Akhtar (62) Ashraf Awan (41); Korangi: Mohammad Arif (104) Abdul Jalil (12), Liaquatabad Osama Quader (134) Basharat Ali (nine); Saddar Town: Mohammad Dilawar (122) Habib Memon (20), Orangi Town: Abdul Haque (147) Jamilur Rehman (21); Malir: Ansar Ahmad (76) Mehmoud Ahmad (15); North Nazimabad: Mumtaz Hameed (89) Qazi Aamir (41); Site Town: Izharuddin (57) Amir Nawab (54); Landhi Town: Mohammad Ismail (110) Asif Hussain (12); Gulberg Town: Syed Mauoud Hayat (86) Liaquat Ali (18); Jamshed Town: Col (Retd) Syed Tahir Mashhadi (103) Raja Arif (64).
The four towns where Tameer-i-Karachi Ittehad or independent candidates were elected are:
Bin Qasim Town: Omar Jat (45) Ashiq Jamote (36); Gadap Town: Ghulam Murtaza Baloch (51) Adil Khan Bhatti ; Keamari Town: Humayoon Mohammad Khan — Independent (52) Zulfikar Yunus (48); Lyari Town: Malik Mohammad Fayyaz — Lyari Awam Dost – (71) Malik Mohammad Khan –TKI (54).
WOMEN SEATS: On the women's reserved seats in the city council, the following results of 10 towns were available:
Saddar Town: Nasreen Jalil, Shamim alias Mumtaz and Sarwat Arif; Bin Qasim: Mehrunnisa and Ruqayya Baloch; Lyari Town: Syeda Saeeda Bano, Zarina, Kulsoom Shama, and Razia Soomro; Liaquatabad: Shamim Akhtar, Nighat Shakeel, Farzana Mumtaz and Shabana Shabab; Korangi: Kulsoom Bibi, Reshman Naz and Bilqees Bano; Jamshed Town: Shabana Ashaar, Musarrat Jibeen and Aqila Azhar, (Nargis Fatima and Yasmin But secured equal number of votes, their fate would be decided later on).
Orangi Town: Huma Nasir, Hasina Sabir, Bushra Perveen and Saima Syed; Site Town: Sabira Begum, Fareeda and Nasreen; Baldia Town: Shabnam Shahid, Shugufta Jehanzeb and Najma; Shah Faisal Town: Safia Begum, and Rafia Ehtesham.