Torbaaz
Torbaaz is a textbook example of the bad impressions one gets from trailers that turn into the audience's worst experiences. The realisation of this thought instantaneously takes me back to the cinemas of the early 2000s, where bad trailers preceded agonisingly bad films. It was that deplorable time at the movies where head-throbbing narrative decisions and general lack of common sense pleaded irreconcilable differences and filed for divorce.
Spawned from the very DNA of these two clashing aspects is Torbaaz — an allegedly, anti-war sports film that makes you want to weep for Sanjay Dutt.
With the seriousness of a man out to prove his worth to the industry, Dutt brings to life the world-weary, emotionally banged up doctor who goes by the name of Nasser Khan.
In his first entry, an airport attendant tracks Nasser sitting zoned-out in the lounge. The airline has been calling his name for a while, the attendant tells him. I'm not coming, I've lost my ticket, he replies. She looks down, and we follow her gaze, and lo and behold, his ticket lies barely a foot away from his feet. In the next shot, we see Nasser sitting in the plane on his way to Afghanistan, where the film is set, and where Nargis Fakhri, another bland, superficially added member of the cast, awaits him.
Lucidity and reasons escape Girish Malik, the co-writer and director of the film. Nasser, a grown man, shouldn't be explaining himself to attendants at the airport. If he doesn't want to go, he shouldn't go.
Malik turns a deaf ear to his inner common sense when writing scenes. I'd like to believe his common sense was screaming so loud that the neighbours could hear it. The story is bland, has no drama, no sense of urgency, an utter lack of genuineness and emotion, his — or anyone's — common sense may have argued. Malik, alas, didn't listen.
The disjointed narrative sticks Nasser in the middle of four conflicting ideas when he arrives in Afghanistan. In one aspect of the story, he is a lone man with a heavy heart, who has lost his son and wife in a suicide bombing; in the second, he takes over the said wife's life mission by helping out her NGO as a doctor; in the third, he helps children from a refugee camp play and win against the children of the cricket academy in Afghanistan; and finally, in the fourth, he tries to convince terrorists that spreading terrorism by brainwashing children into suicide bombers is a big no no (Rahul Dev as the head Taliban).
"You pray five times a day to seek fulfillment for your purpose [ie. terrorism]. And I pray five times a day for the happiness of these children. Let's see whose prayers are answered," Nasser, bloody, beaten, bound to a chair, argues when he eventually confronts the terrorist leader.
"You're a different kind of devil," the villain tells him, agreeing for the refugee children to play one match against the cricket academy.
Say wha…?
A no no would have been better choice from the Netflix people who agreed in acquiring this ill-conceived film for the platform. Even more harebrained are the Pakistanis, whose thirst for Bollywood content lands Torbaaz on the top 10 most-watched titles in the list.
The film is on the first spot as of December 15 (the film premiered on December 11). Either bad word-of-mouth takes a while to build momentum (it doesn't), or the lack of Bollywood content has really screwed up our taste big time.
Streaming on Netflix, Torbaaz is rated 16+. It is appalling
Both the Sanjay Dutt-starring film Torbaaz and Swara Bhaskar-headlined series Bhaag Beanie Bhaag would have benefitted from saner heads at Netflix, which acquired them. The former is appalling and the latter ends up as an unsure, uncomedic rant
Bhaag Beanie Bhaag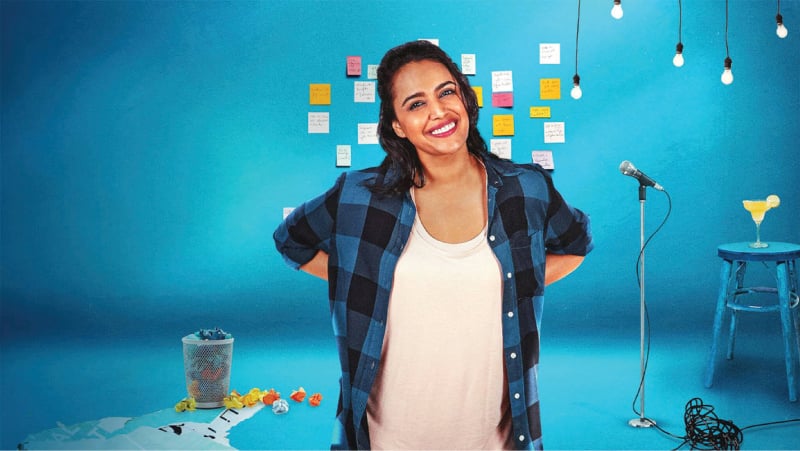 When Beanie Bhatnagar (Swara Bhaskar) takes the open mic at a comedy club in the last scene of the first episode of Bhaag Beanie Bhaag, she is a mess. Her voice chokes, her jokes stutter and her mind draws a blank.
Beanie had just ended a three-year relationship on the eve of her engagement. It just wasn't working, she convinces herself; she — annoyingly for us viewers — kept seeing babies with every turn of her head. The relationship wasn't the only thing that got chucked out the window in her moment of desperation — she resigns via a voice note when her boss asks her to complete a task the next morning.
Beanie herself is hardly worthy of our sympathies. No one was forcing her to get married or keep a job. She is the living personification of the term: It's Me, Not You — the you in this sentence is everything and everyone else in the world.
She wants to be a stand-up comedienne. She, mostly, doesn't have the talent.
The six-episode series, then, is like Beanie. Unsure, without identity, somewhat impulsive and uncomedic.
Characters — other than Beanie, all supporting — are there to prop a particular aspect of her aimless story. By themselves, they amount to nothing.
Beanie's best friend (Dolly Singh) gives her confidence, her dad (Girish Kulkarni) is superstitious, her mom (Mona Ambegaonkar, the only one who nails her comedic timing) wants to give her the benefit of doubt, a stand-up from LA (real-life stand-up comic Ravi Patel) takes her to comedy clubs, and ends up being a temporary fling — and a source of comedy material; her former fiancé (Varun Thakur, also a stand-up comic) is hurt, but moves on in a flash.
Everyone is a custom-made caricature to get the story's point across. The point being: Beanie wants to run and be her true self. She wants to tell jokes to the world. And she does, in midst of a few, hardly chuckle-worthy stand-up routines that turn into rants.
By the end, like Beanie, the series is a rant. A calmer head, and a revisit to the drawing board would have done both the character and the series, a world of good.
Created by Neel Shah and Ravi Patel, directed by Debbie Rao, Bhaag Beanie Bhaag is streaming on Netflix. The show is rated 16+ for sexual situations and crude language. Parents beware: don't show the series to impressionable teenagers; they may think that indecision is a way of life
Published in Dawn, ICON, December 27th, 2020