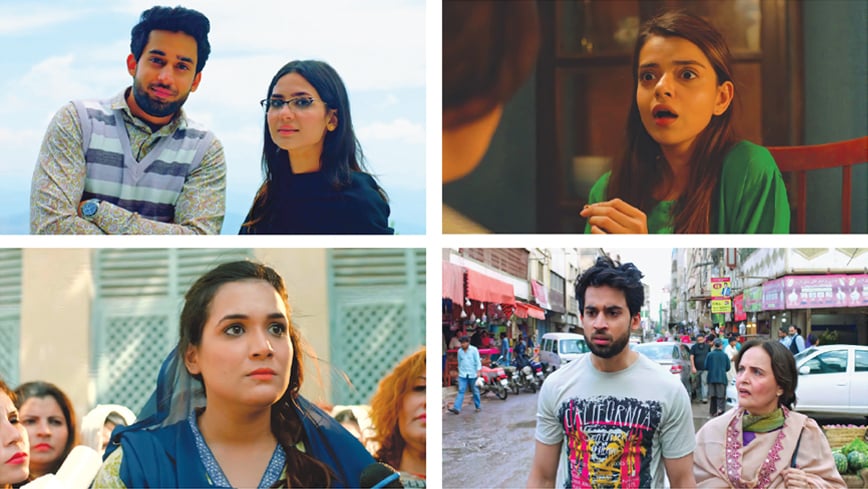 On face value, there may not be much drama — and thankfully zilch melodrama — in the Umera Ahmed-written, Mehreen Jabbar-directed web-series Ek Jhooti Love Story (EJLS), streaming now on Zee5.
EJLS is a strange departure from the usual sorts of series on the web. The story we see is an uncomplicated mess, with the characters either being indecisive, immature young people or tenacious older ones. There is no ticking clock mechanism in the story — an aspect of screenwriting that sometimes revs up the pace with undue, heightened dramatics. Here, things just happen as usual, even when people cry their eyes out, praying for karma to quickly turn things in their favour.
But that's life for you. Slow, steady, unbothered, no matter how impatient or angry you are.
Umera Ahmed's inspiration, then, is life itself: palliative, unpretentious, candid and chuckle-worthy. And like life, it takes a fair bit of time to get to the point.
The first episode is as routine as routine gets, as Umera throws a lot of characters whose names start with the letter 'S' our way. The first is Salma (Madiha Imam), a college student, who, when the series opens, is glued to a 21-inch television screen (the kind with the wooden body) broadcasting Prince Harry and Meghan Markle's wedding. With fairytale pixie-dust twinkling in her eyes, she sits a foot away from the screen.
Umera Ahmed and Mehreen Jabbar's web-series Ek Jhooti Love Story is like life itself: palliative, unpretentious, candid and chuckle-worthy. And like life, it takes a fair bit of time to get to the point
If it were within the bounds of science, she would jump into the tube and come out the other end at St. George's Chapel in England. Salma, who secretly pines for fairytale romance, alas, is a realist who has pitied and self-labelled herself as the most unremarkable young girl in the world.
Another 'S' in the family is Salma's elder sister Shabana (Kiran Haq), a college lecturer who rebuffs romantic gestures from her co-worker (Ali Sheikh), a poet whose works she appreciates even less than his mundane existence. While vanity is far from Shabana's thoughts, when the poet-teacher enters her proximity, conceit and discourtesy leap out from her with unbridled fervour. The man of Shabana's dreams is the archetype hero from dramas and digests, and she isn't settling for anyone less.
Another 'S'-named sister, Shazia (Mariam Saleem), also a teacher, is wooed by Tanzeel-ur-Rehman Siddiqui (Fawad Khan, in a versatile performance that is 180-degrees from his role in Churrails). Tanzeel is a fruit vendor who brings the family overstuffed bags of fruits; he is also their cousin. Born a few years before Shazia, he hardly qualifies for her two pre-conditions for marriage: one, the suitor should have a foreign nationality; two, it should be anyone but Tanzeel, even though she gels with him just fine.
Although not visible in the first episode, there's also their nearly-retired father (Mohammad Ahmed) and Salahuddin (Furqan Qureshi), their older brother, whose co-worker (Asma Siraj) only has eyes for him; it's a fact she lets him know with unabashed conviction time and again. Like his sisters, Salahuddin, being a wuss, gives his co-workers inane reasons for not accepting her advances.
The family, mostly frustrated by a lack of good suitors coming for their daughters, is often lost in their self-created reveries. They don't take in the fact that their eligibility criteria are warding off potential suitors. As a consequence, the mom of the family (Beo Rana Zafar, nailing every line she gets), who has no filter on her mouth and even less empathy, is often grumbling about of their apparent misfortune.
A few blocks away from this family lives Sohail (Bilal Abbas Khan), an everyday kid who runs a PC repair shop that doubles as a mobile repairing outlet and a UPS repair and installation service. The lad is desperate, even if we don't understand his desperation.
Sohail has a mom (Hina Bayat) and a younger sister (Srha Asghar) with a snappy, smart-aleck mouth, who will eventually get an eligible suitor from the UK, who drives a taxi. Like every disgruntled character in the series, at first, she is appalled by the idea of marrying a taxi driver.
Everyone in the series is aiming for the stars, no matter how implausible. Sometimes, though, settling for less is better. This revelation is the gist of Umera's story, but you only see it as a fact by the last three episodes of the 18-episode series. Until then, it's a lingering build-up of a handful of plot points.
In episode two, for example, Sohail installs a UPS in Salma's house, and bumps into his friend Nofil (Ahmed Zeb), a Microsoft employee in Silicon Valley who is visiting Karachi to marry.
Jealous and overawed by Nofil's success, Sohail makes a fake Facebook ID with his friend's name and pictures to woo a rich, hot girl Natalia (Kinza Razzak). The Natalia he woos, however, is Salma's fake ID — as she puts it, it's her escape from reality. The real Natalia is her best friend's uber-rich cousin.
Even in the beginning, the series inexplicably loses its momentum, and our attention starts drifting to small, inconspicuous things. In the same second episode, we notice movie posters of Sholay and Saajan on Sohail's wardrobe cabinet; the movies were made well before Sohail's time (the boy is in his mid to late 20s), and they would hardly be a young man's choice these days. If there's a contradiction in this fact, it's one we never get to know because the exposition and backstories do not dig that deep into details.
While episodes continue to push small story points forward, your attention still latches on to the mundane. Like, in episode three, Salma is infuriated by her pimple, but not by her dirty vanity mirror that could use a spray of glass cleaner (or soapy water) and some elbow grease; the stains were quite superficial. In episode five, Sohail's widowed mother threatens to sell their television set; this is the third time (or is it the fifth?) that the series directly attacks television productions for planting saas-bahu soaps' conspiracy theories into impressionable minds. By the sixth episode, we note the alarming frequency of scenes where tea, biscuits, samosas and kebabs are served. Although these scattered details may sound random and irrelevant, they persistently ground the series in a realistic setting.
For the most part EJLS doesn't fit into any pre-fixed mould of today's television: it's no soap or sitcom, nor your conventional drama serial for that matter. The dilemmas these all-too-real people go through are palpable, and there aren't any villains in the story. Even the mom played by Beo Rana Zafar has her sense of reasoning; she just wants her girls to get married — it's the same anxiety that hounds Sohail's widowed mom as well.
Director Mehreen Jabbar seems to be in sync with Umera and producers Shailja Kejriwal and Misbah Shafique's angle on the subject. In fact, Shailja once told me that the series was something her mother would love. Truthfully, one can't find a better way to sum up EJLS.
Two small things, however, could have made EJLS a more gripping show: a slightly sped-up pace and better use and placement of episode-end freeze-frames.
Personally, I would have cranked up the pace; even the title song by Saad Sultan sounds better when sped-up by 25 percent. More annoying were the freeze-frames of the episodes; they're hardly dramatic or apt and lets those with production knowhow know that the continuation of episodes was sliced and diced in the edit.
Mehreen's astonishing growth as a director manifests by the mid of the series. The series presents a stark contrast to her atrocious, dilly-dallying misfire Lala Begum (also a Zee Zindagi production). One particular moment that really blew this critic away came in a scene when a character hesitates before saying her third and final qubool hai before marriage. As the camera, with its unsettling wide-angle lens, moves closer to the bride and her assemblage, we see the character's internal suffocation take life on the screen.
This particular shot is a minor wow-moment of cinematographic pizzazz; the rest comes courtesy of Umera's powerful — if very laidback — approach to the story and its masterful resolve in the last two episodes.
As if these two powerhouses weren't enough, there's also the uniformly brilliant, very-much-in-character performances from the ensemble cast, especially Madiha Imam, Bilal Abbas Khan, Mariam Saleem, Hina Bayat and Beo Rana Zafar. We see these people, we understand them, we feel for them. In a world this close to reality, there are no big bad antiheroes; just circumstances and the immaturity of the young and the old.
Shailja was right: EJLS is a series moms and grandmothers will love…but if you stick with it (especially through the slow parts), so will you.
A Zee Zindagi Original, produced in association with Motion Content Group, Ek Jhooti Love Story is the most family-friendly fare on any visual medium. The series is streaming now on the Zee5 platform
Published in Dawn, ICON, November 15th, 2020