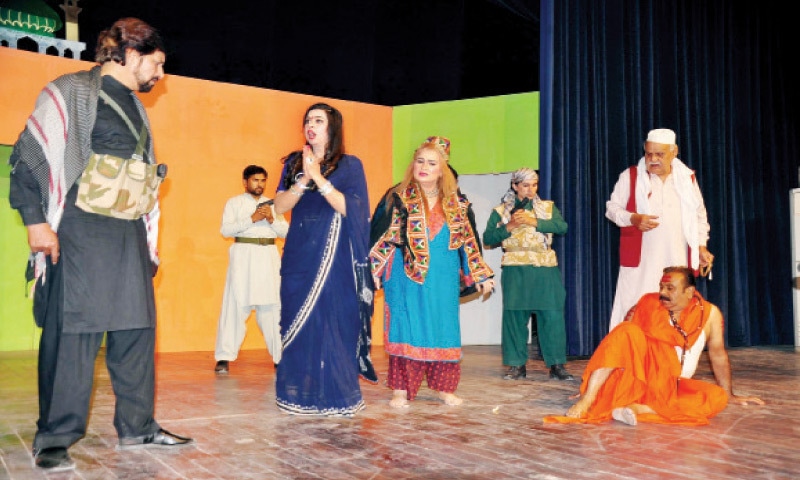 RAWALPINDI: A theatrical performance titled Jalti Wadi, which aimed to highlight the Kashmiri struggle was held at the Rawalpindi Arts Council (RAC), in collaboration with the Rawalpindi Islamabad Stage Artists Welfare Society.
The play was written by Syed Saleem Affandi and directed by Sapna Shah. The cast included Waheed Minhas, Jhalak Ali, Liaquat Shah, Saleem Affandi, Sapna Shah, Anjum Abbasi, Raja Sattar, Ehsan Qureshi, Tahir Shirazi and Arshad Khan.
Mushaal Malik, wife of Hurriyat leader Yasin Malik, was invited as the chief guest.
Speaking at the play, she said that India was violating human rights in Kashmir.
"India has allowed Indians to buy land in the occupied valley. In fact, there is a conspiracy to turn Kashmiris into a minority in the valley," she said.
"More than nine million Kashmiris have been under curfew for 15 months. Thousands of Kashmiri youth are being tortured. The United Nations should give Kashmiries the right to vote in accordance with UN Security Council resolutions," Ms Malik added.
RAC Director Waqar Ahmed said the UN, European Union and other major countries should play a role in resolving the Kashmir issue.
"How long will the world remain silent on the atrocities taking place in the occupied valley? Kashmiris are sacrificing their lives to save their identity from being erased," he said.
Published in Dawn, October 29th, 2020