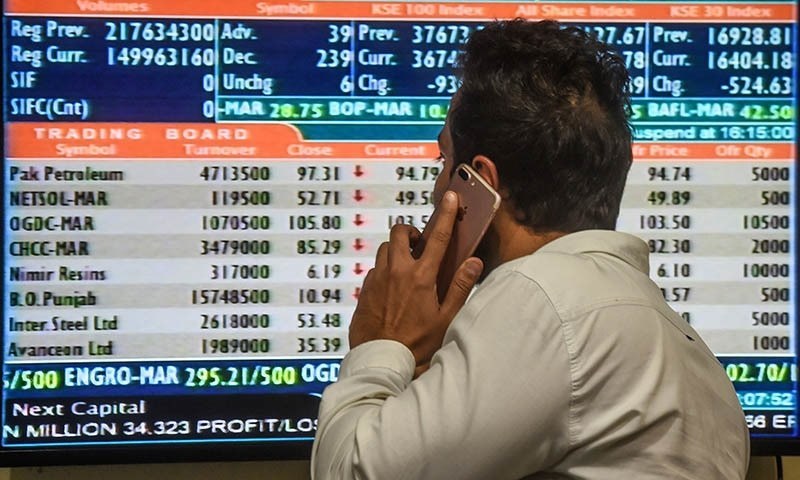 KARACHI: For the fourth successive day, the stock market remained in control of the bulls who tossed the KSE-100 index up by 444.81 points (1.10 per cent) on Friday to settle at 40,798.43.
The market remained in search of direction in the early hours of the day which saw it hovering between the red and green. But before close of the first half, the index consolidated its position mainly on the back of exploration and production sector as the rising international oil prices provided good enough reason for it to perform.
The volume declined 25pc to 358.8 million shares, from 476.8m shares while traded value decreased by 24pc to $72.8m. Stocks that contributed significantly included Hascol, Unity Foods, TRG, Bank of Punjab and Worldcall Telecom, that formed 39pc of total turnover.
Among participants, foreign investors bought stocks valued at $0.41 million. Individuals booked gains through sale of shares worth $5.20m, ahead of the weekend. Short-term and leveraged players closed their positions nervous over the political instability, mounting inflation and the Financial Action Task Force decision that is to come later this month.
JS Global analysts affirmed that the market was encouraged by a positive feedback on the FATF as an extension, if not a completely clean chit, was expected. In case of positive news, the bulls could drive push index further by at least 2,500 points in no time" reckoned the brokerage.
The International Monetary Fund remained a source of apprehensions for many long-term investors. While the tax collections and energy tariff hikes were obviously on the agenda, a softer stance was expected amid difficult times and improved efforts towards target achievement.
Traders said that investors were now looking forward to the September end quarterly results which might be unveiled in the upcoming week, where cyclicals were expected to produce improved results as the business had picked up post-Covid ravages.
Stocks that contributed positively to the index included Habib Bank, up 64 points, Hub Power 47 points, Oil and Gas Development Company 31 points, Pakistan Petroleum 29 points and TRG 27 points.
Published in Dawn, October 10th, 2020