The first mistake I made when previewing Abdullah Siddiqui's latest album, Heterotopia, was that I played it in the car on a trip from Karachi to Islamabad. We had at least 16 hours on the road ahead of us, and what better time to listen to new music than when that's the one constant you'll have when travelling through an ever- changing landscape?
I wasn't impressed. And as an avid listener of Abdullah Siddiqui's music, that came as somewhat of a shock.
But I wasn't quite ready to give up and, the next time, I tried something different — headphones. I'm glad I did because it's as if the sound suddenly came to life. For some reason, you get the full impact or atmosphere from the songs from Abdullah Siddiqui's latest album only when you listen via headphones — preferably the noise cancelling type — or a fancy sound set up in a very quiet room. This is not an album produced or mastered for listening in your car above the hum of the engine on the road.
That's because the sound of the songs in the album travels. And especially in Magenta Cyan, the sound pans from one side to the other — the left speaker to the right and back — almost in a constant loop. It's the kind of music you listen to in silence.
Abdullah Siddiqui's collaboration with Meesha Shafi, Magenta Cyan, isn't a quick listen, it needs time and attention
While Abdullah Siddiqui's music has always been somewhat experimental, this is the first time I'm listening to Meesha Shafi sing like this. Over the past several years, we've heard her introduce her own ethereal, beautifully melancholic sound through the release of her original tracks Main and Leela. Here, her collaboration with Siddiqui creates a sound that is both experimental, pop-ish and, in parts, ethereal at the same time.
Fingers snapping. Static. A tabla tap here and there followed by a vocalisation of the taal (rhythm) in which Meesha Shafi moves in black-and-white in the middle of an empty field. A desolate Abdullah Siddiqui appears and sings the opening lyrics of the song while the snapping, static, tabla and taal continue through the background.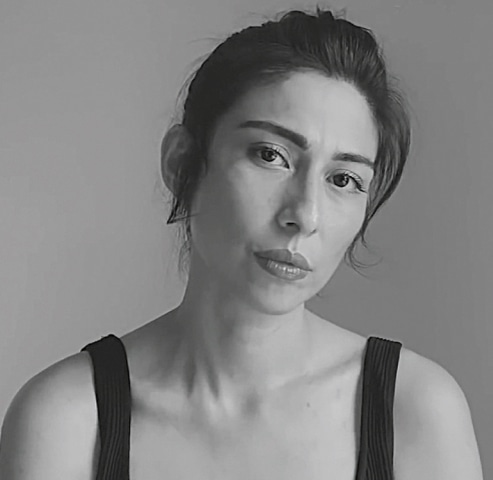 That's a pattern repeated in the song. When a sound or vocalisation is introduced, it's carried for a while through for the duration of that segment of the composition.
When Abdullah's singing ends almost in a whisper, Meesha takes over with her rendition of the chorus halfway through the song.
I can't see the world in magenta cyan
Through all the cigarette smoke
produced from your hand
I'll be the best mistake that you make
I'll be an easy heart you can break
I'll be your lifeline
I'll be your lifeline
She ends that with a mournful raag echoed by violins in the background. The tabla picks up at this point on what sounds like a three-by-four beat and Abdullah is back on the chorus, soon joined by Meesha.
In terms of sound alone, there's a lot to discover here. And I don't think this song will be everyone's cup of tea. It's not a typical pop song, it merges several different genres, culturally-different instruments and techniques. It's beautifully weird. And it grows on you.
When it comes to poetry, Abdullah is a bit of a wizard with words. His lyrics bring to life the most complex human emotions, in the most visual way. In that sense, this section stood out for me:
It's never easy
My life is a tangent you'll never go on
But I'll watch you from afar, inhabit what
I don't have until dawn
You puncture the cracks in my skin,
re-trigger the organic darkness,
the organic blackness
Can you see my blackness
Can you see my blackness
The lyrics are evocative of an unfulfilled attachment. A kind of one-sided mad love that leaves the anxiously-attached forever in a state of pain and longing. The type that burns us completely and what we spend years in therapy healing from.
Magenta Cyan isn't a quick listen. It's a slow burn.
Published in Dawn, ICON, September 20th, 2020