Childhood memories tend to surface when least expected an,d today, long-ago garden images decided to flicker through my mind.
The first packet of seeds I was even given to plant — Shirley poppies which, miraculously to me, popped up and flourished in the front garden, their silken drifts buzzing with bees which my elder brother tried to catch mostly in vain, thank goodness, in furtively wielded jam jars.
The jewel-bright gleam of nasturtiums in an aunt's kitchen garden, where an eternal battle was fought to keep hungry slugs from devouring them.
And the stately, seemingly sky-piercing arrows of red-hot pokers, that were my grandmothers' pride and joy all summer long.
I still try to ensure the presence of all three of these beauteous flower species in whatever garden I have to inhabit at the time — I am not quite sure why I do this, but I do — and, having recently moved house, nasturtiums are germinating nicely, Shirley poppy seeds await the cooler months in which to be sown and the magical poker seedlings will be ready for transplanting in to their permanent growing places sometime next month.
These sun-loving plants are very special and deserve pride of place in gardens everywhere
Pokers, red-hot ones, lime green cool ones, lemony glow-in-the-dark ones and no doubt, having sown a packet of mixed seeds, some surprises too, are very, very special and deserve pride of place in gardens everywhere.
Botanically known as Kniphofia and members of the Asphodelaceae family of plants, pokers are native to South Africa and are also known as torch lilies — heat and, once established, fairly drought-tolerant, they will also withstand a surprising amount of frost.
The plants, depending on exact variety and there are now over 70 recognised cultivars, range in height from as little as one foot to over six feet tall. The grass-like leaves vary from very fine to thick, leathery, straps.
These sun lovers are not particularly fussy about soil type but do flourish in rich growing conditions: their growing position must be well-drained in order to prevent any rot developing in their rhizomes.
Not difficult to grow from seed and fast growing once established, it is preferable to propagate them by carefully digging up and removing the outer rhizomes surrounding an existing, mature plant, and this can be done either during early winter or very early spring. Established plants can be divided up every three or four years. The seed I sowed was obtained via the internet but, quite some time ago now, I once struck it lucky by finding rhizomes, imported from Holland I seem to recall, in an Islamabad seed and bulb supply store.
Pokers, I know from experience and from the reports of gardening friends, grow very well in Lahore, Rawalpindi/Islamabad, Peshawar, Quetta, the Murree hills and Abbottabad, and less well, although still flowering from spring to late autumn, in Hyderabad and Karachi.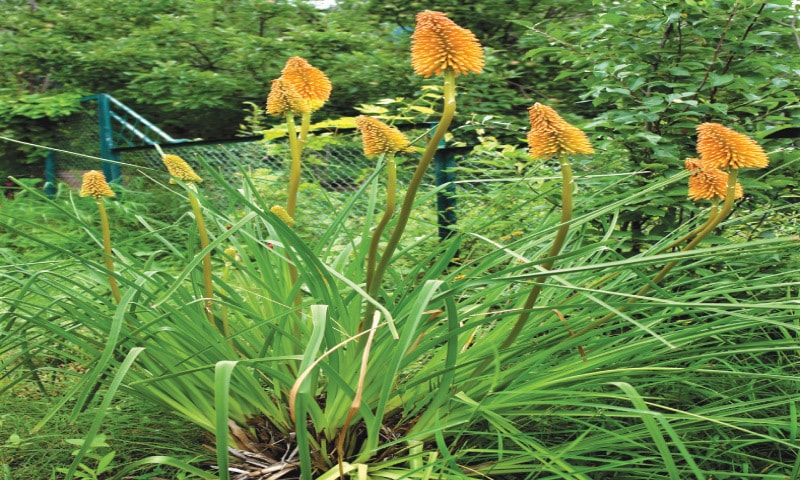 These herbaceous perennials can be cultivated in clay pots, as long that is, as the pots are of a suitable size for the roots of specifically selected varieties and, as long as, the all-important drainage hole in the base of the pot is kept clear of obstruction.
My own personal favourite and possibly one of the easiest, and most stately, varieties to grow is Kniphofia rooperi which, despite claims that it only grows to a height of about three feet, tends to zoom up to four to six feet tall in a climate such as ours.
The tall — anywhere from three feet tall and upwards — are definitely 'back of the border' or specimen plants and, you are warned, pokers tend to be an awful lot of plant!
They are clump forming and, over time, the clumps can become massive and, in some parts of the world such as Australia, pokers are considered to be highly invasive. Luckily, I have not seen, or heard, of them escaping into the wild here.
The less than three feet tall varieties are perfectly at home on large rockers but not, it must be emphasised, on small ones, where they would be liable to swamp everything else.
Absolutely adored by all kinds of bees and butterflies, the nectar rich, elongated, tubular flowers attract sun birds too, and there is nothing more rewarding for a gardener than to sit and watch all of the aforementioned insects and birds blissfully feasting on a plant you have carefully nurtured especially for them.
Pokers are supposed to grow straight and tall but they rarely behave this way for long. The splendid arrows of bloom have a habit, at least all of those I have ever grown have, after an initial period of adhering to the straight and narrow of swooping and diving, at often excruciating angles, all over the place. But this, rather than appearing untidy, adds to their already overwhelming charm.
Please continue sending your gardening queries to zahrahnasir@hotmail.com. Remember to include your location. The writer does not respond directly by email. Emails with attachments will not be opened
Published in Dawn, EOS, September 20th, 2020