Actor, writer and filmmaker Shia LaBeouf hit stardom early, receiving a nomination for the Young Artist Award, and winning a Daytime Emmy Award in his teens. A few years later, he was directing short films, though he didn't become a household name until he headlined Michael Bay's Transformers films as Sam Witwicky. While his career continued to blossom, his personal behaviour became increasingly erratic. Honey Boy is almost as if he is trying to explain to the public why he started making the news for all the wrong reasons.
While in rehab, LaBeouf wrote a script as a part of his healing process. The script was autobiographical in nature and was based on experiences from his traumatic childhood with his apparently abusive father, a Vietnam War veteran who held several odd jobs, including that of a rodeo clown.
Directed by Alma Har'el, the script has been adapted into a character-driven film called Honey Boy, which is the nickname given to LaBeouf by his father. This nickname was likely chosen by his father because of the money he earned as an actor. Rather than a son, he looked at him like a magical money pot.
Writing a script based on one's life, as Shia LaBeouf has done with Honey Boy, may seem self-indulgent. But many good works of art are often introspective and, in this case, cathartic
Writing a script based on one's life may seem self-indulgent, but many good works of art are introspective. When done right, a personal project such as Honey Boy can feel authentic and insightful rather than pretentious.
Honey Boy is fascinating yet challenging to watch, especially if mental or physical abuse from a mentally unstable caregiver has shaped your life. The film begins in the present day, where movie star Otis Lort (Lucas Hedges) is in a downward spiral. After crashing his car once again, he is sent to rehab where, to his disbelief, he is told by his counselor, Dr. Moreno (Laura San Giacomo) that he has post-traumatic stress disorder (PTSD).
Like anyone who has internalised an abusive childhood, Otis finds it hard to accept that abuse from a parent can result in PTSD. Here, the film goes back to his childhood, where Otis, now brilliantly in the past by teenage actor Noah Jupe, is a budding young actor living with his abusive father, James (LaBeouf) in a seedy motel complex.
The decision to have LaBeouf play James makes Honey Boy even more special. It would have been easy for LaBeouf to play him as a monster. After all, James physically abuses his son. Even worse, he mentally abuses him, shattering his confidence at every turn, pushing him to smoke cigarettes, and loudly fighting with his estranged mother on the phone in filthy language — traumatising for any child. James is also an alcoholic who only turned towards sobriety after sexually assaulting a woman. The attempted rape landed him on the list of sex offenders. LaBeouf tries to find the humanity in James with his measured performance, and his nuanced characterisation of him in his script.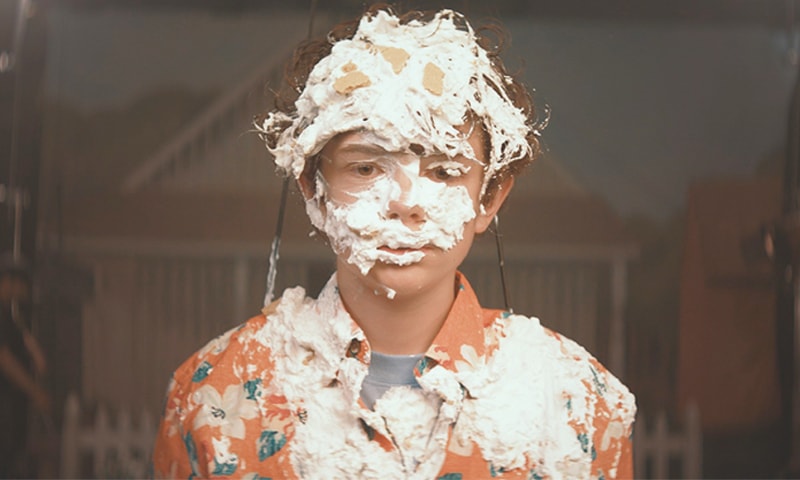 It couldn't have been easy for LaBeouf to play a man with whom he had a deeply complicated relationship. But as the film unfolds, it's easy to feel the catharsis. The film preaches that letting go is the best way to heal.
Rated R for pervasive language, some sexual material and drug use
Published in Dawn, ICON, July 26th, 2020