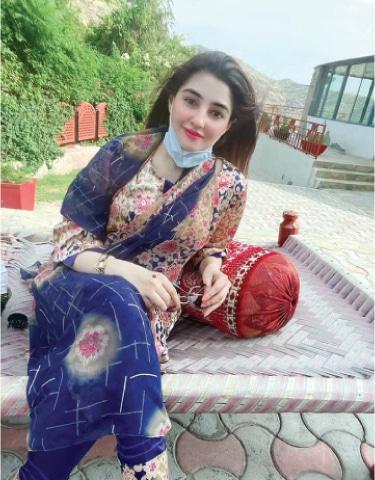 KHYBER: The visit of famous Pashto singer Gul Panrra to Landi Kotal and her 17-minute video at the British-era residential compound of deputy commissioner created quite a stir both on social media and among official circles.
The pictures and video clip, Gul Panrra shared on her social media account showed her offering fateha at the mausoleum of Amir Hamza Khan Shinwari, the famous Sufi Pashtu poet and writer, along with her visit to Michni checkpost, overlooking the Pak-Afghan border of Torkham while later visiting the deputy commissioner house.
In the video, which became the centre of controversy and attracted both scathing criticism and appreciation, was filed on the lawns of DC House inside army cantonment in Landi Kotal.
DC forms committee to investigate the matter
Apparently it looked that as if music was added later to the video with Gul Panrra jumping into the lawn, swirling in the air and expressing her excitement for being there.
Her brief statement on her social media account said: "A day #DistrictKhyber, Visited#MichniGatePass what a beautiful and amazing place it is, the weather, the mountain, the history, hence everything about the place is worth travelling to."
After her post, local people including youth, mostly her admirers, tribal elders, politicians and religious leaders also took to social media and presented their diverse point of views.
The youth, some journalists and activists of civil society, welcomed her visit to the region and insisted that it should have been 'publicised' so that local people had a chance to see and meet her.
Sajid Ali Kukikhel, a young journalist from Jamrud, wrote on his Facebook wall that the young Pashto singer was welcomed to Khyber and the criticism of her video clip was uncalled for.
Shams Mohmand, another journalist from Mohmand tribal district, argued that her visit to a tribal district was a welcome sign and music and dancing was not anything new to the tribal society.
Imran Shinwari, a pharmacist from Landi Kotal, wrote on his Facebook page that the DC House compound was used for holding of important jirgas since the British times and 'intrusion' of a female professional singer was a violation of tribal culture and traditions.
Local leaders having affiliation with religious parties and tribal elders expressed their utter disregard for the video clip and warned that any other person, especially a female artist, would be stoned if she dared to do it again in Khyber.
Some of the elders and activists of political parties also demanded immediate removal of Landi Kotal Assistant Commissioner Mohammad Imran from his position as the DC House compound falls under his jurisdiction.
The ragging discourse on the social media forced the district administration to order an inquiry into the matter.
Deputy Commissioner Mehmud Aslam Wazir said in a statement that the video was a violation of tribal customs and traditions and
action would be taken against the officials, who were found responsible for allowing Gul Panrra's access to the official premises without any prior permission from the administration.
The statement said that a notification was issued regarding formation of an investigation committee headed by AC Mohammad Imran to find the actual culprits behind the filming the video.
Mr Wazir said that he was in Islamabad for a meeting when the singer along with her other family members visited Landi Kotal.
Published in Dawn, July 20th, 2020