SkyElectric uses AI and Smart Energy Storage to provide 100% renewable energy at the lowest per unit rates.
Pakistan's energy crisis has existed for a really long time.
The gap between increasing population and the need for more energy is yet to be bridged by the authorities; the situation has worsened due to massive power cuts and increased electricity costs.
Pakistan's energy production is heavily dependent on fossil fuels such as coal, oil, and natural gas. Currently, the country's energy mix consists of 64% fossil fuels, 27% hydropower, and 9% other renewables and nuclear power (source: US government statistics).
The matter of balancing the country's power supply in contrast to the demand still remains largely unresolved.
On the other hand, the old power transmission and distribution networks add to the power loss.
Due to the current Covid-19 lockdown situation, residential energy demands have increased drastically. It is predicted that the national energy demand will increase 8-fold by 2030 and 20-fold by 2050 (source: Solar Energy Development in Pakistan: Barriers and Policy Recommendations).
Need for sustainable energy alternatives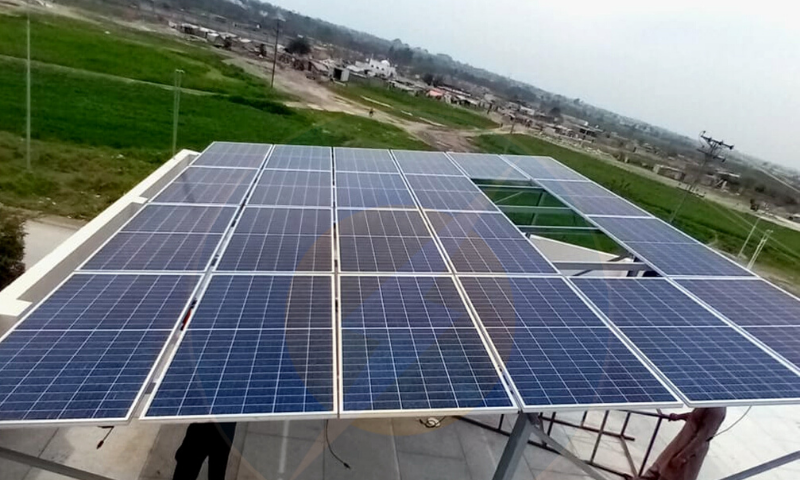 In order to fulfill the expanding energy demands, it is a dire need of the present and the future to find sustainable energy alternatives.
Steps need to be taken to ensure we dissolve our dependence on traditional energy resources and be more environmentally conscious.
Be energy independent with SkyElectric
The concept of energy independence is enticing, but it takes a complete shift to clean green energy to achieve it.
SkyElectric, Pakistan's leading solar energy company, is actively working towards energy independence with its AI-based technology and Smart Energy Storage.
It also urges us to become responsible citizens by enabling us to utilise 100% renewable energy, and contribute to make Pakistan a cleaner, greener country.
SkyElectric Smart Solar plus Storage System is a reliable energy solution for both residential and commercial energy requirements. It intelligently controls energy generation, consumption, and bill management.
It locks energy costs at the lowest possible for 25 years and ends the worries of ever-fluctuating and increasing per unit cost.
Its Smart Energy Inverter provides uninterrupted energy, day in and out, with auto-generated solar energy that stores excess energy via Li-ion batteries, for night time usage. The AI based SmartFlow ensures minimum or close to zero usage from high tariffs.
It also sends excess energy back to the grid to further reduce electricity bills and contribute to grid stability.
SkyElectric NOC engineers monitor the system 24/7 and look after the power and health status of the system.
SkyElectric phone app facilitates consumers with remote monitoring of their system on the go.
SkyElectric aims to solve the problem of load-shedding and high electricity bills by enabling homeowners and businesses to take control of their energy use.
Once Pakistan adopts increased use of solar energy, we will become less dependent upon foreign sources of fossil fuels.
A permanent shift towards energy independence will cultivate improved economic and environmental stability for our country, as well as every other country striving to make a positive change.
Shift to renewable energy will free the world's inhabitants from reliance on greenhouse-gas-emitting fossil fuels, which will improve economic conditions as well as quality of life for everyone.
Watch how the SkyElectric Smart Solar plus Storage System works:
---
This content is a paid advertisement by Sky Electric and is not associated with or necessarily reflective of the views of Dawn.com or its editorial staff.