Artemis Fowl is quite foul. Writing this out loud, in a review, is quite cathartic.
This long-in-development adaptation of a popular young-adult series of books, chronicling the adventures of an ingenious boy-thief in a world of secrets and fairies, is a prime example of what goes wrong when a film is rewritten umpteen times to make the source material appear big-screen worthy.
For a kiddie film that looks like an expensive upgrade to a Disney TV movie, there is a lot of killing in this film. The main casualties — and I'm not talking about the handful of fairies caught in a deadly reality-warping bubble during a stupid action sequence — are subtleness, coherence and a general air of interest.
The killer, with a bad sense of camera movement and an even worse call of editing cuts, is Kenneth Branagh — an old favourite who once had unparallelled skills in adapting and directing Shakespeare, or engaging crime thrillers. Once the able director of Dead Again (1991), Henry V (1989), Much Ado About Nothing (1993) and Hamlet (1996), Branagh fell hard when he switched to tent-pole blockbusters such as Marvel's Thor (2011), Jack Ryan: Shadow Recruit (2014), the live action adaptation of Disney's Cinderella (2015) and Agatha Christie's Murder on the Orient Express (2017).
Despite or perhaps because of Kenneth Branagh being at the helm, kiddie film adaptation Artemis Fowl is quite incoherent
Branagh wastes a lot of screen time getting us places we're not interested in going. Filming mostly in a big, airy indoor set of a manor, and a subterranean ocean-floor city of technologically advanced fairies with sci-fi weaponry, we follow the disappearance of Artemis Fowl Sr. (Collin Farrell), a well-known businessman who often disappears on mysterious trips.
His son, Fowl Jr., whom we'll refer to as Artemis from here onwards (played by Ferdia Shaw, grandson of actor Robert Shaw), is a baby-genius who only considers Einstein and a handful of others his equals. With a smug demeanour, needless to say, he has no friends at school; his only friend is an African-American master martial artist butler named Domovoi Butler (Nonso Anozie; yes, his last name is Butler, much to his ire).
Artemis doesn't give a hoot about what people think, because he has better things to contend with. His father is ousted to the world as a master thief after his disappearance (why that is significant, we'll never know). Soon, news reporters hound the front of Artemis's premises, and a large man claiming to be a dwarf is captured by the authorities (a bad attempt in creating a narrative high-point, this editorially inept scene opens the film but actually serves as a book-end to the story).
Unknown to the world, Artemis's father has been kidnapped by a hooded evil fairy named Opal Koboi, who is in search of a plot-device called Aculos — an instrument so darn magical and powerful that it defies proper explanation (yes, its exact purpose is unexplained). The device, so significant that it is mentioned every third second by name in the screenplay, is also sought after by the fairies after it was stolen by someone.
A young, 84-year-old, fairy officer named Holly Short (Lara McDonnell), whose father is branded a traitor in her world, defies orders and goes looking for the Aculos, after taking down a rampaging goblin and mindwiping normal humans at a wedding (the fairies' identities need to kept secret).
Holly walks right into Artemis's trap who, already working on ticking-clock deadline, was conveniently waiting for a chance encounter with a fairy at a particular spot. Mind you, before this time, Artemis had no tangible proof of any fabled creature's existence.
Soon, Artemis's manor is assaulted by a fairy militia run by Julius Root (Judi Dench, grunting her lines away), an 802-year-old who commands a very large thieving dwarf (Gosh Gad, playing a poor man's Hagrid from Harry Potter), to invade the manor.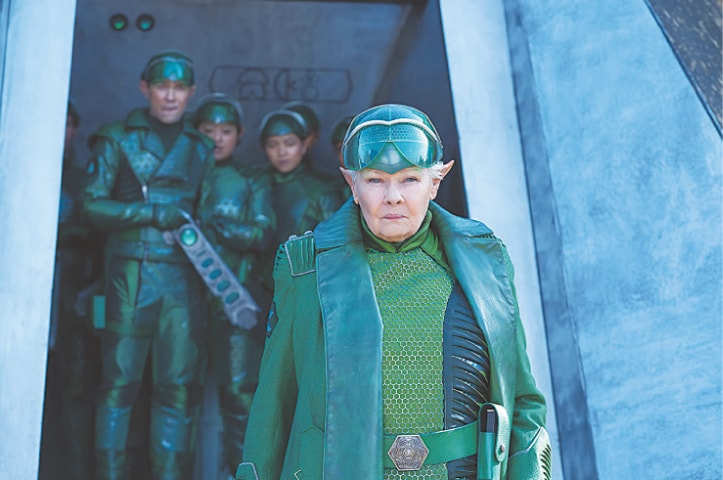 The large-scale invasion of his property is part of Artemis's plan; he is a genius, after all. Sadly, us common people aren't.
The film combines, adapts and upgrades the first two novels from author Eoin Colfer's books — though judging only from this dumb, summer children's flick, this reviewer has no idea how good the source material is. A quick Google search leads me to an article where the author seems to be okay with the adaptation. Good for him, then. Not so good for us common folk.
Artemis Fowl is out on Disney+, and is rated PG-13 for kid-friendly action. There are a lot of fairy deaths but, I suppose being CGI-creatures, they were cannon fodder to begin with.
Published in Dawn, ICON, June 28th, 2020