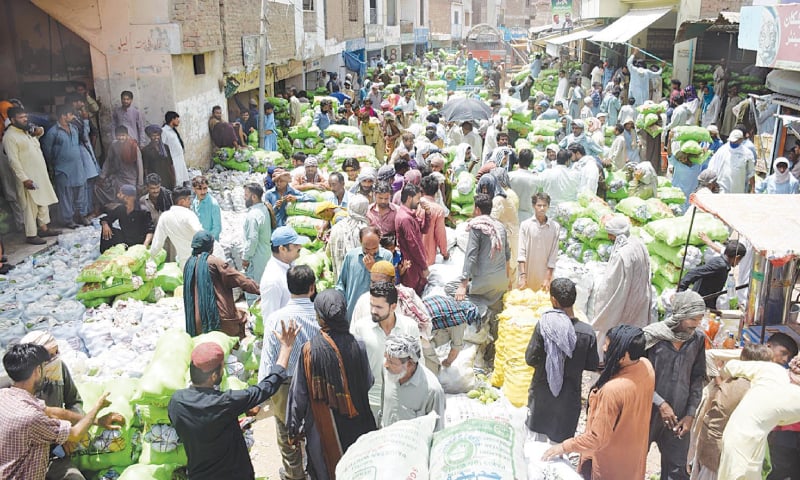 WITH the beginning of June, the mango season is finally underway in full swing. Mango harvesting and supplies are continuing at a normal pace although many feared that the pandemic and related factors would hit the season badly this year.
The picking, sorting and packing of mangoes is handled mainly by workers from Southern Punjab every year. With Covid-19 threatening every sphere of life, growers and orchard contractors were sceptical about the arrival of labour from Punjab to Sindh. However, with the resumption of service by Pakistan Railways on the night before Eid, and through other modes of transport, seasonal workers were able to reach Sindh rather easily.
"Labourers from Punjab eventually reached Sindh and arrived at our orchards for seasonal mango work," said Abdul Waheed from Karachi. Mr Waheed is the patron-in-chief of All Pakistan Fruit and Vegetable Exporters, Importers and Merchants Association and one of Sindh's leading contractors of large-size mango orchards. He manages farms in the lower Sindh region. Till the end of May, over 2,000 labourers had reached his farms alone.
'Shipments to Europe are 80 per cent less than what we exported last year in the corresponding period. Airfreight charges have also increased considerably from Rs174 per kg to Rs520-560 per kg this year for Europe'
The Sindh government approved standard operating procedures (SOPs) for engaging labourers at orchards to stem the spread of the Covid-19 contagion. But these were hardly followed. It was only in a few isolated cases, such as the Mirpurkhas district – home to mango production – where protocols were followed. "Of the 280 labourers that arrived from Punjab, 45-50 were tested as a precautionary measure. None of them tested positive and thus were allowed to work," he said.
The Covid-19-driven national emergency has caused uncertainty in the mango sector since February. Orchard owners in Sindh let out their farms to contractors who hire labour from Punjab to manage the crop, given their expertise in the field. While the practice has been going on for as long as one remembers, this year a debate was triggered regarding the lessening of reliance on labour from outside the province.
Given unimpressive returns in business last year, contractors were reluctant to strike deals with orchard owners independent of the pandemic. With the coronavirus threat and related issues, they didn't offer a better price to orchard owners, leaving them high and dry.
"I had to arrange for local labour myself because contractors did not show interest," said Nawab Zubair Talpur, president of the Hyderabad-based Sindh Abadgar Ittehad. Mr Talpur tried to deal with the crop on his own but found the market and trade-related intricacies too difficult. "I had to let out my 44-acre orchard to a contractor for Rs1.8 million even though it should have been settled at Rs5m," he said.
Traders/contractor have stronger contacts in the market compared to growers. When the latter attempt to sell the crop directly they don't get the desire returns, he added. Covid-19-related restrictions such as lockdown timings, SOPs and fixed timing for transportation of fruit to markets also served as major barriers. But growers can learn marketing techniques if they take a keen interest in business, he opined.
Similarly, Ghulam Sarwar Abro – a progressive mango farmer and exporter in Kotri – engaged the labour he used for banana harvesting for the mango crop, in addition to hiring 48 workers from Punjab. "As a test case, I trained locals to manage the mango crop this year," said Mr Abro, a global Good Agricultural Practices (GAP) certified farmer who owns a large-sized mango farm.
Mango orchards in Sindh stretched over 59,109 hectares and produced 329,300 tonnes of crop last season. In the last few years, according to the figures of the agriculture department, acreage has reduced from 62,062ha in 2017-18. Between 2011-12 and 2017-18, acreage varied from 60,100ha to 62,100ha before dropping last season. The decline can be attributed to water shortages in some areas.
After witnessing the flowering of orchards and assessing the size of the upcoming mango crop, contractors offer their rate around March or April. After last season's losses, contractors were not interested in this year's crops, especially amidst the pandemic. However, Nawab Arain, a medium-sized contractor, decided to strike deals with orchard owners despite SOP barriers and was able to engage labour from Punjab.
Sindh Abadgar Board vice president Mehmood Nawaz Shah points out that contractors had borne losses in wholesale market rates of mangoes in 2019. "But the price witnessed this year has been a fair one. The overall impact on prices will be seen once the per-acre yields are assessed at the end of the season," he said. Exports via sea are also underway, he adds.
However, Mr Waheed doesn't see bright exports prospects this year. He anticipates a considerable drop of 80,000 tonnes when compared to last year's exports of 130,000 tonnes. Shipments for Europe, Norway and UK by early June were negligible compared to the corresponding period last year. "It is around 80 per cent less than what we exported last year in the corresponding period. Airfreight charges have also increased considerably from Rs174/kg last year to Rs520-560/kg this year for Europe," he said.
Published in Dawn, The Business and Finance Weekly, June 8th, 2020