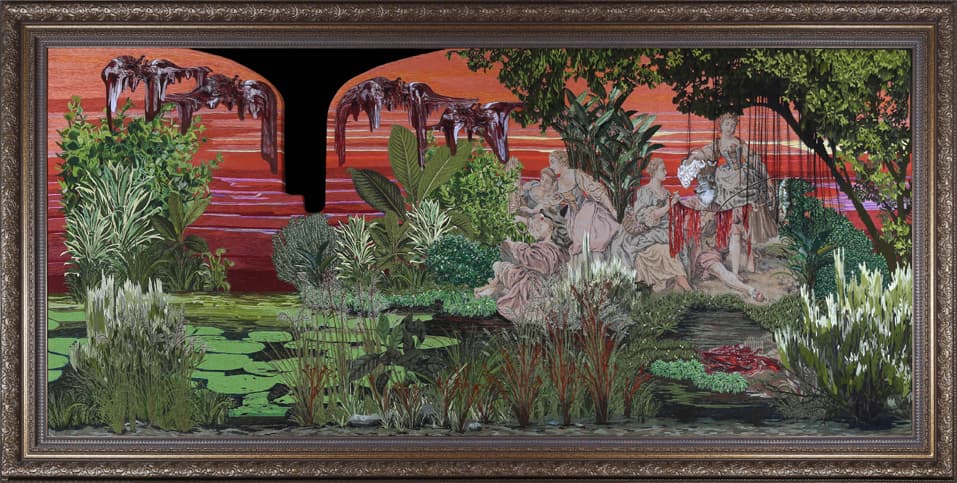 The parameters of visual arts continually swell beyond painting, draw­ing, printing and scul­pture to welcome new techniques and methods. And as art becomes an increasingly notable feature in our public spheres, accessible to the masses, artists now seek opportunities to produce work that experiments at a larger and more spectacular scale and in a gamut of mediums and settings. It is thus unsurprising to witness an emergence of artists who turn to others to achieve this burgeoning goal of creative and technical ambition. The orthodox view of the artist working alone and personally creating unique pieces by hand as a testament of artistic genius is a singular narrative that is no longer in the mainstream. In many cases, while the artist conceives and gestates the concept, the physical labour is undertaken by someone else who the artist oversees.
Artists such as Olafur Eliasson, Jeff Koons, Damien Hirst, Takashi Murakami and Subodh Gupta have entire workshops and a labour force dedicated to the production of their work. They maintain distance from the physical act of creating and choreograph from the fringes, while those with the expertise do the instrumental lifting, detailing and manufacturing.
The Pakistani art scene is not immune to this global phenomenon and over the years, an increasing number of artists have begun to lend the actual making to technicians and craftspeople. Rashid Rana and Adeela Suleman have allocated spaces to the workforce whose primary job is to concretise their ideas. Arslan Nasir, Seema Nusrat, Mohammad Zeeshan are few of the several other artists who regularly employ labour to help them realise their vision.
This modus operandi is often met with critique and vehement disapproval from those who hold the opinion that, regardless of the circumstances and the choice of media, it is the artist who should perform the labour as an attestation of their skill. It also raises questions on authorship. Who is the author of such works? Can an artist label an object as his or her work of art when it has been made for them by someone else? And how, in this case, do we differentiate between a work of art and a work of craft?
An increasing number of artists rely — either in part or wholly — on someone else's technical expertise, talent and diligence to bring their concepts to life. Is it really their work then?
Another objection which the sceptics may have is to the lack of representation and visibility the craftspeople receive in reciprocation. Once the work is finished and displayed, to what extent are they credited before the public eye, and if, and how much, of the revenue from its sale is shared with them when they are the ones who undertook the laborious process of physical production.
Conceptual art was a movement and later a term which proclaimed that the intent behind the work is more important than the finished object. Here, the idea becomes the commodity. This also consequentially led to a 'deskilling' of art education and 'dematerialisation' of art practice in the '60s and '70s. Its influence is visible today and many artists may defend that the conceiver of the concept supercedes the manufacturer as the rightful owner and the genius behind the work. They believe that their job as artists is to think, to conceive the ideas and to transform.
Furthermore, this convention with specialists of another field permits an exchange of knowledge and energy. It can take the artist in a direction they do not foresee. Not only do such encounters facilitate a revival of various dying crafts but they also familiarise the hired workforce with art, its purpose, its several forms and its potency as a tool for social activism and education.
The reasons for the artist to employ someone else's services can be many. Perhaps they simply do not wish to grow their repertory of techniques. Or perhaps they collaborate to probe the social codes and values that are imbued in our predisposed attitudes towards labour, creativity and craft. This exchange can be incidental and, at other times, be intrinsic to the concept behind one's work. For example, both Marium Agha and Cyra Ali work with fabric, embroidery and weaving as their choice of medium to explore female sexuality and desire. For these female artists to administer hired labour — most of whom are men — to not only exercise a craft that is otherwise considered feminine for its intricacy and finesse but to also amplify the female voice, is a fundamental approach in their practice.
One must understand that it takes years, perhaps decades, to learn all of the technical skills to make work that falls within the ever-increasing disciplines of what we categorise as art — glasswork, various forms of engineering, ceramics, woodwork, digital coding, embroidery, metalwork, audio and video editing, etc. Unless an artist is resolute in dedicating their entire career into practising exclusively in any of these methods, it is highly unlikely that they will take the time out to hone all of the particular skills needed themselves.
Published in Dawn, EOS, January 5th, 2020