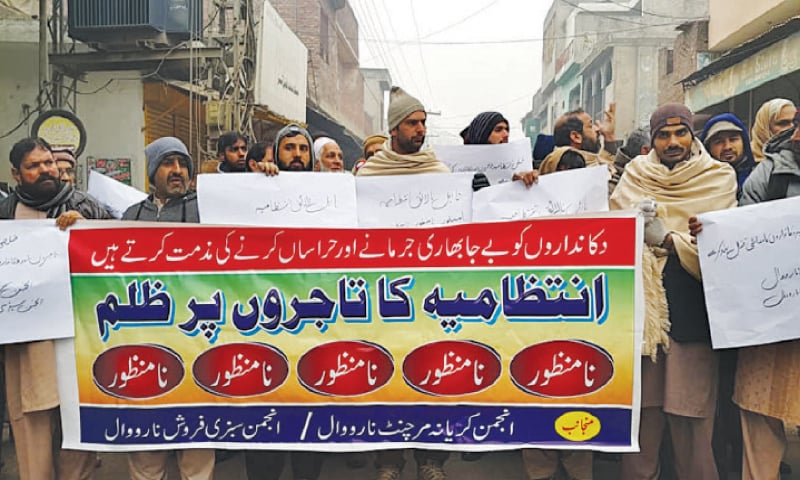 NAROWAL: Traders of grocery and fruit and vegetables shut their shops on Monday to protest heavy fines on them by the administration in the name of price control. They also took out a rally from Eidgah Chowk to City Chowk and condemned the `inappropriate' behaviour of of price control teams.
The Anjuman Tajran and Karyana and Green Grocers' Association, Narowal, said they were protesting rude behaviour of raiding teams, and blackmailing and heavy fines by the district administration. There was complete strike by Kariana Merchants Association and Green Grocers' Association.
They said shopkeepers were being slapped a Rs5,000 to Rs30,000 fine. Shopkeepers say they requested the officers to cut the fines because they were too poor to pay them.
Shopkeepers Mohammad Akram and Salamat Ali said the district administration insulted traders and shopkeepers in the name of price control. "How can we sell Kiran Ghee at Rs180 per kg after purchasing it at Rs200 in wholesale? If administration provides us with daily commodities at their fixed rates we will sell them on official rates," said Akram.
Vendors Allah Rakha and Abdul Karim said that they bought Rs5,000 to 7,000 vegetables from the market. If we sell vegetables on control rates we can't support our families, they said. Trader Mohammad Sakhawat said, "I sell sugar in wholesale. The district administration officer took the quotation of 50 bags of sugar and asked me how many bags I had. I said there was 100 sacks on which I was fined Rs30,000," he cried.
When asked the reason for fine, Sakhawat said, he was threatened with jail.
Nasir Ali said that the administration fixed tomato prices at Rs110/kg and he sold them at Rs100 per kg. He was fined Rs5,000 for selling tomatoes less than the official rate. He said that the district administration officers were forcibly receiving a fine of Rs10,000 from vendors and Rs30,000 from traders and Rs20,000 from shopkeepers.
The protest rally was addressed by businessmen at the City Square. They asked the officers to change their attitude and act as nation's servants, not masters. Deputy Commissioner hahid Zaman said that he with assistant commissioners and magistrates worked from 6am to 11pm only to enforce law to provide goods to the public at fixed rates. "This lawful thing is pinching some people," he said.
"Serving the people and delivering them the provisions of daily use at standard and fixed rates is our top priority."
Published in Dawn, December 31st, 2019