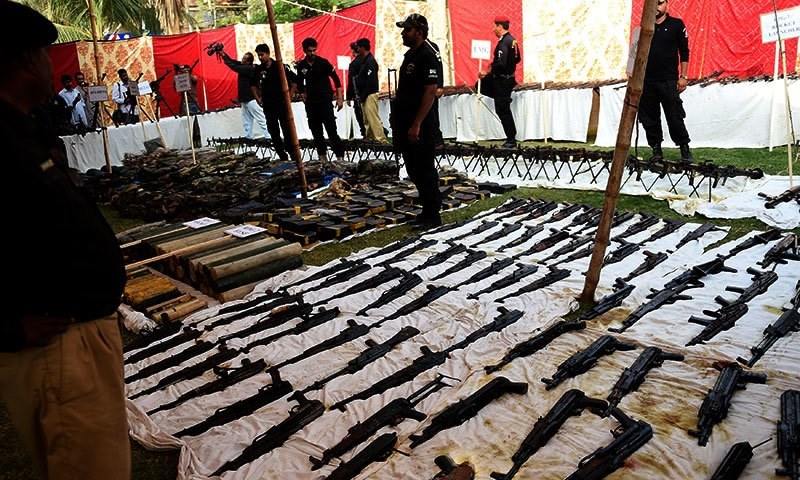 ISLAMABAD: The Customs Preventive, Peshawar, has seized a huge cache of arms smuggled from Afghanistan.
Official sources told Dawn that during inspection at Torkham customs station of an empty truck coming from Afghanistan it was suspected to have some secret cavities. A thorough search led to the recovery of over 200 sophisticated guns of different specifications and magazines.
The weapons have been seized and a case under the Customs Act, 1969 is being registered and further investigations are under way. Although the smugglers managed to flee, a passport apparently belonging to the driver had been found from the dashboard of the truck.
The sources said the recovered guns included Tomahawk, Maverick, KRAL (A-12) and Zirve.
An official said the counterterrorism department would also be taken on board so that it could hold a probe with its own angle. He said such a sophisticated way of concealment indicated that some organised racket might be behind it.
He said the weapons could be used for terrorism and other criminal activities in Pakistan. He said earlier this week, the Customs Preventive, Peshawar, foiled an attempt to smuggle 3.5 million Saudi riyals to Afghanistan.
The official said on the directive of Prime Minister Imran Khan a drive against smuggling was in full swing.
In July this year, the government had decided to start a nationwide crackdown against illegal trade and use of smuggled items in the country.
A meeting presided over by Prime Minister Imran Khan decided to constitute a committee headed by the interior minister to curb smuggling from Iran and systematise the Pak-Afghan transit trade.
Chief of the Army Staff Gen Qamar Javed Bajwa and Director General of the Inter-Services Intelligence Lt Gen Faiz Hameed also attended the meeting.
Published in Dawn, December 15th, 2019