Henri de Toulouse-Lautrec is probably the most controversial — and often misunderstood — painter of the post-impressionist period. Born in 1864 as the eldest son of Count Alphonse Charles Toulouse-Lautrec in south-western France, he had every reason to lead an aristocratic career. The country had, by that time, shed off its revolutionary dreams and had accepted the monarchy of the Second Empire under the rule of Napoleon III.
However, already in his early teens, the young Henri discovered that, due to an irremediable physical handicap, he would be unable to follow his father's ambitious plan to raise him as an army officer and later as a commanding politician. While his body kept on growing normally, the physicians quickly came to the conclusion that his legs would forever retain the proportions of a little boy's limbs.
Though his parents were shocked, Toulouse-Lautrec himself was not disenchanted. He decided, on the contrary, to become an artist and started participating in high-ranking exhibitions in Paris, Brussels and London. He became a close friend of the rebellious writer Oscar Wilde and painted his portrait in 1895 in London.
The Grand Palace Museum in Paris pays homage to Henri de Toulouse-Lautrec
Toulouse-Lautrec did not have any complex as a handicapped person, and many of his self-portraits show his short legs. The majority of the canvases on which Toulouse-Lautrec's legend is based are images of everyday life in the Montmartre neighbourhood of Paris, where he painted scenes of the Moulin Rouge nightclub and a vast number of portraits of working-class people including many portraits of his favourite model, Suzane Valadon, and those of the famous dancer Yvette Guilbert.
Often neglected by art critics as a 'comical illustrator', the outstanding artist's reputation kept growing through the last century. Currently, the Grand Palace Museum on the Champs Elysées is paying a long overdue tribute to him through an unusual exhibition that represents a vast selection of Toulouse-Lautrec's works. It is such a pleasure to visit the show.
Stephane Guégan, an art expert and one of the organisers of the exhibition, says, "A great painter is one who wakes us up, as if by giving us a slap in the face, when we start having too commonplace, lingering ideas about art and artistic movements. He was one of such geniuses. To prove this, he left us a vast number of works, burning his life while creating them and going away so young."
Toulouse-Lautrec died in 1901, months short of his 37th birthday but leaving behind more than 2,000 oil paintings, watercolours, posters and drawings as well as ceramics and stained-glass works.
The young artist's career also coincided with the invention and development of photography and you see the walls of an entire hall of the Grand Palace covered with his own pictures ­— one showing him comically dressed as a Buddhist monk, in many he is working on his own portrait or simply reading a newspaper, but never trying to hide his infirmity.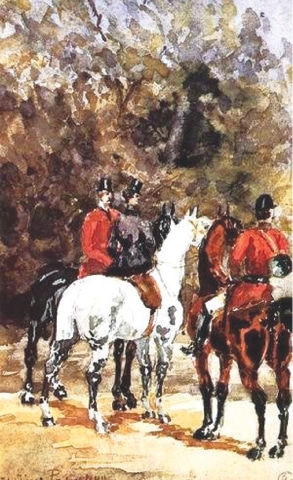 Another section of the show is devoted to the screening of scenes from the commemorated 1952 movie Moulin Rouge, directed by John Huston, in which the Puerto Rico-born actor José Ferrer played Toulouse-Lautrec. Both Ferrer and Huston won Oscars for Best Actor and Best Director that year.
"Resolutely Modern" is being displayed at the Galeries Nationales in Le Grand Palais des Champs-Élysées from October 9, 2019 to January 27, 2020
The writer is an art critic based in Paris. ZafMasud@gmail.coM
Published in Dawn, EOS, December 8th, 2019