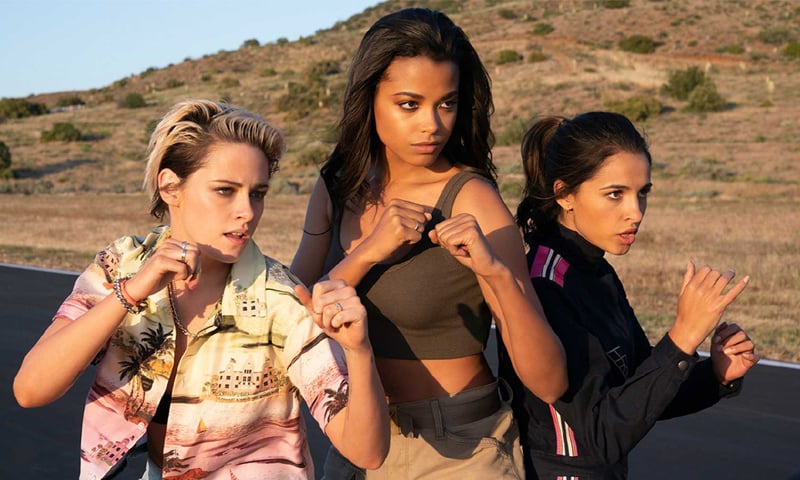 While I wasn't a big fan of the highly influential Charlie's Angels TV show (1976-81), I appreciate it for being a milestone in pop culture. Three women headlining an action series as super spies, changed what many young viewers thought about gender roles in the '70s, and altered the future of television.
Unfortunately, the two theatrical films, Charlie's Angels (2000) and Charlie's Angels: Full Throttle (2003), did little to push the envelope, were almost unwatchable, and established McG as a terrible filmmaker. Thankfully, he never got the chance to make Superman 5.
But I digress. This new Charlie's Angels isn't very watchable either. The only way it pushes the envelope is by having a progressive cast. Kristen Stewart of Twilight fame plays Sabina Wilson, while British/Indian actress Naomi Scott plays a scientist named Elena Houghlin after bombing as Princess Jasmine in Disney's live-action Aladdin (2019). The final angel is Ella Balinska, a British actress of Caribbean descent who plays Jane Kano, a former MI-6 agent.
It also tries to play the feminism angle in other ways, but it feels disingenuous — as if it is ticking off tropes.
Charlie's Angels is by-the-numbers spy film stuff
For a popcorn film, it's underwhelming. It's directed by actor, writer, and filmmaker Elizabeth Banks whose previous film was the musical comedy Pitch Perfect 2 (2015). Clearly, Banks has little experience with action, though she is competent at directing comedy.
The action in Charlie's Angels is poor. It lacks substance, creativity, or impact. It's also poorly edited and predictable. Aside from Ella Balinska, who somewhat tries, none of the other actors appear convincing.
The deflating nature of the action sequences wouldn't be so disappointing if the plot was good. Sadly, it's by-the-numbers spy film stuff.
The three are after a device that was meant for good but is now weaponised. When it's sold in the underground market, they put their egos aside and work together under the guidance of their Bosley.
There are a few areas where Charlie's Angels shines. It pays some interesting homage to the original series and '70s television in general. The comedy isn't perfect, but there are a few laughs. Surprisingly, many of them come from Kristen Stewart, who has the most fun of the entire cast playing a sarcastic angel. She has a lot of energy and delivers a few chuckles.
I also like how it plays like a soft reboot. The original angels haven't been scrubbed from history. Instead, there are multiple angels. What's more, Bosley isn't a person anymore. Here, the angels are being directed by more than one Bosley including Patrick Stewart who plays a retired Bosley. Elizabeth Banks also has a role. She plays Rebekah, a former angel who is now a Bosley. While Elizabeth Banks doesn't tell a good story, alongside Kristen Stewart, her performance is the highlight of the film. However, Naomi Scott and Ella Balinska just don't make themselves count.
A few decent performances and some laughs in Charlie's Angels aren't enough to lift the film from mediocrity. In the end, it feels like Elizabeth Banks' pet project and not a wholehearted attempt at making a memorable film.
Rated PG-13 for action/violence, language and some suggestive material
Published in Dawn, ICON, December 1st, 2019