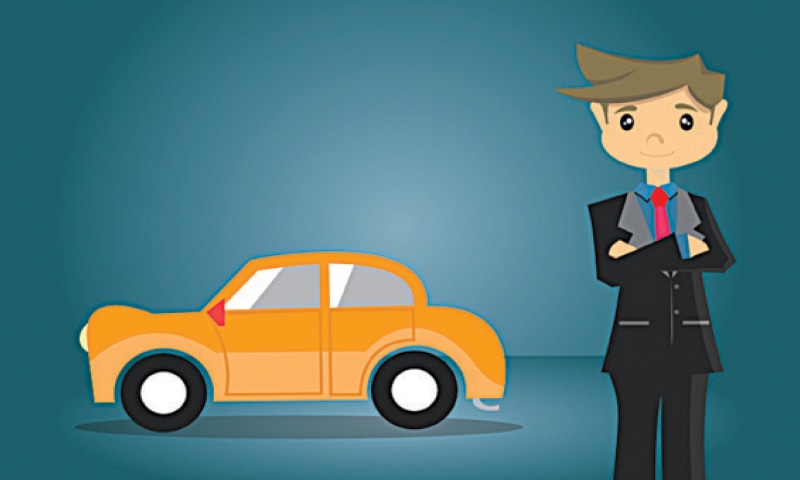 Car assemblers saw their sales decline 56 per cent in October from a year ago, the largest dip in their monthly sales in more than a decade.
Cumulatively, car sales have plunged 46pc in the first four months of the current fiscal year.
The plunge in car sales, which has drastically squeezed the margins of local assemblers and forced them to cut down their production, is attributable to many factors: a sharp economic slowdown that has significantly affected the purchasing power of middle-class households, the ongoing government effort to document the economy, a dramatic increase in car prices on account of currency devaluation and the imposition of new taxes on cars as well as higher interest rates leading to a substantial decline in car financing by commercial banks.
Dipping sales have led to calls by the assemblers for a reduction in taxes — which, they claim, form up to 42pc of their prices depending on the engine size and model — to once again make their cars 'affordable' and save jobs in the automotive industry.
While high taxes are an issue, the assemblers' protest is meant to deflect public attention from the structural problem of the auto industry: their failure to localise production despite decades of tariff policy protections from foreign competition.
Carmakers' heavy reliance on imports means they are vulnerable to foreign exchange fluctuations
Their heavy dependence on imports makes them hugely vulnerable to foreign exchange fluctuations, which is the single most important factor responsible for rising domestic car prices and a corresponding increase in taxes.
While comparing the auto sectors of Pakistan and India in 2014, the State Bank of Pakistan (SBP) pointed out local manufacturers intentionally failed to localise their production. They did not offer greater and better product options to their consumers despite charging twice the price charged in India, it said.
At that time, the central bank said, the assemblers imported 57pc of auto-related materials from Japan and sold cars with engine sizes of 800cc and 1,300cc at double their prices in India. Prices of 1,000cc and 1,800cc cars in Pakistan were more than 50pc higher than those in the neighbouring country where the availability of more options created tough competition, resulting in increased consumer welfare.
"True localisation does not exceed 30pc of their total price. In some cases, it is even less than that," Mohammad Akram, chairman of the Pakistan Association of Auto Parts and Accessories Manufacturers (Paapam), told this correspondent in an interview recently. "How could you not expect this massive increase in car prices given the extremely low localisation after almost 50pc depreciation in the rupee's value?"
He contended that the assemblers had used various ruses to avoid localisation in spite of hefty protection from foreign competition while successive governments chose to look away at the expense of the consumers.
Localisation in the car industry remains limited to the manufacturing of sheet metal parts, interior trim, seats, rubber and plastic parts, batteries, wheel rims, tyres and lighting accessories. More sophisticated technology and moving parts (engine, suspension and transmission) that require precision engineering are all imported.
The Paapam chairman said even the parts that the assemblers showed as "locally manufactured" might not be completely produced here. Showing a couple of components he made for one of the three Japanese assemblers, he said the vendors were forced by original equipment manufacturers (OEMs) to import sub-components from their designated foreign companies at exorbitant rates.
"It is despite the fact that we can produce those sub-components at a fraction of their imported price. It is done for two reasons. One, it helps OEMs shift profits from Pakistan through the transfer pricing mechanism. Two, it saves the assemblers a huge amount of duty on importing sub-components through vendors (by paying a concessionary 14pc import duty for the local vending industry) rather than bringing those directly at a 32.5pc import duty meant for OEMs. This indirect import helps the assemblers make additional profits."
Pakistan launched the deletion programme, which sought to shift away from imported inputs, in 1985. It kept the industry heavily protected to achieve its targets, according to the SBP's annual state of the economy report of 2013-14. No significant progress was made and it had to be discontinued as the World Trade Organisation's agreement on trade-related investment measures disallowed countries to place local content requirements on domestic manufacturing sectors from 2006.
In 2006, Pakistan adopted a tariff-based system under the first Auto Industry Development Programme (AIDP) for six years, targeting to push local car sales to half a million units by 2012 — something the assemblers and their Japanese principals insist is required to localise their products.
Mr Akram said the government was also to blame for the low level of localisation in car manufacturing. "Successive governments have stopped short of implementing the deletion plan to force localisation and make cars affordable. Also, all government policies were designed in such a way that these benefited OEMs, which never passed on the impact of fiscal and other concessions to consumers or the vendors who created jobs.
"It is the government's job to develop policies to make OEMs localise their manufacturing to produce affordable and quality cars and create employment opportunities in the vending industry. Tax reduction will help trim prices but the long-term solution to the issue lies in localisation and reduced dependence on imports. The more affordable locally produced cars become, the higher the sales will go."
Published in Dawn, The Business and Finance Weekly, November 18th, 2019