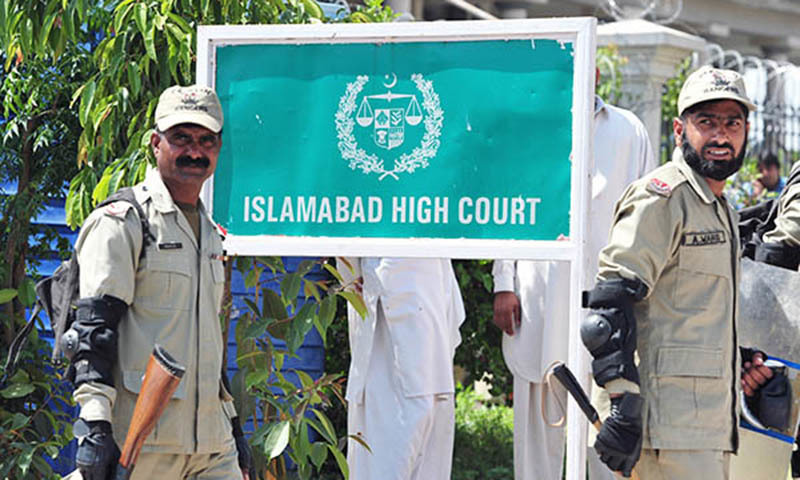 ISLAMABAD: The Islamabad High Court (IHC) on Tuesday agreed to keep the allotment of plots in C-14 pending until a petition filed in response to the announcement of balloting in this sector is decided, at the request of the Capital Development Authority (CDA) chairman.
IHC Justice Aamer Farooq resumed hearing identical petitions seeking the allotment of plots in C-14. Last month, the court had directed the CDA chairman to issue allotment letters to the petitioners as well as other affected villagers.
The CDA had issued a public notice in the local press announcing that balloting would be conducted in the sector. However, the advertisement implied that the authority had decided to conduct balloting on IHC orders, leading Justice Farooq to issue a show-cause notice to CDA Chairman Amer Ali Ahmed.
Mr Ahmed appeared before the court on Tuesday and said he did not intent to misquote the court order. He produced copies of the advertisements before the bench, explaining that the English version was published correctly but the Urdu version erroneously gave the impression that balloting was being carried out on the court's order.
CDA chairman's office says allotment process postponed after balloting was conducted
He said that the IHC directed the CDA to follow standard operating procedure (SOP) in issuing allotment letters, so the CDA decided to go ahead with the balloting in accordance with the rules.
The counsel for the petitioners, Naeem Bukhari, accused the CDA of using delaying tactics.
Following the court proceedings, the CDA conducted balloting to allot plots in C-14.
However, the office of the CDA chairman issued a letter ceasing and postponing the allotment process in Khasra no.1356 in the Sarai Kharbooza village.
The authority has also formed a three-member committee that consists of Director Land Nisha Ishtiak, Director Urban Planning Ijaz Sheikh and Director Security S.F. Manaan, which will examine a petition filed by a local landowner.
The letter said: "A petition has been received from one Mohammad Bostan regarding the subject matter. The petition may be examined by a three member committee within seven day positively."
The letter said no permanent rights were to be created in light of the balloting and no allotment letters are to be issued until the matter is resolved.
CDA spokesperson Safdar Shahsaid that although the balloting exercise was conducted at CDA headquarters on Tuesday, under the supervision of Member Estate Khushal Khan, the allotment process has been put on hold until further notice.
He said a committee has been formed to examine petitions received in this context and is tasked with doing so within seven days. The committee will determine whether the rules were followed in the acquisition of land.
When asked how the member estate could have supervised the balloting when he was transferred by the government the other day, Mr Shah said he has not left his charge and therefore supervised the process.
Published in Dawn, November 13th, 2019