When the leading lights of Pakistan's financial services and manufacturing industries sat down with army chief Gen Qamar Javed Bajwa on October 2, it was on the back of one of the worst months for the country's economy.
The stock market had hit a near four-year low — a decline fuelled in significant measure by the spiralling tensions with India after the BJP government there had abrogated the autonomous status of India-held Jammu and Kashmir. Data released only a few days earlier showed that large-scale manufacturing had already seen its worst month in July for many years, with further slowdowns coming up. Profits of the banking system had fallen sharply in the months leading up to July, in some cases by almost 50 percent and in some cases even more. All around, business and industry were in the grip of a massive slowdown and all indications were suggesting that matters will only aggravate in the coming months.
So began what eventually became one of the most talked about conversations in the country. In the days that followed, one TV anchor after another dedicated all their primetime shows to discussing this meeting and who said what during it. Newspaper columns and social media were rife with leaked tidbits of their own about what had transpired. Conflicting reports emerged, with at least one early report suggesting that the meeting had been a heated affair, but later reports clarifying that the atmosphere was cordial, but that the concerns raised were serious.
Understandably, business leaders are extremely concerned about the downturn in the economy and what many feel is the apparent drift in state policies to tackle it. It affects not only their current bottom lines but, in many cases, also their plans for the future.
In significant measure, these economic developments are the result of what economists call a "macroeconomic adjustment", or a package of policies that is designed to rapidly shrink the mushrooming deficits that plague an economy. In Pakistan, this package of policies has been applied innumerable times over the decades, and always consists of the same set of policies: high interest rates, exchange rate depreciations, tight spending by government and rising burdens of taxes.
With the country in the grips of a severe recession, even wealthy businessmen are crying out about the government's economic 'adjustment' policies. But the real pain is being felt, as always, on the street...
In fact, some of these policies had begun to be implemented much earlier. Interest rates, for example, had been rising steadily from January 2018 and more than doubled by July 2019 when the last of the rate hikes was applied. This was the fastest pace of interest raise increase in decades, and delivered a shock to business and industry the likes of which they had not felt since at least 2008, when the great global financial crisis hit. In one year alone, the cost of borrowing doubled, and those who had recently taken out loans for business expansion, found themselves holding stranded assets that had to be repaid at astronomical rates, while there was no market left for the additional output that these newly invested plants would produce. Likewise with the exchange rate, which fell by 30 percent since July 2018, an adjustment that was long in the making and glimpses of which had already been seen the previous year.
And then came the budget in June 2019. These same business and industry leaders watched in stupefied disbelief as Abdul Hafeez Shaikh, who was to officiate as the finance minister after Asad Umar's unceremonious departure, announced an FBR revenue target of Rs5.55 trillion for the new fiscal year, implying a jump of almost Rs1.5 trillion. Such a feat had never before been accomplished, and the business community was clear that their troubles with the tax authorities were about to go up several notches.
The chief's message to the delegates was simple. The adjustment is here to stay, he told them. He was not willing to bargain for any shift in course on those actions. But outside of the adjustment, if there was something that could be done to mitigate the impact on business and industry, he was willing to listen.
After their concerns about the larger macroeconomic situation were brushed aside, the business and industry delegates fell back on a familiar litany of complaints specific to their particular industries. Some wanted greater streamlining of procedures for land acquisition to facilitate builders. Others wanted more focus on construction, pointing out the ripple effects this sector produces in employment and associated industries such as cement and household fixtures. The textile tycoons brought up their perennial favourite gripe with government about sales tax refunds that continue to be held up, depriving their companies of vital cash flows to meet working capital requirements.
GROUND REALITIES
Far from the familiar buzz of the tycoons and the top leadership of the state, there exists an entirely different world where tens of millions of people are suffocating under the rising tide of inflation and unemployment. Business and industry bear the brunt of the adjustment process that is currently being applied to the economy. But it is the common citizenry that feels the magnified impact of these policies as firms reduce hiring, even begin layoffs and prices of essential goods begins to rise.
Owners of capital may bear the brunt of adjustment, but it is workers who feel the pain. And the best vantage point to see these real repercussions of such 'adjustments' is in the industrial zones of the country.
All industrial areas of the country, whether in Karachi or Punjab or Khyber Pakhtunkhwa, have large industrial estates ringed by residential areas where the workers live. Industrial zones of Punjab vie for their workforce with the agricultural hinterland that lies beyond the cities and many of the workers are in the city only temporarily. Their living arrangements frequently resemble dormitories, such as the ones built around the Kot Lakhpat industrial area of Lahore. Labour contractors arrange for workers, whether skilled or unskilled, for the industries of this area and, in many cases, arrange for the workers' housing as well.
Whenever harvest season comes around, whether in May and June for wheat or in August for cotton, the factories can be emptied out as the workers move back to the rural areas for harvest-related employment. As such, demand and supply of labour in Punjab can be seasonal and is intimately connected with the coming and going of the great agricultural harvests of cotton and wheat, the two biggest crops in the country.
Karachi's workforce is different though. Workers in the country's largest and most industrialised metropolis are more permanent, preferring a trip back to their respective home villages only for family emergencies, weddings, or religious holidays like Eid. Unlike Lahore or Multan, Karachi's industry does not compete with the rural hinterland for supply of labour. The flipside of this, however, is that the welfare of the workforce is more intimately tied to the ups and downs of the city's industrial base.
The economy of the industrial zones is itself variegated. There are the factories, of course. But connected to these, for example, is a vast, undocumented and largely informal trucking industry that consists of a massive fleet of owners and drivers, sometimes rolled into one, and sometimes tied together in contractual relationships. Alongside these are the day labourers, who do the loading and unloading of the vehicles and get paid daily wages. Then there are the residential areas where the workers live. Those who are fortunate can own or rent their premises closer to where the factories are situated, such as Metroville near the SITE industrial area. Those who cannot afford this look for housing further out, such as in Qasba Colony or Banaras Town, or the many other localities of Orangi Township.
SITE area alone has a hinterland around it where more than two million people live. The daily life requirements of such a massive population creates a large market for daily necessities, transport, schools and clothing markets, as well as construction contractors and mass transit. Almost everyone in these areas relies either directly or indirectly on incomes earned from the massive industrial estate of SITE area.
THE WHEELS UPON WHICH THE ECONOMY MOVES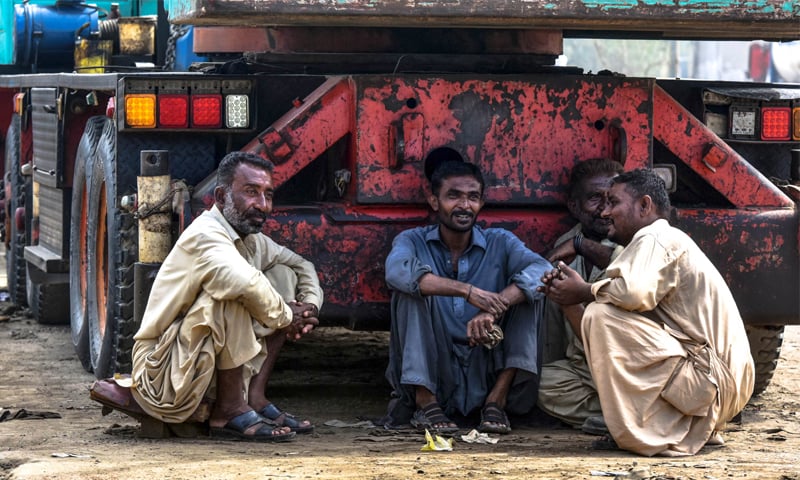 Key among this workforce are those connected with transport. These are the people who have a front-row seat into the industrial fortunes of the country. They are the wheels upon which the economy moves. These days they tell a sad tale of hardship and industrial shutdown. These men don't understand the economics of what is going on, but they know what their eyes see.
"Almost 20 to 25 plants in the area we serve have closed down," one of them tells me when I catch up with a group of them in one of the busiest squares of the SITE area. "Factories are in bad shape. Every mill we go into to pick up material, we see reams of unsold material everywhere."
Another interrupts quickly. "There is material piled up in all the plants, but there is very little movement. Most days we sit here and wait. Where we used to get four to five trips a day, these days we are lucky if we get one. The mill owners tell us they have tax issues, they are not selling."
"Mostly we are transporting rejected material these days," one of the men tells Eos. "The people you call industrialists, we call them junk traders," he continues, to chuckles all around. But the merriment fades quickly, as they are aware of how their fortunes are tied with those of the industrial elite in whose shadow they ply their craft.
Out of the dozen or so men that were sitting in the shade of their trucks, waiting for business, three had zero trips that day, a couple had one and another was fortunate to have bagged three trips the day before. They say they charge Rs1,200 to Rs1,300 for a local trip, within SITE area. All have been driving for almost two decades, but only one owns a truck that he bought on a loan which he is repaying with Rs25,000 per month instalments. He is now worried that he will be unable to meet his instalments and have his truck repossessed.
This has not always been the case. When times are good so are these workers' fortunes.
Far from the familiar buzz of the tycoons and the top leadership of the state, there exists an entirely different world where tens of millions of people are suffocating under the rising tide of inflation and unemployment.
Factories have massive transportation needs and almost all of these are fulfilled through an informally organised fleet of trucks that can number in the thousands if counted up. No census of how many of them exist has been undertaken. Whether transporting raw materials from the port, or from upcountry points of origin, to the plants, or taking finished goods to the market or to the port, this fleet of trucks is indispensable for the work of the factories. After the finished product is loaded and sent off to its buyer, the rejected material and waste by-product is sold to junk merchants and a second round of transporters wait to pick up this business. The proper product will be sent on the large container trucks, the rejected material on smaller Shehzore and Mazda vehicles.
One of the trucks, for example, is owned by a factory worker who made enough money to invest in a small piece of capital. That worker rents the truck out to a driver while he goes off to work in the plant during the day. The driver, in turn, hires a day labourer when work shows up, so the chain of subcontracting continues down the labour hierarchy. All of the people in this chain now feel their livelihoods threatened.
Further away from where the industry is located, deeper into the residential areas, there is a large fleet of Suzuki operators who rely on domestic demand, whether from households or contractors working construction projects coming up in the area.
These two rarely overlap.
Turf is carefully guarded and informally organised groups control individual squares and areas where business usually lands up. In some cases, the drivers have customers who call them on the phone to strike a deal but, in most cases, representatives from the factory or the residential contractors will simply arrive in the square where the trucks are parked and bargain for a good rate individually before striking a deal.
But these days the deals have stopped coming and the workers, who already lived in difficult conditions, are struggling.
THE LIVES OF OTHERS
These workers' living conditions are often more demanding than what their incomes allow. Some of them live in Qasba Colony, near Kati Paharri, one lives in Metroville, another in Banaras Town. Rent for a semi-finished house is between Rs5,000 to Rs7,000, depending on availability and distance from nearby shops. In a sprawling locality with only the barest of informal mass transit systems, distance is one of the biggest tyrannies they face in their day to day lives.
Right on the heels of commuting distance is the issue of water. The workers are unanimous in pointing water out as their biggest problem. Some pay up to Rs10,000 per month for water, but Rs5,000 is the norm. "I pay 1.25 rupees per litre of water in my area," one of them says. Supply of water to such a large population has spawned a massive informal industry of its own. The workers and the residential quarters compete with the giant mills for their share of this precious resource.
"Give Karachi water for God's sake!" one of them exclaims as the rest nod their heads vigorously. Unemployment and inflation they can understand, "but how is a human being supposed to live without water?!" he asks with a look of stupefaction on his face.
"This city is starved of water," another chimes in. "We walk past a burst pipe to get here, the road is flooded but our homes are parched!" Metroville is one of the better working-class localities for its piped water system. There is water in the pipes, but most of it is going to the mills. Behind us two men gather water in a jerry can from a hole in the ground where one of the pipes has been exposed and a hole punctured in it. "See that?" the men ask me. "That is what a well looks like in a city like Karachi." They laugh, but only momentarily.
Standing athwart this sea of informality are the massive utilities that supply gas and electricity. Random bills rain down on the population with a ruthless zeal. "All bills are issued per estimate, they rarely come to read the meter," one of them complains, pointing to a trend that is now abundantly familiar to the working-class residents of the city. "I received a bill for 37,000 rupees last month," one of them cries, all on estimated billing.
"They offer to put it on instalments for you, but if you agree, the next month's bill will be even more inflated and you'll be back to square one," he says. "This is why people are now wisening up to the game of the power company and are refusing to pay."
The way the billing is arranged, it is almost as if K-Electric, the power utility that serves this population, wants to push people towards entering private relationships with the linemen that control connection and disconnection, as well as meter-reading, in the whole locality.
If water is a burden, power is their biggest expense. For a worker in this neighbourhood, a full month's salary can easily be consumed by rent, water and power expenses alone. "We can only pray for good health, because falling ill is a terrible calamity. You cannot earn and your expenses multiply," one of them says.
With average monthly incomes around Rs13,000, this army of informally employed workers can only survive if every household has more than one earning member. "There is no way one person can support a household here," they tell me. "The only way we get by is by banding together. Families look after each other, friends, extended families and so on."
None of these men carries a smart phone. That is a luxury for people in this bracket of the working class, though they are the ones who stand to benefit the most from mobile payments and apps that can help them with customer acquisition.
OUT OF WORK, OUT OF MIND
Nearby stands a large crowd of day labourers, I count 34 of them. These are the bottom tier of the working population, the unskilled, illiterate and, in many cases, the most recent migrants into the city. Zia ur Rehman, the only one of them who is happy to give his full name for the record, cannot read but is numerically literate enough to quickly add up his monthly expenses on his fingertips.
"If I make 15,000 rupees, suppose, and pay 7,000 in rent, how do I make a living in 8,000 rupees?" he asks. Between water, power and gas bills alone, they all agree, it is impossible to survive even in the best of times.
But these days are far from the best. It has been a few days without work for most of those on the square. "Before, there was always work on this spot. You could come on any day, at any time, and within an hour you would have a job and could earn 300 to 400 rupees if you wanted to. These days we are going home hungry and broke for days on end, only to find our home has no water, and our children are hungry."
How long has it been like this I ask them. "Since Ramazan at least, though times were getting difficult before then too, but work usually slows down in Ramazan and returns after Eid. This year Eid came and went but work did not return."
"There has been little to no work for two, maybe two and a half months," says Abdullah, who only wanted his first name used. "In every company we go to, we see a couple of machines working, the rest are idle. Usually, the daily wage rate was 1,000 rupees per day, but today they are picking us up for 500 to 600 rupees only. That is what we are down to."
The stories told by these workers are repeated square after square. Inside the mills, the machines are falling silent, while outside them the mass of informally organised activity, which is organically tied to the work going on in the mills, also stands as an idle bystander to one of the sharpest slowdowns that Pakistan's economy has seen in over a decade.
The one difference between those who own the mills and those who own little more than their labour is that the former have a voice in the highest offices of the land while the latter have only each other. "We should trust in one another," one of the truck drivers tells me when I ask him what is to be done. "Each one is pulling the other down. Instead we should help each other out through this difficult time," he says. It is unclear whether he is referring to those around him, or the country's leadership. Before I can ask, another jumps in.
"We don't ask ourselves what can be done," he says. "That is not a question for us, the poor. We pray for the betterment of our country and do what we can to look after those we call our own. Beyond that there is nothing."
This is a world far removed from the one in which the meeting between the army chief and the business tycoons took place. But the two are intimately tied together, through formal contractual arrangements, but also in sharing the fortunes of the economy. The workers' share, when times are good, is usually meagre, but that is all it takes to satisfy them. But when times are bad, as now, the pain is disproportionately theirs to bear.
The writer is a member of staff.
He tweets @khurramhusain
Published in Dawn, EOS, October 20th, 2019