October 07, 2019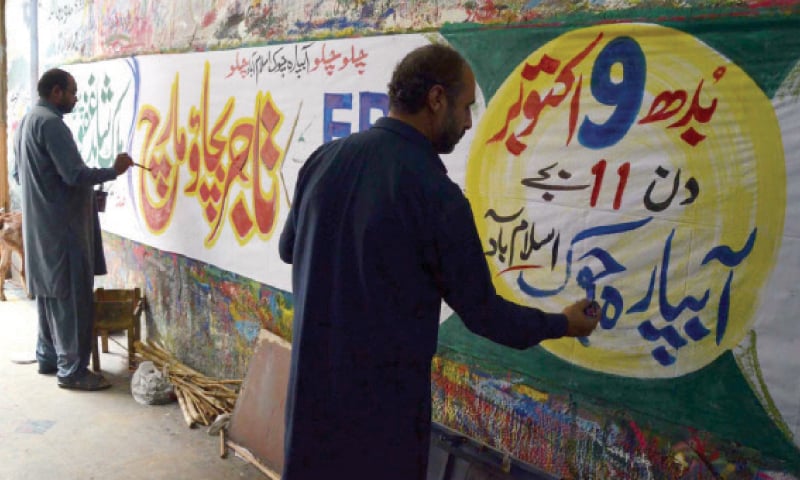 RAWALPINDI: Traders of Rawalpindi on Sunday turned down a request by Deputy Commissioner Saifullah Dogar not to hold a rally against government's economic policies and alleged harassment by the Federal Board of Revenue (FBR).
The traders of all markets in Rawalpindi announced to hold a protest march from Melody Market in Islamabad to Parliament House on Oct 7 (today).
The deputy commissioner had called a meeting of traders and requested them not to bring out a rally or stage a sit-in and strike.
The meeting was attended by representatives of Anjuman Tajran-i-Rawalpindi, Rawalpindi Chamber of Commerce and Industry and others.
The deputy commissioner appealed to the traders and the business community to resolve their problems with the FBR and the government through talks.He said the administration would help the traders in holding talks with the government and resolve their issues.
Say rally would be held in Islamabad against govt's economic policies and alleged harassment by FBR
He said the business community always helped the government and their role in the anti-dengue campaign and other national cause were appreciated.
On the other hand, the traders said their cooperation would continue but it was the duty of the government to provide a condusive environment to them for doing business.
They said the business community wanted to pay their taxes but the government had to simplify the procedure and end harassment in the name of tax collection.
They said there was a need to make such legislation which would improve the taxpaying system and would be acceptable to the business community. They said the government should end the condition of Computerised National Identity Card for purchase and sale in the open market.
Talking to Dawn, Rawalpindi Anjuman-i-Tajran President Sharjeel Mir said the traders had turned down the request of the deputy commissioner to drop their plan of staging a protest.
"We will hold a rally as per our plan against the government."
He said they had informed the deputy commissioner that if the FBR exempted Rs150 million from sales tax and made necessary amendments to the general sales tax the traders would withdraw the protest call.
He said the traders were united for their demands and will continue their protest till the announcement of FBR in favour of traders. He said all traders associations had agreed to launch a protest drive against the government for their rights.
Published in Dawn, October 7th, 2019