THE WEEK THAT WAS
Meray Paas Tum Ho | ARY, Saturdays 8.00pm
The trio of Humayun Saeed (the sweet, struggling husband Danish), Ayeza Khan (the beautiful but materialistic wife Mehwish) and Adnan Siddiqui (Shehwar, the smooth antagonist who has fallen in love with Danish's wife at first sight) are immaculate in their performances while Khaleel-ur-Rehman Qamar's lines are to be savoured. Suspecting his motives, Danish decides to throw Shehwar's expensive gifts in his face but Shehwar hoodwinks Danish into letting Mehwish work for him by convincing him of Shehwar's loneliness in his pitiful marriage. Danish, completely transformed, sends Ayeza to Shehwar's workplace where she finds a luxurious office, an advance payment of Rs5 lacs and a job description where all she is required to do is be Shehwar's companion. All of this goes down very well with Mehwish who declares that she would never leave the job even if Danish wanted her to. She tells Danish the truth, but not all of it.
Ramz-i-Ishq | Geo TV, Mondays 8.00pm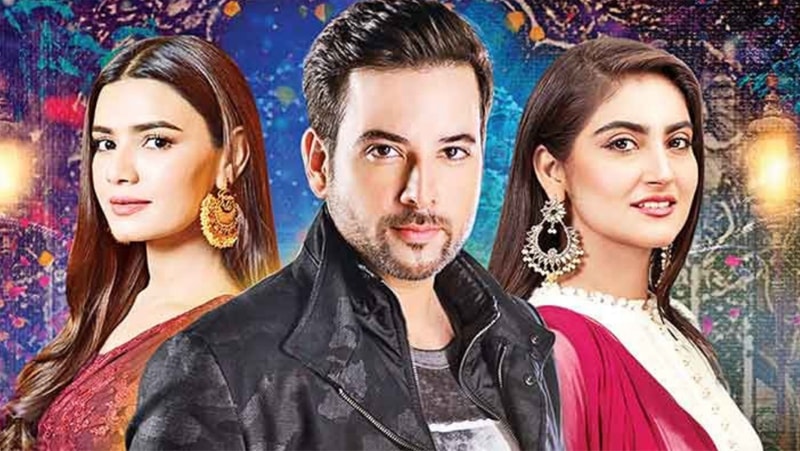 Disappointing to see the talented Mikaal Zulfiqar playing the romantic lead (Rayaan) in yet another mediocre serial. After two flops on the big screen, he should've been wiser in choosing his projects. The serial plods along with dutiful daughter Roshni (Hiba Bukhari) married to domestic servant Umer (Gohar Rasheed), sacrificing her childhood love Rayaan — a storyline which is a rip-off of a hit serial from another channel. Cousin Rania (Kiran Haq) loves Rayaan but he doesn't give too hoots about her and still loves Roshni. Cunning Rania succeeds in manipulating a situation and accuses Roshni of stealing the family jewellery. Roshni's husband will likely create an alibi because he knows that Roshni needs money to pay off her father's loan. Watch only if you are a die-hard fan of Mikaal Zulfiqar or have nothing better to do.
What To Watch Out For
Ehd-i-Wafa | Hum TV, Sundays 8.00pm
As long as you can digest Osman Khalid Butt and Ahmed Ali Akbar as college students, the serial triggers fond memories of PTV's Alpha Bravo Charlie (1998), with its fresh and energetic ambience, unpretentious lines and funny moments. Set in Lawrence College, Murree, Shahzain (Osman Khalid Butt), Shehryar (Ahmed Ali Akbar), Saad (Ahad Raza Mir) and Shariq (Wahaj Ali) are a gang called SSG who are best friends and constantly up to pranks. Sajeeruddin Khalifa cast as the hostel warden is perfect in his role, the performances by everyone are solid and with Saife Hassan's direction, the light-hearted serial may bring back male viewership to dramas. So far the story revolves around the mischief the gang gets up to and its repercussions. Zara Noor Abbas as Rani somewhere in a village is, however, quite OTT (over the top), addressing herself in the third person — aren't Basanti-inspired characters from Sholay (1975) passé?
Published in Dawn, ICON, October 6th, 2019