September 16, 2019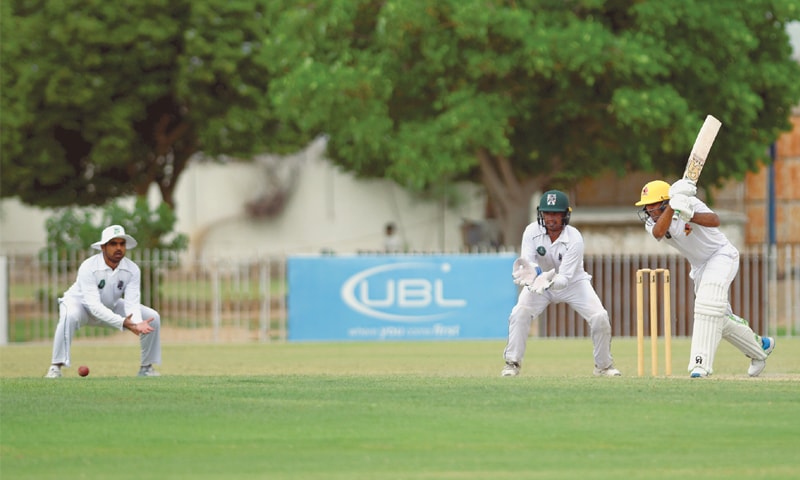 KARACHI: Opening batsmen Abid Ali and Sami Aslam sent emphatic reminders to Pakistan head coach-cum-chief selector Misbah-ul-Haq on Sunday with career-best unbeaten double centuries on day two of the Quaid-e-Azam Trophy first-class matches.
With the probables for the upcoming One-day International series against Sri Lanka to be named on Thursday, Khyber Pakhtunkhwa skipper Mohammad Rizwan also weighed in with a big century as bowlers struggled found the going tough with the Turf named of Kookaburra brand balls. With play at exactly halfway stage in this opening round, already there have been six individual centuries recorded in the scorebooks, with more on the cards as the likes of Babar Azam, Azhar Ali, Haris Sohail and Umar Akmal all waiting for their opportunities over the remaining two days.
Abid, who was initially picked in Pakistan's 15-man squad for the World Cup but then abruptly sidelined following his debut ODI ton against Australia in March, exhibited great powers of concentration and stamina here at the UBL Sports Complex.
The 31-year-old right-hander from Lahore batted all through 712 minutes of Sindh's first innings to finish on 249 when their skipper Sarfraz Ahmed declared at 473-5 in the second hour of the final session. In the remaining time available, Imam-ul-Haq and Azeem Ghumman safely negotiated eight overs to carry Balochistan to 16-0 at close of play.
Resuming at 237-2 with Abid on 120, Sindh once again refrained from taking an adventurous route to enhance the painstaking rate of scoring, which was a pedestrian 2.78 despite the Balochistan bowlers toiling through 169.5 overs without much luck.
Abid was reprieved several times but still kept his composure as he surpassed his previous highest first-class score of 231 not out for Islamabad against National Bank at the Diamond Club Ground in Islamabad two season ago. By the time he headed back, Abid had faced an incredible 572 deliveries, and of which 26 were struck for boundaries.
Unperturbed by events at other end, Abid almost seemed unmovable as he watched Asad Shafiq leave the field early in the morning at 251-2 because of stiffness in the neck. The Test batsman, however, came back to add 29 to his score of eight.
Sarfraz also spent invaluable time at the crease as the Pakistan captain contributed a 78-ball 44 (three fours) in the unbroken partnership of 97 with Abid.
Yasir Shah, the Test leg-spinner, delivered another 16 overs — in which he scalped former Pakistan left-hander Fawad Alam (18) — before finishing with unflattering analysis of 3-127 from 47 overs.
Khyber Pakhtunkhwa, in contrast, adopted an entertaining approach against Northern as they extended their Saturday's tally of 343-4 to 526-9 declared in 136.4 overs at the Abbottabad Cricket Stadium in Abbottabad.
The credit for this effort was due to Rizwan who scored a breezy 176 off 227 balls (22 fours and two sixes) after resuming at 84. The skipper put on 156 for the fifth wicket with Adil Amin (73).
Young Pakistan spinner Shadab Khan was finally rewar­ded for a wicketless first day with figures of 4-151 in 44 overs before Northern made a spirited response to end the day at 109-1.
Mohammad Yaqoob adds from Lahore: Sami Aslam held the centre stage for the second straight day as Southern Punjab captain carried his bat for a career-best 243 against Central Punjab at the Gaddafi Stadium.
The diminutive left-hander, who improved upon his previous best personal score of 221 — for Lahore Whites against Fata at the same venue in 2015-16 — lifted his side to a potentially match-winning score of 467 in their first innings before Azhar Ali and Ahmed Shehzad guided Central Punjab to 47-0 at draw of stumps.
The day belonged to Sami who was unbeaten in 151 at start of play. The Test discard lost his overnight partner Adnan Akmal (113 off 191 balls, 14 fours) early in the morning to left-arm seamer Waqas Maqsood (4-83), who finally broke the fifth-wicket partnership of 229.
All-rounder Aamir Yamin scored a 67-ball 64 while adding exactly 100 with Sami but once was lbw to spinner Bilal Asif the remaining wickets fell at regular intervals as Pakistan paceman Hasan Ali ended up taking 3-100.
Sami's marathon 410-ball innings spanned 601 minutes and included 29 boundaries and one six.
Close of play scores on Sunday (day two of four):
First round:
At UBL Sports Complex, Karachi: SINDH 473-5 declared in 169.5 overs (Abid Ali 249 not out, Khurram Manzoor 105, Sarfraz Ahmed 44 not out, Asad Shafiq 37; Yasir Shah 3-127); BALOCHISTAN 16-0 in 8 overs.
At Gaddafi Stadium, Lahore: SOUTHERN PUNJAB 467 in 134 overs (Sami Aslam 243 not out, Adnan Akmal 113, Aamir Yamin 64; Waqas Maqsood 4-83, Hasan Ali 3-100, Bilal Asif 2-116); CENTRAL PUNJAB 47-0 in 18 overs (Ahmed Shehzad 22 not out, Azhar Ali 20 not out).
At Abbottabad Cricket Stadium, Abbottabad: KHYBER PAKHTUNKHWA 526-9 declared in 136.4 overs (Mohammad Rizwan 176, Ashfaq Ahmed 106, Adil Amin 73, Iftikhar Ahmed 35, Fakhar Zaman 33, Sahibzada Farhan 29, Junaid Khan 28; Shadab Khan 4-151); NORTHERN 109-1 in 40 overs (Haider Ali 56 not out, Afaq Raheem 25, Umar Amin 20 not out).
Second XI, first round (day two of three):
At NBP Sports Complex, Karachi: BALOCHISTAN 183 in 70.1 overs (Awais Zia 71, Nazar Hussain 21 not out, Rameez Raja 20; Hassaan Khan 4-34, Danish Aziz 2-40) and 82-2 in 36 overs (Akbar-ur-Rehman 27 not out, Awais Zia 25, Taimur Ali 23 not out); SINDH 235 in 72.5 overs (Saifullah Khan Bangash 72 not out, Rameez Raja Jr 48, Mohammad Waqas 23; Jalat Khan 3-52, Shahzad Tareen 2-26, Nazar Hussain 2-41, Gohar Faiz 2-63).
At Iqbal Stadium, Faisalabad: CENTRAL PUNJAB 253 in 83 overs (Mohammad Ikhlaq 135, Ali Zaryab 38, Irfan Khan Niazi 35; Zulfiqar Babar 5-103, Agha Salman 3-45) and 25-2 in 14 overs; SOUTHERN PUNJAB 173 in 76.4 overs (Naved Yasin 57, Agha Salman 24, Zulfiqar Babar 20; Ahmed Safi 7-77, Aizaz Cheema 2-15).
At KRL Stadium, Rawalpindi: NORTHERN 282-8 in 83 overs (Faizan Riaz 156 not out, Jamal Anwar 41, Umair Khan 31; Khalid Usman 5-70) and 17-2 in 12 overs (Ahmed Jamal 2-6); KHYBER PAKHTUNKHWA 246 in 80.2 overs (Mohammad Naeem 108, Mehran Ibrahim 47; Raza Hasan 7-55, Shehzad Azam Rana 3-66).
Published in Dawn, September 16th, 2019