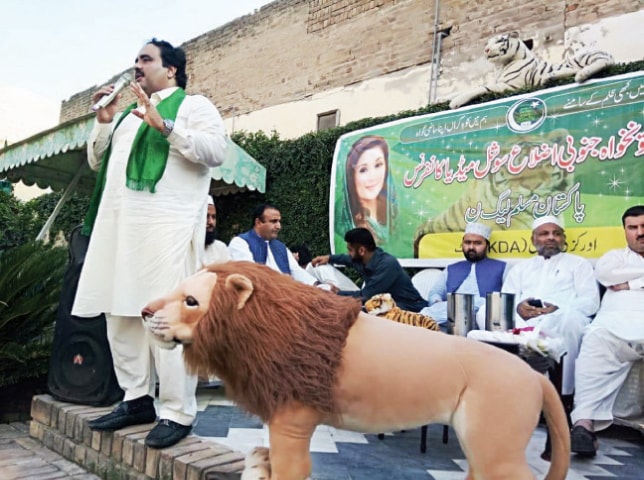 KOHAT: Speakers at a PML-N workers convention here on Monday urged the party workers to fully participate in the proposed sit-in and million march announced by the JUI-F to oust the PTI-led federal government.
The PML-N president for southern Khyber Pakhtunkhwa and in-charge of the province's social media team of Maryam Nawaz, Mian Alamgir, was the chief guest.
Speaking on the occasion, he called upon the workers to make the October million march a success by participating in it in flocks to rid the people of the 'inefficient' government.
The provincial joint secretary of PML-N's social media team, Asif Paracha, said the accountability judge Arshad Malik's video leak had clearly showed that former prime minister Nawaz Sharif was 'innocent'.
Party holds workers convention in Kohat
He said after the video leak Nawaz Sharif would come out clean from all allegations and convictions and that the day was not far when he would again become the president of the party and form the government. He said the judiciary was morally bound to quash the verdict against Mr Sharif after the judge had "admitted" that he had given verdict under pressure.
Mr Paracha demanded that the verdict against former premier should be quashed or retrial of the case should be held purely on merit on the appeal of Nawaz Sharif.
Party leader, Zeeshan Orakzai, in whose hujra the convention was held, thanked the party workers from Karak, Tank, Lakki Marwat, Dera Ismail Khan, Bannu, Hangu, Kurram and Orakzai districts for attending the event. He especially thanked Majid Paracha, the chief organiser, for organising such a big function.
On the occasion, the chief organiser said the prevailing inflation had pushed the people further against the wall, and that the government had failed on all fronts.
He said JUI-F chief Maulana Fazlur Rehman had decided to come out on the roads to oust the 'inefficient' government. He regretted while India was strangulating the Kashmiris, the government was beating the trumpet of resolving the issue through talks. He said the foreign minister had failed even to win over the sympathies of the Muslim countries for the Kashmiris' cause.
The speakers said the party workers were united under the leadership of Maryam Nawaz. They alleged that the last general elections were rigged to keep Nawaz Sharif out of power.
They insisted that the defeat of political giants who could win their seats without canvassing was a clear proof that the general elections were engineered.
Published in Dawn, September 10th, 2019