KARACHI: Equities were on fire at the Pakistan stock market where the KSE-100 index propelled 912 points (2.94 per cent) and closed at 31,884.45.
It was the fourth successive session of a bull run that has collectively added a staggering 3,121 points and 10.85pc to the index.
The market capitalisation has also increased in the four days by Rs494 billion or $3bn. The significant feature of Thursday session was also the volume of share traded which stood at 262 million shares, up 94pc over the previous day, representing the highest number of shares traded in last 117 sessions.
Traded value also jumped 42pc to Rs7.63bn -- the 52-session high. The major buyers were the individuals raking up stocks worth $3.98m and "broker proprietary trading" which took fresh positions in shares of $1.46m.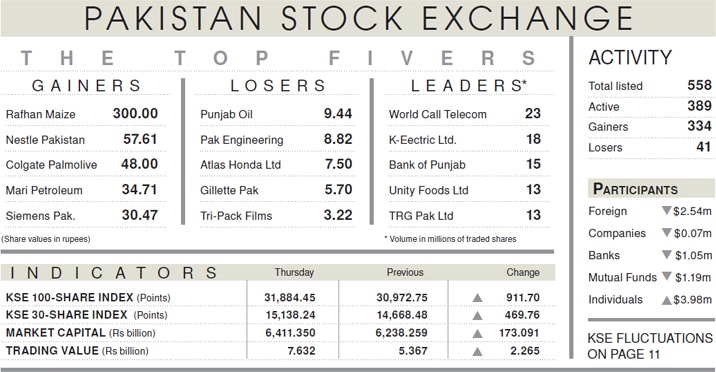 It helped to mop up net selling by foreign investors, banks, mutual funds and insurance companies.
Market participants were generally perplexed by the bull rampage but many participants were willing to list factors such as the attractive valuation, extension of the Army chief's service tenure by three years suggesting that the government-army had decided to carry on the reform agenda and the positive vibes from Canberra, Australia over the Pakistan's ability to find an exit from the grey list.
On the economic side, the PM's jubilation on the shrinkage of the current account deficit by 72.8pc year-on-year for July was shared by investors.
The report of the National Accountability Bureau being stripped of powers to probe private citizens/businessmen was also well received.
Market participation was seen in exploration and production (E&P), cement and fertiliser sectors.
In the E&Ps, the Oil and Gas Development Company (OGDC) and Pakistan Oilfields Ltd (POL) hit their upper limit.
In cements, Fauji Cement Company Ltd, Maple Leaf Cement Factory, Pioneer Cement, D. G. Khan Cement and Cherat Cement closed at the upper circuit.
Overall, leading gainers were OGDC up 4.99pc, Pakis­tan Petroleum Ltd 4.45pc, En­gro Corporation 3.58pc, Hub Power Company 4.06pc, POL 5pc, Lucky Cem­ent 4.50pc, United Bank Ltd 2.34pc, Bank Al Falah Ltd 4.98pc, Habib Bank Ltd 1.43pc and Pakistan State Oil 4.99pc.
Published in Dawn, August 23rd, 2019