Lights, sound, action is the signal given by a director to actors to start their performance on the stage. This happens every day at Rialto Cinema House on Murree Road in Rawalpindi where a two-hour-long drama is staged.
But before the start of the drama, the actors have to spend several hours at the backstage. For the two-hour performance, the actors, writer, director and other staff spend more than six to seven hours in its preparation. Though theatre is losing its charm, artists are still hopeful that their hard work would pay off and more people would come to see stage dramas.
There was a time when Rawalpindi used to be the hub of cultural activities from performing art to painting and produced stars who started their career from theatre and reached TV and film.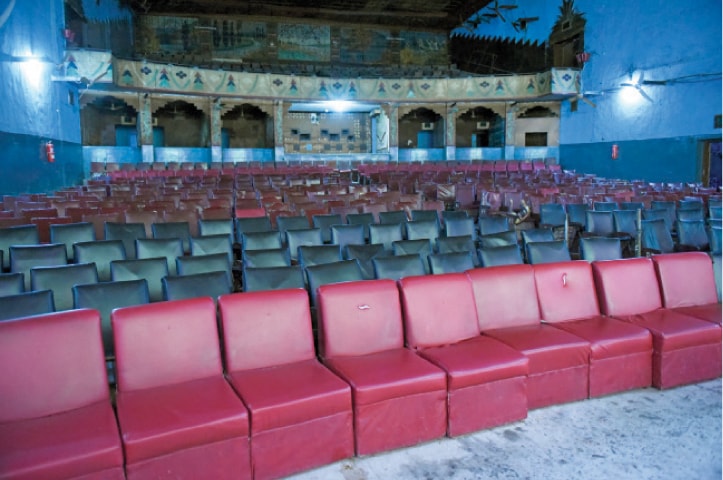 But things have changed. Like others involved in performing art, stage drama actors are also struggling to revive this form of art.
With the passage of time cinema houses in the city have been converted into shopping plazas and theatres.
"We are hopeful the good days of stage drama will return. However, there is a dire need to draw the government's attention to it," said Yar Mohammad Khan, a writer and director of stage dramas.
He said in the old days, Liaquat Hall used to be open for commercial dramas but during the tenure of Pervez Musharraf the hall was given to the National College of Arts. Now neither the college allows commercial dramas nor produces its own dramas.
Though there is no formal school for performing arts, artists mostly learn the basics of dance and acting by watching old theatre plays. Female artists mostly come from Lahore and Faisalabad as they prefer to perform in other cities due to the fear that it might bring a bad name to them in their hometowns.
Hina Mughal, an actor, said she came from Lahore for a stage show and has been working here for the last four years. She said she got training in traditional dance, and is still trying to get better work.
She said for women actors working on stage is not an easy task. She said she could not work in her hometown freely.
"We joined the industry for fame and fortune. But till now we are struggling to run the kitchen. I have no other option but to work in stage plays," said Aiman Malik, another actor.
Afshan Khan said she joined the field after finding no good job. A graduate from Lahore college, she said she started working in a private company but could not manage to meet her family's budget.
Madiha Chaudhry, an actor from Faisalabad, said she joined the field a year ago to get training as she wanted to join TV dramas.
"I don't find any problem in the field but the scope of drama is limited," she said.
Published in Dawn, July 7th, 2019