June 22, 2019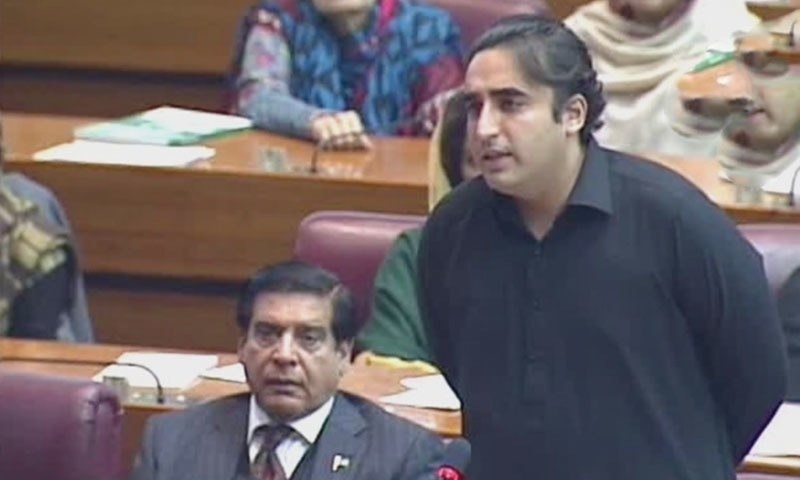 NAWABSHAH: Pakistan Peoples Party Chairman Bilawal Bhutto-Zardari said on Friday that his party would not accept the "puppet government, controlled democracy, media censorship and economic murder of people".
He was addressing a huge gathering of party workers and supporters on Sakrand road here where he launched his mass contact campaign.
He said the rulers thought they would silence them (PPP leadership) by pressurising them and frighten them by instituting fake cases against them, but they were not afraid of such tactics and would never bow down.
Mr Bhutto-Zardari vowed that they would defend the 1973 Constitution till their last breath… and the PPP would not allow the federal government to snatch the rights of the provinces.
In a hard-hitting speech, he vowed that they would not allow the passage of anti-people federal budget at any cost.
Launching mass contact drive from Nawabshah, PPP leader heaps scorn on Imran
"Asif Ali Zardari's crime is that he handed over powers back to parliament, launched projects like the Benazir Income Support Programme and China-Pakistan Economic Corridor, gave rights to the provinces, provided due share to the provinces through National Finance Commission award and got 18th Amendment approved," he said.
"Niazi [Prime Minister Imran Khan] used to say that he would make us cry but the world saw that I sent my father to jail with a smile and my father also went to prison with a smile," Mr Bhutto-Zardari said.
Asif Zardari had faced such fake cases in the past too, he said in a reference to the fake bank accounts and money laundering case. "Even my aunt Faryal Talpur has not been spared," the PPP leader said.
He said PM Imran Khan should pray that Asif Zardari came to power after him because he (Asif Zardari) would not take revenge. However, "if the Pakistan Muslim League-Nawaz forms government, his (the PM's) family would be in trouble and if Maulana Fazlur Rehman came to power, he would be stoned to death," Mr Bhutto-Zardari said.
Calling Prime Minister Khan a "coward and shameless man", he said that he (Bilawal) was grandson of Zulfikar Ali Bhutto and son of Asif Zardari but "he [PM] should not forget that I am a nephew of Shaheed Mir Murtaza Bhutto and would make him accountable for every tear which came out of the eyes of my sisters".
He said, "The selected prime minister would also be made accountable of economic murder of poor peasants, labourers and youth and for the plight of missing persons."
A drama was being staged in the name of accountability as "selected prime minister says that he would not spare anyone and would not give any NRO, however Aleema Khanum, Khyber Pakhtunkhwa chief minister and many federal ministers are enjoying NRO", he said.
Mr Bhutto-Zardari said that Imran Khan's off-shore companies were legal but Nawaz Sharif off-shore companies were illegal; there was nothing wrong in foreign funding of the Pakistan Tehreek-i-Insaf but Altaf Hussain's funding was wrong; properties of the PM's friends were legal but those of Asif Zardari were illegal.
Strongly criticizing the federal budget, he said that it was inimical to the interests of people, the country and Sindh.
He said that now a man who struggled all his life to save Rs500,000 for marriage of his daughter or to offer Hajj would be made accountable as he would have to answer from where he brought the money which was a pity.
He reiterated that the government was conspiring to wind up the 1973 Constitution, reverse the 18th Amendment and take back powers and rights of the provinces. However, he said, the PPP was the biggest hurdle in the way of this conspiracy and Asif Zardari would guard the constitution at any cost. "If this is the crime of my father, I would also willingly commit this crime," Mr Bhutto-Zardari said.
He said that his father belonged to a noble tribe of Sindh and his grandfather was an agriculturist and a businessman and was elected MNA in 1970.
"Our elder Hassan Ali Effendi established the Sindh Madressatul Islam where Quaid-i-Azam Mohammed Ali Jinnah also studied," he said and added that his family never exploited their contributions like others who established a hospital with the help of donations and then exploited this contribution for political gains.
Mr Bhutto-Zardari said he had launched the mass contact movement from today and would reach out to people all over the country. He urged the people to join his struggle come on roads.
Earlier he cut the cake of the 66th birth anniversary of his mother and former prime minister Benazir Bhutto.
Published in Dawn, June 22nd, 2019