No Premiere
There are a couple of theories doing the rounds regarding why director Yasir Nawaz didn't have a premiere for his film Wrong No 2.
One of them is that the makers of the project didn't feel the need for it. That's good enough reason. The other is that Yasir N didn't want the critics, some of whom he doesn't have a high opinion of, to judge the movie before it hit the cinema screens.That's usually the reason studios in Hollywood also employ when they are not confident about their film. To be honest, at the end of the day, it all boils down to how films do at the box office. It is there that rights are tuned into wrongs, and wrongs into right.
Danish the Mimic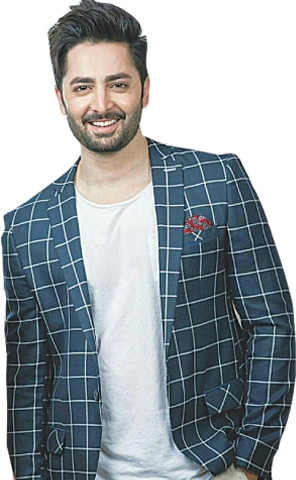 It came as a pleasant surprise for many to see film and TV actor Danish Taimoor do impressions of Bollywood stars Shah Rukh Khan and Nawazuddin Siddiqui on a television channel on one of the pre-Eid programmes. He did it with effortless ease, and his impression of SRK as a romantic hero was especially better than that of any Pakistani actor who, consciously or subconsciously, copies him.
Ahem. And there are many.
Not In the Queue
For Bollywood starlets, Kartik Aaryan is the hottest guy in the industry. Every young actress wants to date him. Apparently, he is nowadays seeing Sara Ali Khan and has also been rumoured to have hooked up with his Pati, Patni Aur Woh co-actor Ananya Panday for a brief period. But there is one girl who doesn't want to go out with him: Taapsee Pannu. Why? Well her reason is, there's a big crowd around him and she wouldn't want to stand in a long queue. Hmmm … Taapsee P, what if the queue got shortened?
Congrats Ahad, Sajal
On June 6, the second day of Eid, a heartwarming nugget of information took social media by storm when actress par excellence Sajal Aly announced on Twitter that she and actor Ahad Raza Mir were engaged to be married. To be fair, the rumour mills had long been buzzing about their off-screen chemistry. Our heartiest congratulations to them, and we wish them a happy and fulfilling life as a couple. The marriage date has not been fixed yet, but insiders say it's not too far ahead in the future. Again, all the best for the future, and soon we will find a veritable couple's nickname for the two of you. Right now we can only think of Ahajal.
Split
Last week, another celebrity couple broke up and that too after being together for four years. The reference is to the much talked-about split between Hollywood A-lister Bradley Cooper and supermodel Irina Shayk.
Things had not been smooth between them for more than six months but they were able to successfully conceal it from the media and their fans. Now it's official: they've parted ways. No, no … it has nothing to do with Bradley C and Lady Gaga's sizzling chemistry on the Oscar stage or in the movie A Star is Born. Or so they say.
Not a Bombshell
Don't mess with Margot Robbie. She ain't just a beautiful and extremely talented artist; she also has strong opinions about how people perceive her.
Giving an interview to Vogue, the gal took exception to the word 'bombshell'. "I hate that word. I hate it so much. I feel like a brat saying that because there are worse things, but I'm not a bombshell. I'm not someone who walks in a room and the record stops and people turn like, 'Look at that woman.' That doesn't happen. People who know me, if they had to sum me up in one word, I don't know what that word would be, but I'm certain it would not be bombshell." Well done, Margot R! Shellshock them! We mean, tell them what it means to be a woman in the modern world.
Published in Dawn, ICON, June 16th, 2019