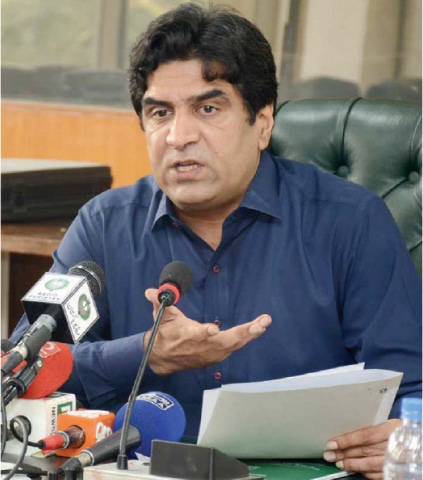 ISLAMABAD: Though Islamabad is one of the 10 most populous cities of Pakistan, the Capital Development Authority (CDA) has not executed a single mega development project since 2017.
"Last year, Rs13 billion were allocated as development fund but only Rs2.7 billion were spent by the civic body. This year, Rs11.6 billion have been set aside for development and we would ensure that maximum amount is spent to provide facilities to the residents," Special Assistant to Prime Minister on CDA Affairs Ali Nawaz Awan told a press conference.
"The last project executed by the CDA was Koral Interchange. Though the metro bus project from Peshawar Mor to the new airport was also started it was not a CDA project. Moreover, in the past unrealistic and fictitious budgets were approved but funds could not be arranged for the projects. This time it is not going to happen," he claimed.
He said as the PTI government had launched an austerity drive, despite increasing salaries non-development fund was not increased in the CDA budget.
In the past, unrealistic budgets were approved but funds could not be arranged for projects, PM's special assistant says
"We have cut a number of non-development expenditures due to which it could be possible to increase salaries of the staff," he said.
Mr Awan, who was accompanied by CDA's Deputy Financial Adviser Raza Shah, said Rs450 million had been allocated in the Public Sector Development Programme (PSDP) to complete the signal-free Islamabad Expressway project.
"Currently, there are only three points - G-7-G-8, F-7-F-8 and PWD Colony - where overhead bridges are required. The CDA will add over Rs450 million to the PSDP and it would be considered if the flyovers would be constructed simultaneously or one by one."
He said the construction of the flyovers would not create problems for the commuters as there was no digging involved in it.
"The civic body has decided to ensure timely development of I-15, I-14, E-12 and Park Enclave. Moreover, 14 pedestrian bridges – seven by CDA and seven by National Highway Authority – would be constructed. There is a need to establish pedestrian bridges near the weekly bazaar at Peshawar Mor."
Mr Awan said the proposed budget of the CDA for 2019-20 was Rs27.09 billion out of which Rs3.05 billion were allocated for pay and allowances and utility charges of Metropolitan Corporation Islamabad to ensure that there would be no default on account of pays and smooth payments to Iesco and SNGPL.
CDA Chairman Amer Ali Ahmed told Dawn that it was the first time that PC-I and PC-II of eight projects had been approved along with the budget.
"Moreover, we have even advertised projects for the upcoming financial year such as a flyover at G-7-G-8. Development work at some parts of Park Enclave would be started from June 17," he said.
Published in Dawn, June 16th, 2019