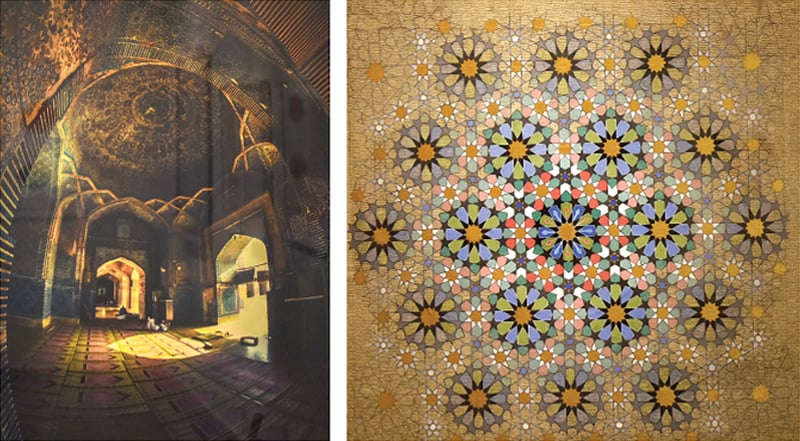 KARACHI: Geometric shapes play an integral part in art. Of course, all artists learn to, and some instinctively know, how to draw a line or make patterns composed of lines and dots. Islamic art has a rich history of images made out of such shapes. A tow-day exhibition titled Rhythms of Recurrence at the Koel Gallery, whose special preview took place on Friday, is 'based on the underlying grid in Islamic geometry used in art, architecture and design'. It is an interesting idea because picking a particular cultural milieu from the vast outputs of the creative process with a certain kind of 'pattern' in mind is a challenging undertaking. Let's state at the outset, the show is worth visiting because of the remarkable range of artworks that more than three dozen participating artists have come up with.
Since the number of painters and sculptors taking part in the exhibition is big, it would not be a bad idea to see how the curator of the show Nurayah Sheikh Nabi broaches the subject. "A grid can be defined as a grating of crossed bars or a network of horizontal and perpendicular lines, uniformly spaced, for locating points on a map, by means of a system or coordination." Nurayah adds, "Derived from simpler designs, used in earlier cultures (Greek, Roman and Neo-Persian), Islamic patterns provide a visual confirmation of the grid complexity achievable with simple tools." The key phrase here is 'grid complexity'. Three artists' exhibits aptly delineate it. The first is Shaukat Ali, whose piece 'Meditation' (acrylic on canvas) is an eye-catching example of the way an artist can make a still image into a moving story. While there is opacity to Shaukat's piece, 'La Dance' (gouache acrylic and newsprint) by Syeda M. Habib unambiguously presents the multipurpose nature of the aforementioned patterns, creating a rhythm that's both audible and visible.
That's not it. No show is complete without the covert or overt political factor to it. Sabir Ali Talpur's 'Newspaper 1 B' (pen on paper — stippling) brings the topic to contemporary grounds in the local as well as global context. One can find several local references here, but it is more intriguing to place it in the global framework: the redacted Mueller Report. Perhaps not.
Published in Dawn, April 29th, 2019